As Toronto continues to grow, it's becoming increasingly difficult to find adequate land to develop — particularly in the downtown core — that will provide future residents with direct access to necessities like public transit, major institutions, and employment.
These prime sites in downtown Toronto are scarce, with few well-positioned areas remaining. But the Church Street corridor, long recognized as an underdeveloped stretch, has finally seen significant developmental activity in recent years, and is now poised to have a major moment.
CentreCourt, a leading builder in Toronto's core, secured land at the southwest corner of Church and Dundas. Now, the residential development planned at 252 Church Street — which will be the first project launch of 2022 — brings forth a rare chance to truly live where the city's growth is.
Set to embrace and enhance the neighbourhood is the developer's design-efficient and ultra-livable Two Fifty Two Church. The 100% downtown build presents residents with the opportunity to live in the heart of the city, while having all of life's essentials right outside their front door.
READ: This New Build Offers A Rare Chance At A Real Downtown Opportunity
Indeed, Two Fifty Two Church is in the heart of all the action. The site is not only transit-oriented, but it's also at the doorstep of major amenities including Yonge-Dundas Square, and major centres of commerce, technology, culture, arts, entertainment, education, shopping, and more.
At the end of a day spent stomping the city's pavement, the suites within Two Fifty Two Church — ranging from 300 to 720 square feet — are poised to welcome residents back into the warmth of home. Thoughtfully and efficiently designed, all suites have been specifically curated to suit, and bring comfort to, the downtown lifestyle.
With suites featuring open layouts, residents will have ample space to enjoy life; a most important detail, considering the hustle and bustle of the core. And with impressive kitchens and soothing, spa-like bathrooms, these suites offer the perfect place to wind down at the end of a hectic work or school day.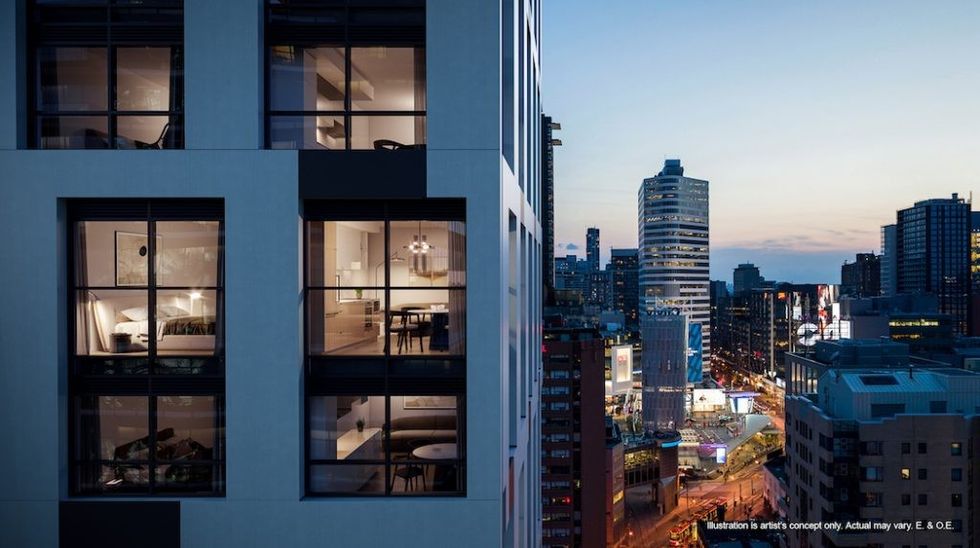 Crisp and contemporary, these suites cater to the truest of downtown dwellers. Be it students at a nearby university, employees of a downtown tech company, or right-sizing couples ready to embrace the excitement of the core during their retirement, Two Fifty Two Church offers a place for everyone. (Or, at the very least, everyone whose top priority is a 100% downtown lifestyle.)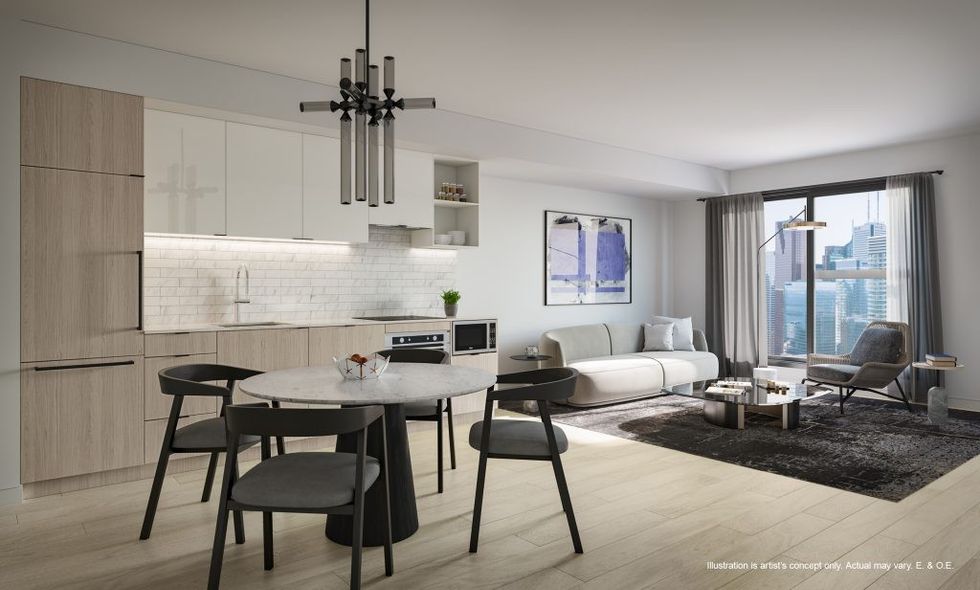 This building presents an exclusive location while also offering a 24/7 lifestyle that's centered around Toronto's Financial District, bustling tech sector, world-class universities, and extensive hospital network.
Of course, Two Fifty Two Church is also a great opportunity for investors. Not only is Toronto the second-largest financial centre on the continent, ranked fourth for global fintech capitals of the future, but it's also projected to add 316,000 jobs to the core within two decades. Just this year, Toronto ranked first for tech job growth in North America. Bustling student populations drawn to four local campuses — all within 10 minutes on foot or bike — will keep rental demand sky-high.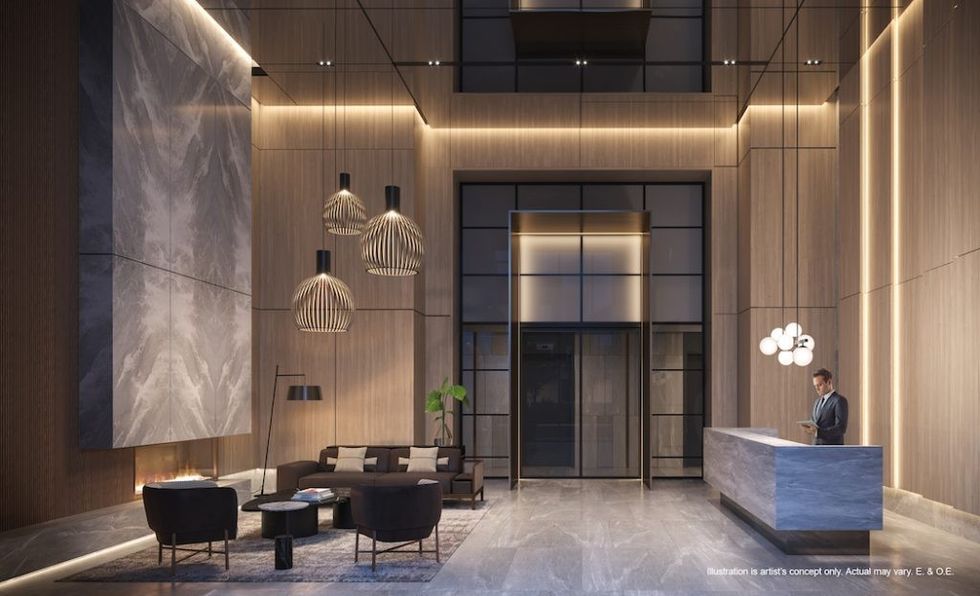 Conveniently located in the heart of downtown, steps from Yonge and Dundas Square and the Eaton Centre, Two Fifty Two Church's location is its best-selling feature. But further adding to the new build's appeal, and serving as a draw for residents, is that the building is also within walking distance of a major transit node. The address is steps from Dundas subway station, and close to the future Ontario Line.
What makes the site most special is that it allows residents to live, work, and play all in one location — hence proximity to major employers being critical. Two Fifty Two Church is next to the expanding Financial District and new Tech Corridor, with coveted employers like Google, the University Health Network, and Ryerson University all nearby.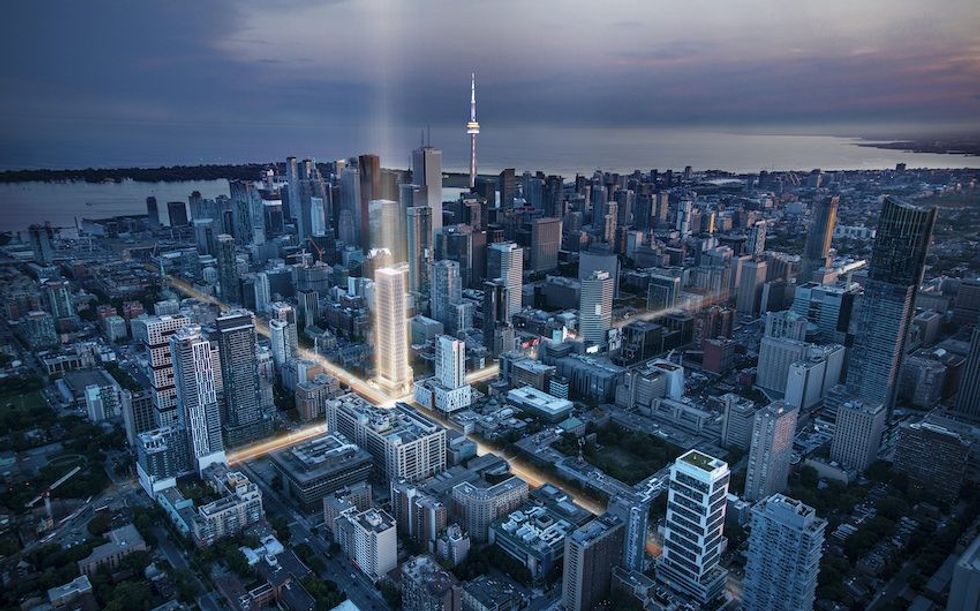 Where exterior aesthetics are concerned, Two Fifty Two Church includes at its base a fully-restored historic corner building, which creates a juxtaposition with its adjoining modern brick and steel podium. When completed, the development will house over 2,000 square feet of retail, and a 52-storey residential tower, which will add much-needed units in an area quite ready for increased housing.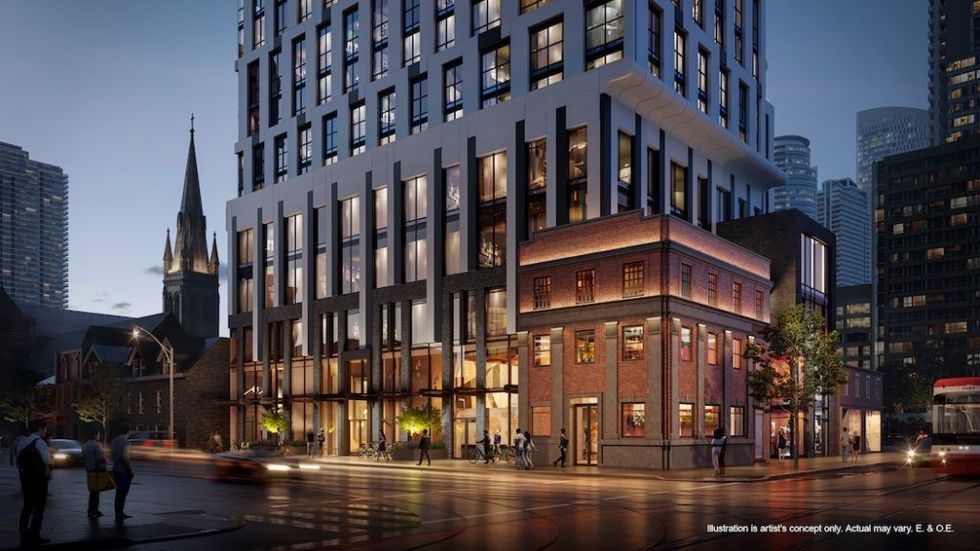 Inside, the building's amenities total an impressive 18,000 square feet, and include lounge areas, terraces and barbecues, screening and entertainment rooms, kitchen and dining spaces, co-working spaces, gaming and sports, a dog run, and a premier fitness club.
Throughout the building, residents can also look forward to 24/7 concierge service; a security coded access fob; three guest suites; individual suite hydro; BTU and water metering; and automated parcel storage.
252 Church Coming To Church & Dundas from Centrecourt Developments on Vimeo.
If you're ready to 'love where you live,' you can learn more about Two Fifty Two Church — launching January 6 at 11 AM — right here.
---
This article was produced in partnership with STOREYS Custom Studio.