Some condo developers in Canada are contemplating what was once unthinkable: eliminating balconies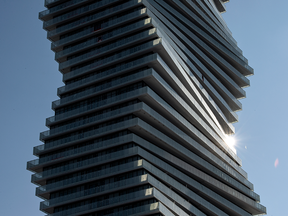 Article content
Soaring construction costs and a new emphasis on the carbon footprints of buildings are pushing some condo developers in Canada to contemplate what was once unthinkable: eliminating balconies.
Article content
While many consider an outdoor space an integral part of high-rise living, Ben Myers, president and owner of Toronto-based real estate advisory firm Bullpen Research & Consulting Inc., said he is getting asked more frequently about the value proposition behind balconies from developers with an eye to either dropping the costly perk or converting the less-lucrative square footage into indoor space, where possible.
Article content
"Every developer is looking for ways to, what they call, 'value engineer' their projects," Myers said in an interview, noting that cost inflation and supply chain issues are changing the calculus for builders.
"They're doing their due diligence. Doesn't mean that every developer is going to come up with projects without balconies, but they're certainly investigating whether it makes sense to do it on a few suites or try it on a full building and see what the results are."
Article content
Toronto-based Lanterra Developments is one firm that is embracing the idea. Its development at 50 Scollard St., a 41-storey, 133-unit condominium in Toronto's Yorkville neighbourhood, does not include balconies, instead opting for a handful of private terraces and Juliet windows.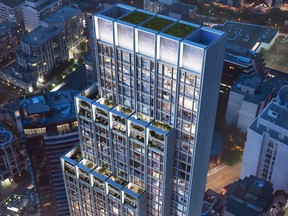 Christopher Wein, chief operating officer and president of construction management at Lanterra, said cost was a component of their decision, but not the only factor.
"The cost of these balconies is very extensive, and as you know, at the end of the day, the costs are borne by the purchasers," Wein said.
But Wein also pointed to problems that balconies create when it comes to energy efficiency due to the thermal breaks in the buildings structure needed to insert doors.
Article content
"In order to make a building more energy efficient, (you need to) have less permeation," Wein said. "Just like a boat. The more holes in a boat, the more chances the boat's going to leak."
According to the federal government, buildings alone were the third-largest source of emissions nationally in 2020, coming in behind the oil and gas industry and transportation.
In 2021, Canada legislated a commitment to reach net-zero emissions by 2050 and obtaining certifications such as LEED (Leadership in Energy and Environmental Design) — which are issued by the Canada Green Building Council — are being encouraged by all levels of government.
For development firms with their own net zero goals, achieving LEED status is an essential part of their overall plan.
Article content
"By eliminating balconies, your building is that much greener," Wein said.
Instead of private outdoor spaces for every unit at 50 Scollard, Lanterra has designed large, shared terraces on the podium level, a feature Wein said has become standard throughout their projects.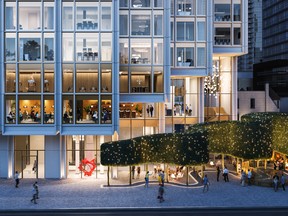 "Residents in the building can still enjoy indoor/outdoor space but it's done so that we're all sharing it together. We basically create parks in the sky or on the podium that serve as that beautiful outdoor space that people want," he said.
The magnitude of the cost savings from cutting balconies differs by development and size. Myers' firm calculated that the average balcony on a 670-square-foot unit measures 72 square feet.
According to Marlon Bray, a cost consultant at global real estate software and advisory firm, Altus Group, balconies can run a developer anywhere between $8,000 and $20,000 per unit to build — with additional costs for upkeep and eventual replacement.
Article content
"Balconies are expensive to build and quite frankly, most balconies aren't actually used all year round," Bray said in an interview.
That question — of just how much use balconies get, especially in a cold weather country like Canada and just how willing people are to forego them — is subject to some debate.
Like Bray, Lanterra's Wein believes most balconies are underused.
"When you look at most buildings and you see a three-foot-deep balcony, you can't do anything with it," he said. "You're not dining out there, barbecues are not allowed on balconies due to building codes…. It ends up being a sort of auxiliary space that doesn't really add value to a person's unit or to their lifestyle. Yet, it's a significant cost with respect to the cost of the building."
Article content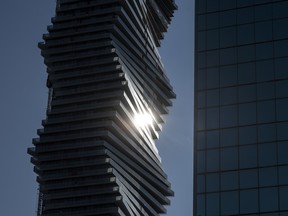 Others argue they can be hard to live without.
"Imagine yourself a shut-in as a result of the pandemic, old age, or some health condition," Ted Kesik, professor of building science at the University of Toronto said in an email. "Your only convenient access to the outdoors would be a balcony and under these circumstances it would likely be considered priceless."
Even Kesik, however, noted that practicality is an issue, particularly in on higher floors where they might not be enjoyable.
Kesik compared the Canadian market to Scandinavia, where balconies are often enclosed with a retractable glazing system large enough to comfortably accommodate a dinner table and chairs for the whole family.
"Inhabitants are shielded from the wind, rain and snow, and when closed up provide a safe place for children and pets no matter how high they are up in a building. Surveys of high-rise building inhabitants indicate that a significant proportion are afraid of heights and find their balcony environments uncomfortable most of the time," he said.
Article content
Myers said he sees it coming down to what the buyer values.
"People will decide with their wallet if a unit with a balcony is worth it for them, or if it's not," he said. "I think in any market, there's always certain people that value different things. Some people might say, 'If the cost is $30,000 less for a unit without a balcony, I'll certainly take that' or 'If my rent is $150 a month less, then yeah, I'll take the unit without a balcony'."
On a global scale, losing the balcony is something of a rite of passage.
"In mature markets like New York City, Manhattan, Hong Kong, London, etc. you see all these beautiful buildings, and there's no balconies at all," Wein said.
He's keen to lead the way in Canada.
"It's a trend Lanterra is going to continue forward with," he said.

• Email: shcampbell@postmedia.com