Five sky-scraping towers and thousands of residential units have been proposed for 1710 and 1712 Ellesmere Road — an almost two-hectare site on the edge of Scarborough City Centre. If realized, the sprawling development will come together through a partnership between Toronto-based social services organization Community Living Toronto (CLTO) and prominent Canadian condo development Tridel, and will include, in part, housing and services dedicated to the CLTO community.
A proposal submitted to the City of Toronto last month reveals that the towers would range from 28 to 53 storeys in height, reaching 171.6 m at the highest point (inclusive of the mechanical penthouse). It also specifies 174,420.57 sq. m of total gross floor area (GFA), including 2,402.77 sq. m of non-residential GFA and 172,017.80 sq. m of residential GFA.
A total of 2,392 residential units have been proposed, as well as a "broad mix of unit sizes," including two townhouse units, 82 studio units, 1,476 one-bedrooms, 610 two-bedrooms, and 222 three-bedroom units.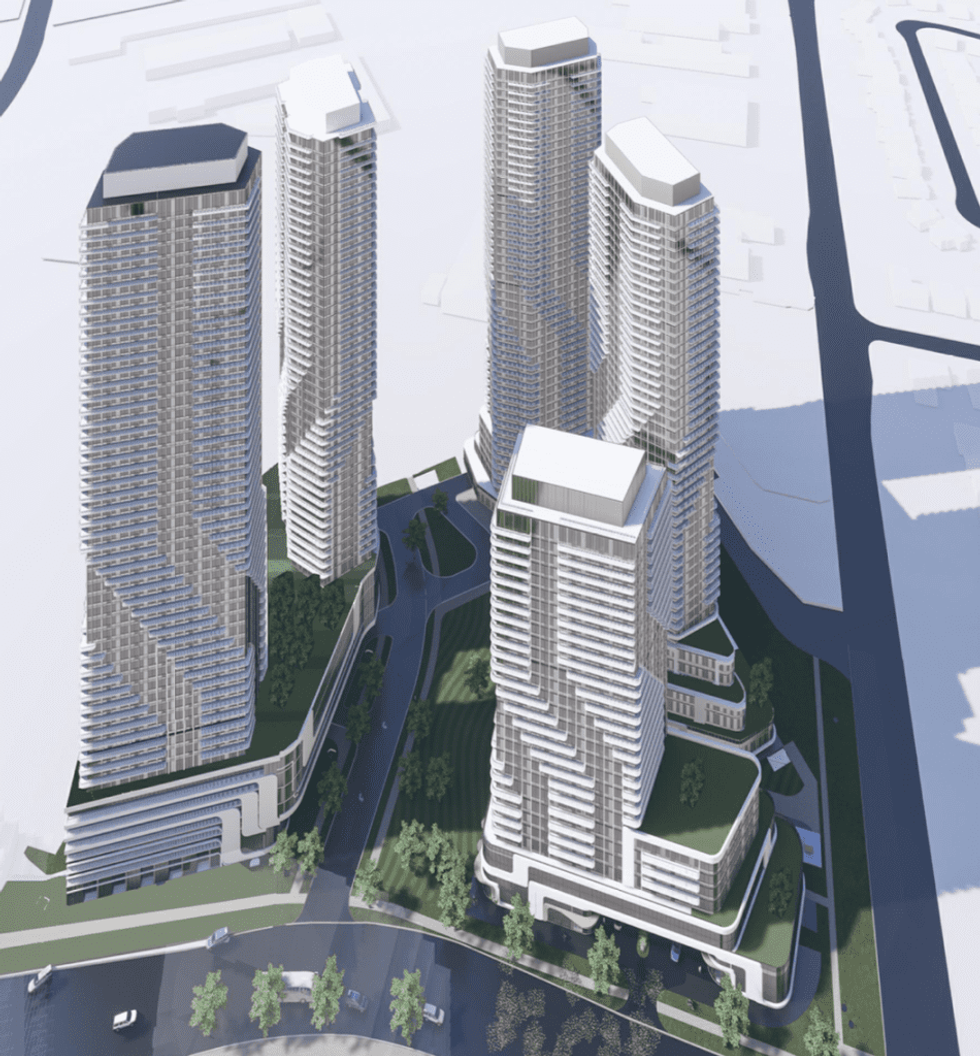 The proposed indoor and outdoor amenity spaces come in at 4,800.99 sq. m and 4,861.51 sq. m, respectively. As well, 1,509 vehicular spaces, 1,794 bicycle spaces, and 1316.18 sq. m of public parkland have been proposed.
The proposed development would replace an existing CLTO-operated building — "a modernist-style two-storey brick building, originally known as the Harold R. Lawson Residence and School for children with disabilities," according to the planning report prepared by Bousfields.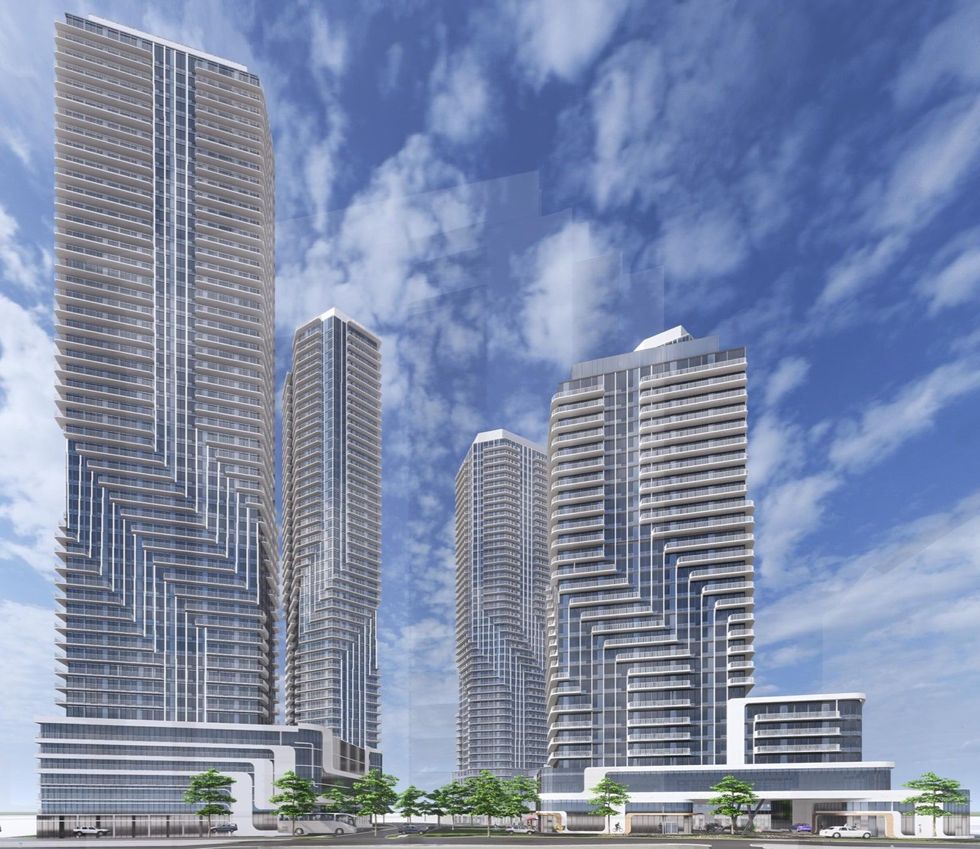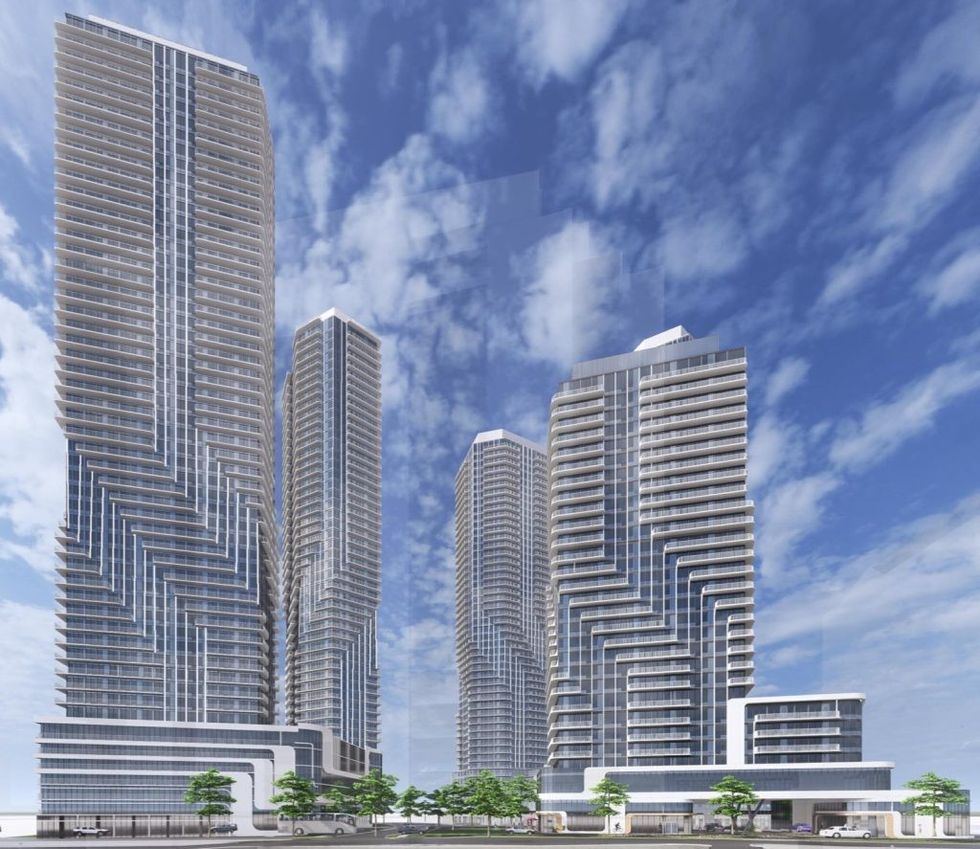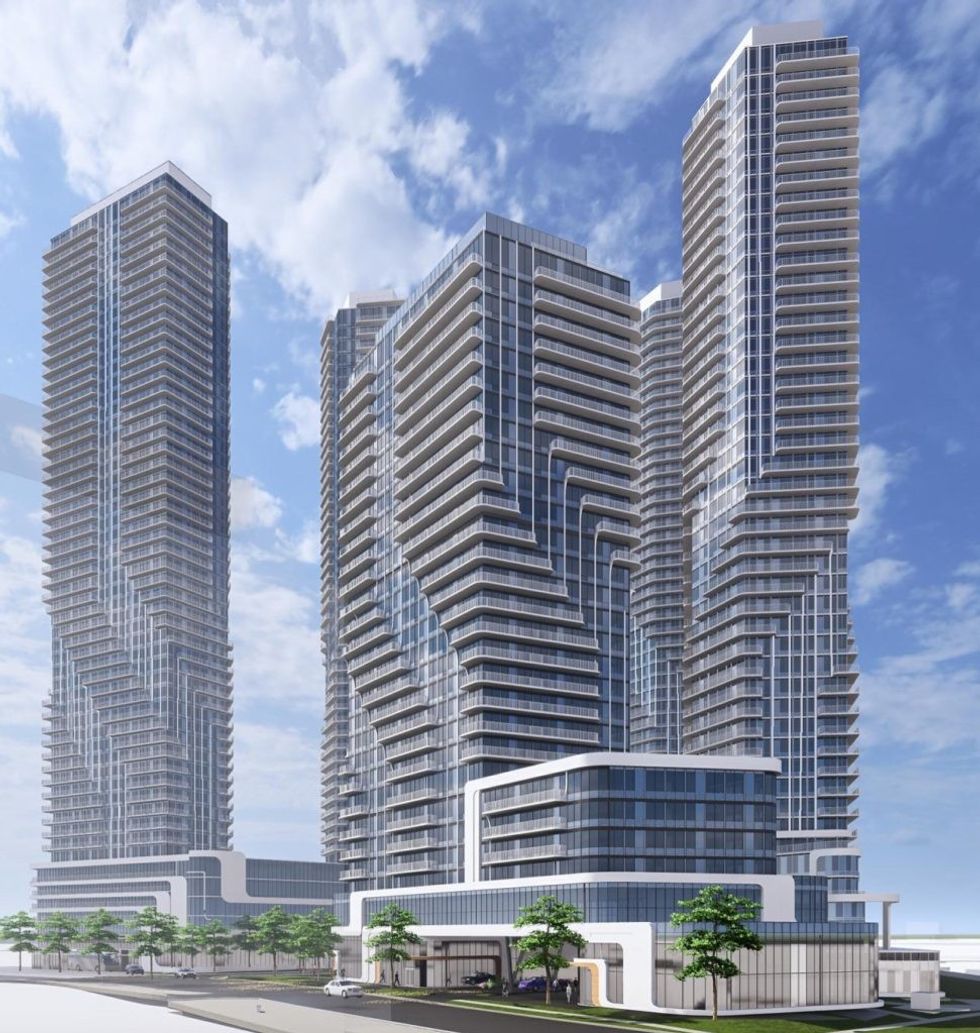 Although the Harold R. Lawson facility ceased operations in 2001, CLTO has since run community-facing programming out of the building. The proposed development poses an opportunity to evolve CLTO programming, bringing not only affordable rental housing for the CLTO community to Scarborough Centre, but modern facilities to accommodate a new office and supportive programming, including respite services.
Architectural drawings prepared by Kirkor Architects and Planners show the subject site subdivided into three development blocks, two park blocks, and a new public road.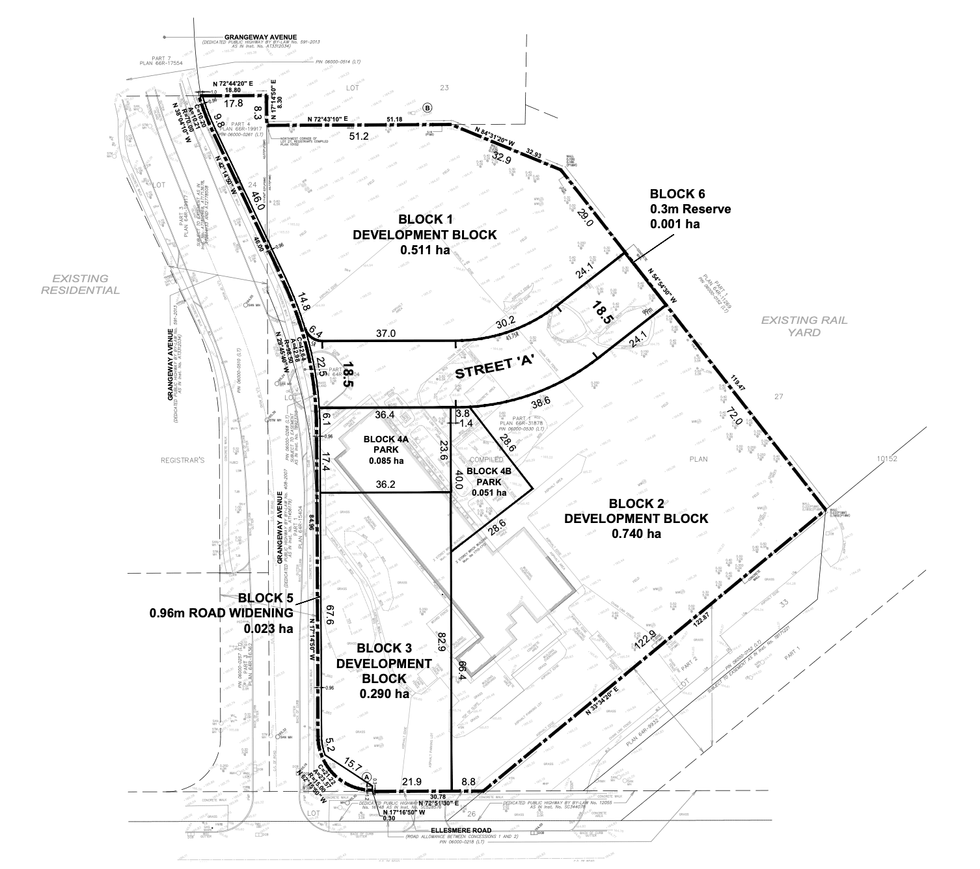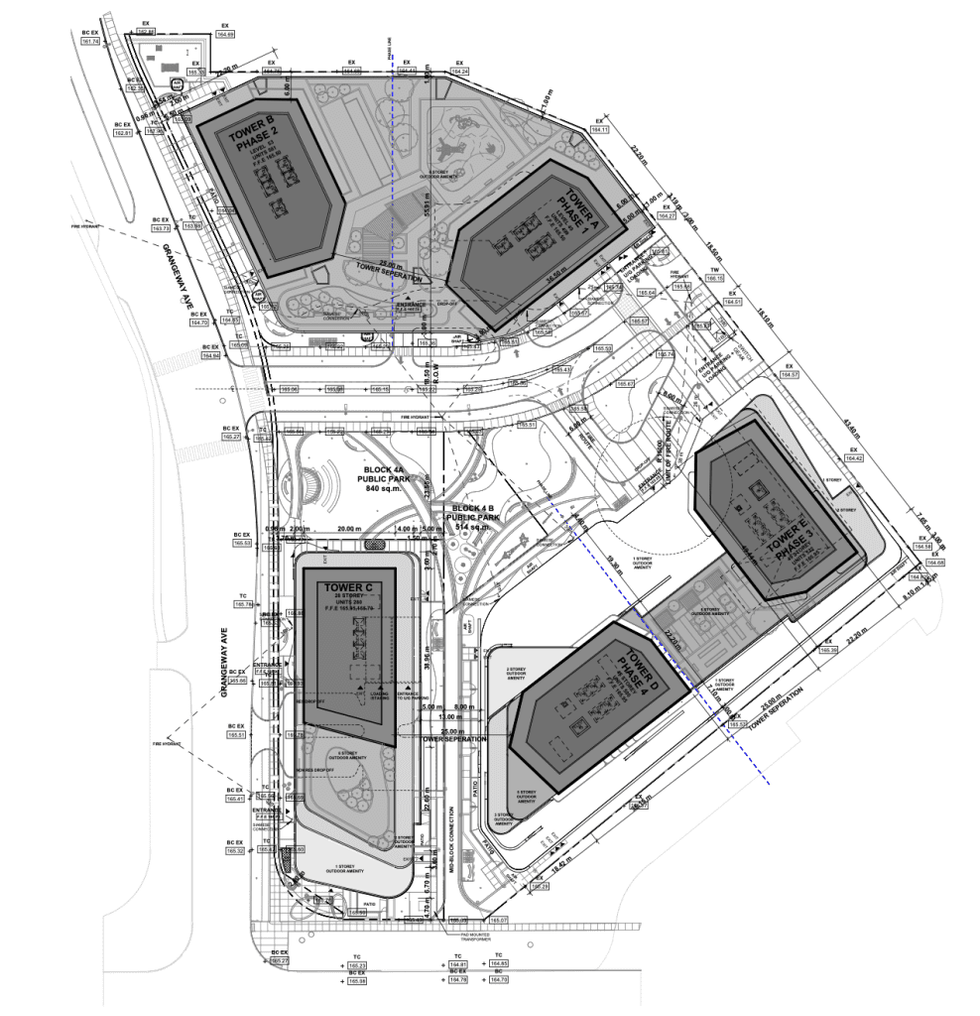 Block 1 and Block 2 will each contain two residential towers — 49 and 53 storeys, and 45 and 49 storeys, respectively — projecting atop a shared six-storey podium. Block 3 will be occupied by a 28-storey residential tower atop a seven-storey podium, and will accommodate the proposed CLTO programming.
The planning report prepared in support of the development application states that the proposed stands to be "a vibrant community where people with intellectual disabilities are welcomed and have a sense of belonging throughout the entire site, not just within the CLTO building."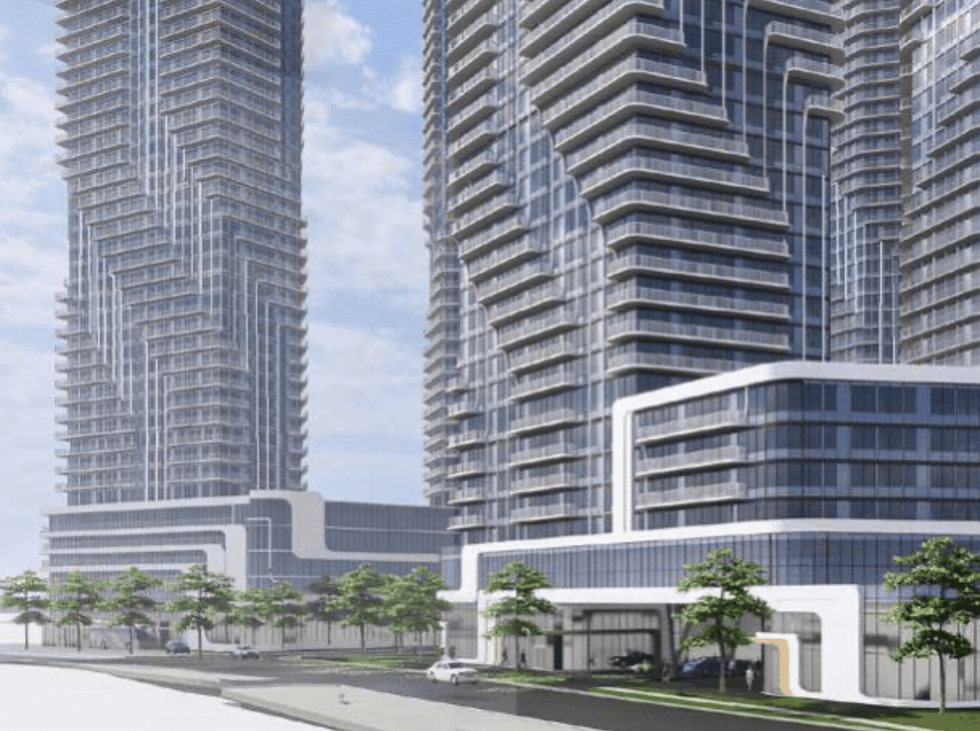 The planning report also speaks to the partnership between Tridel and CLTO, saying that the two entities are "committed to creating an inclusive, accessible, and welcoming community that will support the needs of the CLTO community, residents of the new development, and the broader community as a whole."
Zakiya is a staff writer with STOREYS. She has reported on real estate for Apartment Therapy, Curbed, and Post City Magazines, and writes a quarterly series for a Canadian design publication.