'Am I going to pay my rent on time or am I going to buy food?'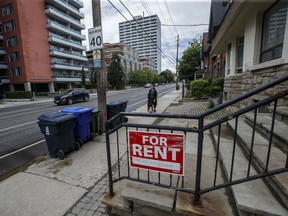 Article content
Beverley Henry paid $900 a month in rent when she first moved into her one-bedroom Toronto apartment nearly a decade ago but that amount has since climbed to more than $1,300.
Article content
Henry, a senior living on a pension, says she won't be able to handle any more rent hikes in the future.
Article content
"If the rent keeps going up … I would have to decide: am I going to pay my rent on time or am I going to buy food?" she said in a recent interview.
Henry and a number of her neighbours at 33 King Street in Toronto's west end are among tenants at several buildings in the city who have gone on a rent strike to protest what they say is unfair treatment by their landlords.
Henry and some other residents of her building stopped paying rent in June. Tenants in a nearby building — at 22 John Street — joined the rent strike this month.
In the east Toronto neighbourhood of Thorncliffe Park, residents in three buildings have withheld rent since May, after their landlord proposed a five per cent increase for next year.
Article content
In Ontario, landlords are allowed to increase rent up to a threshold set by the government each year but the cap does not apply to rental units first occupied after Nov. 15, 2018. The rent increase guideline for 2024 was set at 2.5 per cent, the same rate as for this year.
Landlords looking to raise rents above the provincial threshold can apply to the Landlord and Tenant Board for above-guideline increases. Reasons cited can include renovations to improve living conditions in the building.
Over the last five years, I have seen my rent increase three times higher than rent control

Beverley Henry
Henry says the previous owner of her building has applied successfully for several above-guideline increases.
"Over the last five years, I have seen my rent increase three times higher than rent control," she says. "It's a tactic that our landlord has used every year to avoid following rent control, and this is why we are striking."
Article content
Dream Unlimited Corp., which owns 33 King Street, said it "inherited" a dispute between the striking tenants and the previous landlord when it bought the building in 2021. It said the dispute is over above-guideline increases for 2018, 2019 and 2021.
Michael Cooper, Dream Unlimited Corp.'s president and chief responsible officer, said the company is willing to negotiate a "significant discount" and create an "extended payment" plan for tenants who need support.
"We are accommodating and supporting our tenants as best we can as we resolve these AGIs," Cooper said, noting that about 12 per cent of tenants at 33 King are on a rental strike.
Dream Unlimited also owns 22 John Street, where it said 15 per cent of tenants haven't paid rent, but notes that the building is not subject to provincial rent guidelines because it was completed after 2018.
Article content
Anthony Alao, a resident at 22 John Street, said he didn't know the building was not subject to provincial guidelines.
He said a nine per cent rent increase was proposed for his unit this year, but he has decided to pay no more than the 2.5 per cent increase that's in line with the government guideline.
Their intention is to try to evict us out

Anthony Alao
"Their intention is to try to evict us out, so they could obviously replace us with someone who would pay much more, a lot more higher," said Alao, who lives in a two-bedroom apartment with his family.
"We were not going to accept this."
When asked about the nine per cent increase, Dream Unlimited said "inflation has been very challenging" and rents at the building remain lower than current market rates.
The average asking price for a rental unit in Canada reached a record $2,042 last month amid continued interest rate hikes and population expansion, according to a new report by Rentals.ca and Urbanation.
Article content
Toronto ranked third, behind Vancouver and Burnaby, B.C., with the average one-bedroom listed for rent at $2,572.
Earlier this month, residents from both Dream Unlimited properties, as well as labour union members and tenant support organizations, held a rally to draw attention to the rent strikes.
Bruno Dobrusin, a rally organizer, said those protesting want Dream Unlimited to reach a fair deal with the tenants.
"We are looking for the landlord to withdraw the pending above-guideline increases applications for 2019 and 2021 for 33 King and to respect rent control for 22 John," he said.
He said the strikes indicate a tenant movement is forming.
"I think it is taking shape slowly," he said. "Now you have two rent strikes happening in two neighbourhoods of Toronto."
Article content
Harendran Kumar, who lives at 71 Thorncliffe Park Drive, said many residents of three buildings in his residential area stopped paying rent after their landlord applied for above-guideline increases for the next three years.
He said the landlord is renovating the exterior of the building, the parking lot and vacant apartments. He argued current tenants won't see improvements to their units.
"They are expecting us to pay for their renovations," he said. "It is not right."
Greenwin Corp., the company in charge of management of the Thorncliffe buildings, couldn't be reached for comment.