Despite the pandemic restrictions of the past two years, there's never been a better time to visit a Toronto hotel. 
In a climate of shuttered restaurants and storefronts (RIP) and an over-saturation of pot shops, Toronto's hotels are shining in all their brand-new or freshly renovated glory. Since the term social distancing became a staple in our collective vocabularies, Toronto's hotels have been busy bustling behind the scenes — even if tourism to the city was all but halted. 
This involves everything from a handful of new and anticipated hotels, to beloved long-time city mainstays that have undergone major facelifts. The hotel options have never been better in Toronto — for both residents and visitors. 
"The recent — and forthcoming — hotel openings are very important both because they add new brands and experiences to Toronto's strong accommodations offerings, and also because these are significant investments that reflect confidence in Toronto as a destination, precisely at a time when we are poised to begin welcoming more visitors from the U.S. and around the world once again," said Andrew Weir, Executive Vice President of Destination Toronto.
The Sheraton Gateway
This city-wide hotel revamp starts from the moment one touches down at Toronto's Pearson International Airport. Redefining what it means to stay at a Toronto airport Hotel, the Sheraton Gateway Hotel in Toronto International Airport underwent major renovations this fall. The $30M revamp saw the formerly uninspiring (but always convenient) 484-room hotel — which is directly connected to Terminal 3 — completely transform its guest rooms, lobby, and club lounge to offer a stylish spot to bookend a trip in or out of the airport. The renovation reflects Sheraton's worldwide rebrand.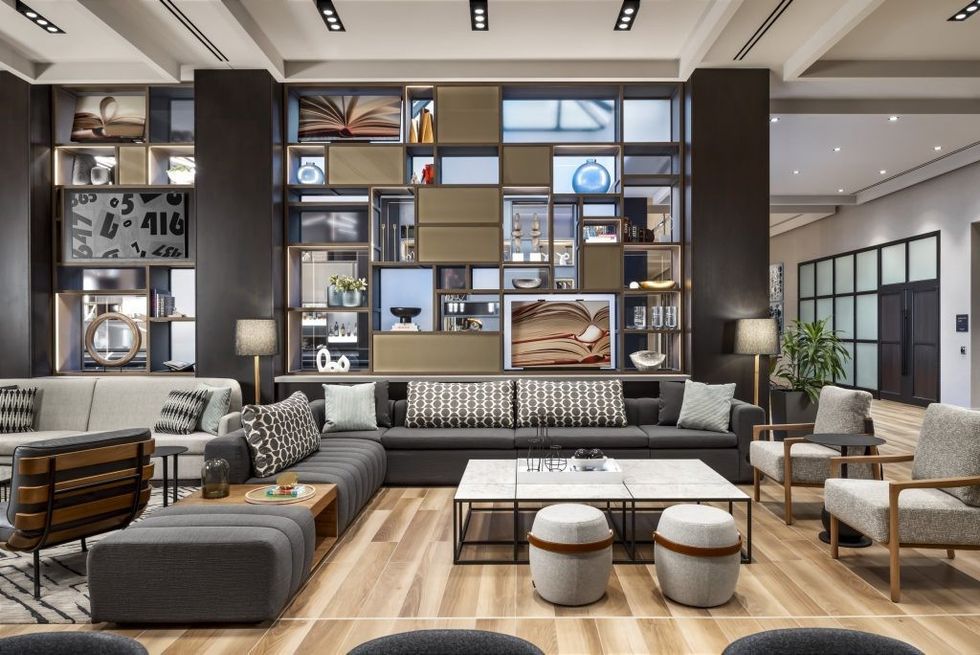 At the heart of the new experience is the impressively designed lobby, which has been reimagined as the "public square" of the hotel. Designed by Toronto's Moncur Design Associates, the sprawling space features a refined yet welcoming lounge area, a restaurant and bar, soundproof phone booths, rentable co-working spots, and a coffee bar with grab-and-go food options. The 24/7 Club Lounge, an exclusive space for Marriott Bonvoy Elite members and Sheraton Club level guests, has been upgraded to transition stylishly from night to morning and features updated food and beverage offerings (the poke bowls are a must-try) and enhanced connectivity. 
Sheraton Centre Toronto
This isn't the only Sheraton hotel in the city to see some major upgrades as of late. Downtown, the 1372-room Sheraton Centre Toronto has embarked on its most extensive renovation in the Queen Street hotel's 50-year history. Here, the big changes include a refined new culinary program with two new food and beverage outlets; design elements that pay homage to its Toronto location; and a newly revamped Sheraton Club with stunning views of the city skyline. New food and beverage offerings include Dual Citizen in the lobby, a coffee and pastry spot by day and bustling cocktail bar by night; and the upcoming mixology bar 43 Down (opening March 2022), which pays homage to the days of bellhops and elevator operators.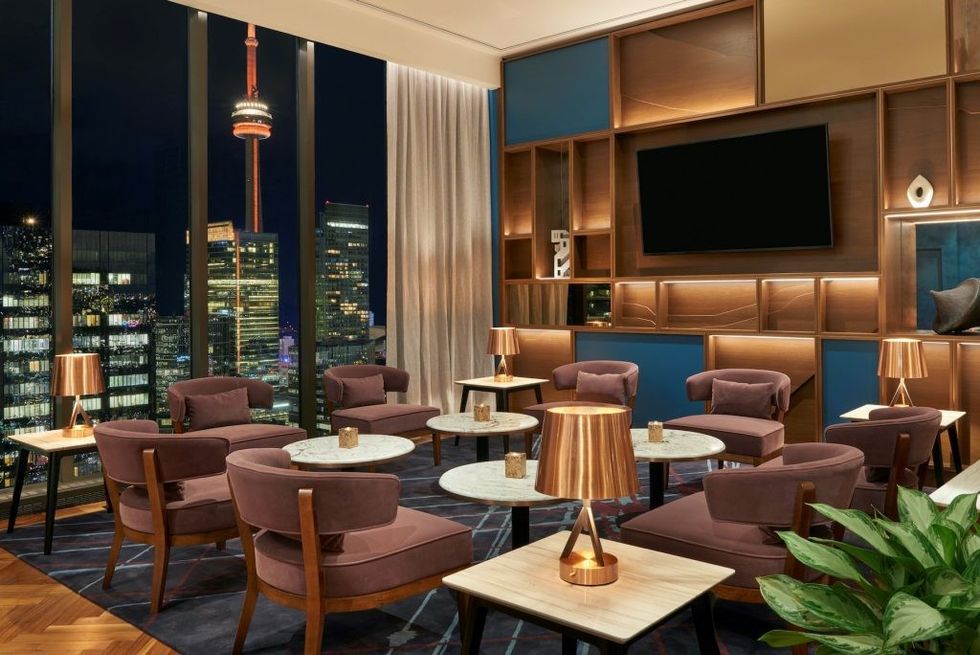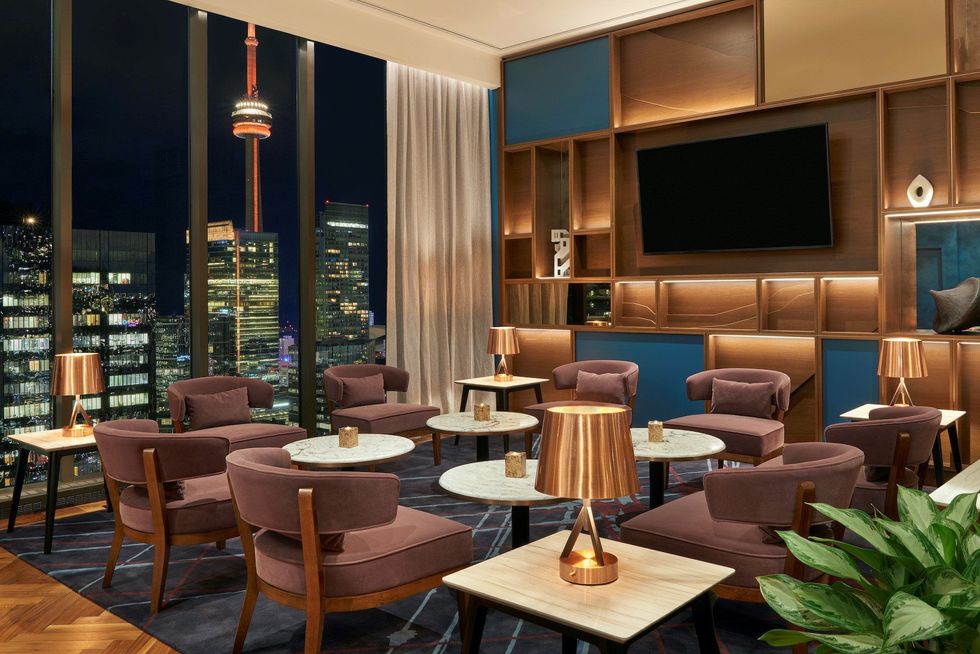 Park Hyatt Toronto
Meanwhile, in Yorkville, the doors to the restored iconic Park Hyatt hotel reopened in September after temporarily closing for a dramatic revamp in 2017. Designed by KPMB Architects with interiors by Alessandro Munge of Studio Munge, the building has been reinvented as a mixed-use development with both hotel and residential suites. The renovations see the lobby and wining and dining spaces completely reimagined. 
Always a go-to for the city's in-the-know set in the Park Hyatt Toronto's previous life, the rooftop cocktail bar is now called Writers Room and offers the same subdued sexy vibe for sipping classic cocktails as it always has. This makes it a continued draw for locals and visitors alike. Meanwhile, all-day restaurant Joni draws its influence from the spirit of Toronto's vibrant arts and culture scene. The restaurant harmonizes casual bistro dining with contemporary cooking techniques, with a menu that features everything from a Bees Wax Poached Lobster and a Hawaiian Kanpachi Crudo, to a comforting Chestnut Capelletti.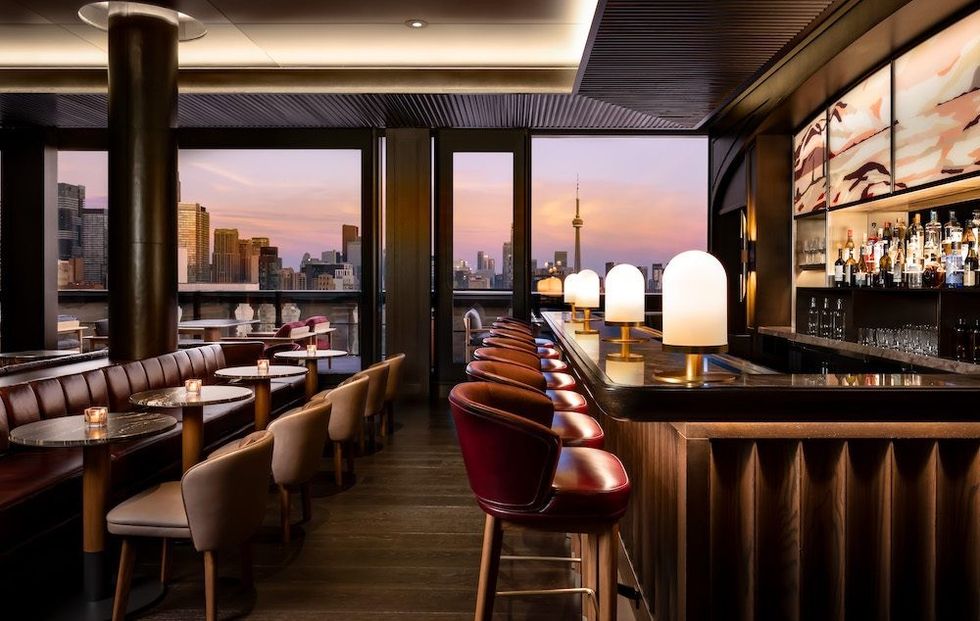 The revamp also adds a permanent art collection that highlights conversation-provoking pieces from renowned Canadian and Indigenous artists. Guests are greeted in the lobby by a large-scale tapestry designed by Canadian artist Shannon Bool, which sets the tone for an immersive and art-filled stay.
The Gladstone House
Speaking of art, in Toronto's west end, two beloved landmarks of the city's creative set — the Gladstone House Hotel and The Drake Hotel — are both fresh from extensive renovations. Since 1889, the Gladstone Hotel had long been an integral part of the Toronto community. Now, the iconic corner of Queen Street West and Gladstone Avenue is back to life and is as multi-layered and vibrant as ever thanks to an extensive revamp that sees the historic property with a slightly different name but with the same arts and culture-rich vibe. Nods to its storied history are discovered throughout the space in everything from its original signage and elevator to photographs and furniture from times past.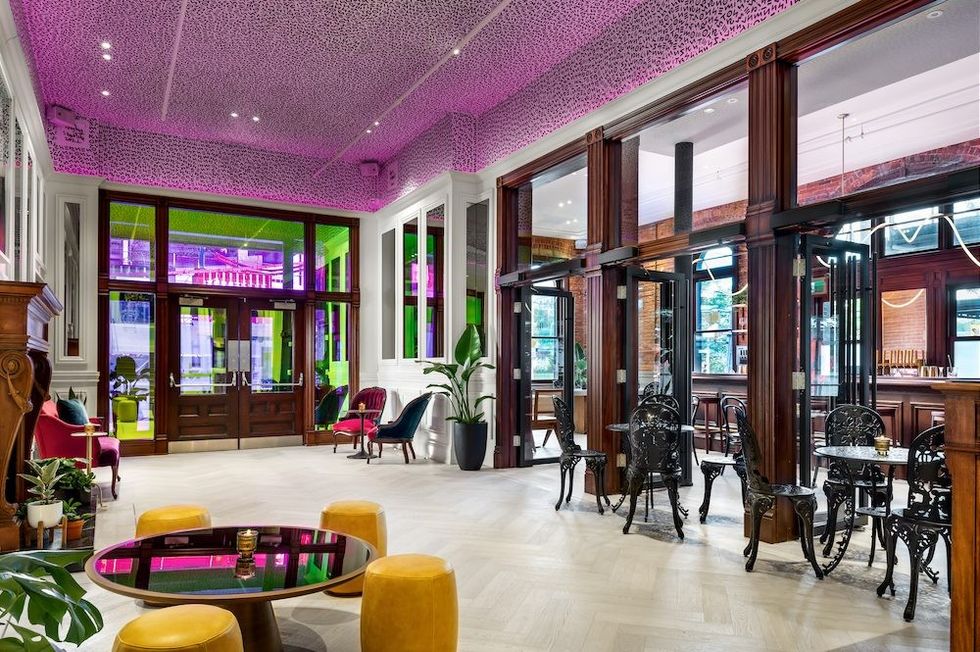 Now renamed Gladstone House, the hotel features bright spaces with exposed brick walls that juxtapose innovative lighting applications and contemporary artwork throughout the hotel's 55 guest rooms and gathering spaces. This begins upon entry, when visitors are greeted by a stunning and meticulously hand-painted bright-pink and black mural that covers the ceiling in the lobby. Upstairs, each simple, but tastefully designed, guest room features a different eye-popping work of art created by local artists.
The lower level of the building now features a new art studio that has already become home to an eclectic assortment of in-house artists. On the same floor, the property's revamp adds on-site fitness to the mix (something that was absent in the past), with new studios for weights and wellness. Led by Executive Chef Richard Singh, the hotel's food and beverage offerings are from the new Bistro + Bar, which sits off the lobby. With its casual bistro-style tables and homey vibe, it invites both laptop-working coffee sippers by day and a casual dinner and classic cocktail crew by night. With a strong focus on locally-sourced menu items, quick crowd-pleasers include items such as beef carpaccio, burrata, burgers, and fire-roasted eggplant.
The Drake Hotel
Just down the street, The Drake Hotel has recently expanded its footprint with the addition of a five-storey modern wing designed by Diamond Schmitt Architects and DesignAgency. Located on the east side of the existing building, the new wing features its own lobby, an intimate bar, and 32 eclectically-designed guest rooms filled with design-forward talking points. Notably, the sprawling two-bedroom Rooftop Suite offers a massive terrace over Queen Street with sweeping views of the cityscape. It's the type of suite that would lend itself to anything from bridal parties' quarters to refined yet playful family staycations.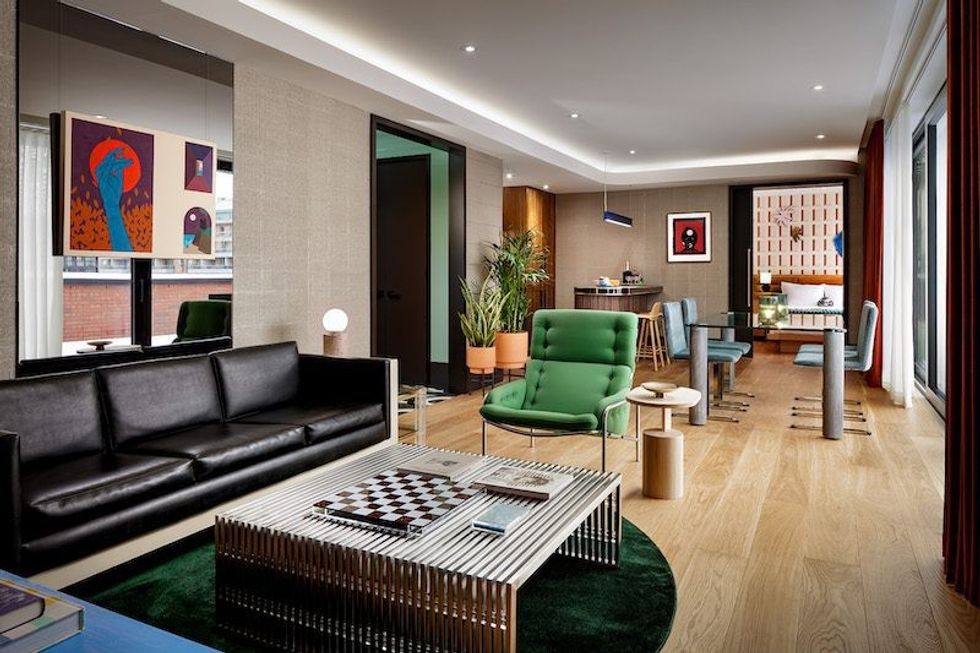 The Drake Hotel's revamp also includes a central courtyard visible from every floor, a green room for artists, a semi-private meeting space, and a separate entrance specifically for guests of the hotel. 
1 Hotel Toronto
In addition to the hotel renovations, Toronto has some new and upcoming hotel additions as well. In August, 1 Hotel Toronto opened doors to breathe new ultra-sustainable life into the former Thompson Toronto in the city's entertainment district. The real estate takeover sees the formerly sleek spot transformed into a lush planet-friendly place for wining, dining, and relaxing that's filled with greenery and sustainably sourced wood furnishings. The strong focus on sustainability is reflected in everything from a property-wide filtration system, a large on-site composter, and a "bee hotel," to in-room plants, organic cotton linens, yoga mats, and signature organic bath products. 
The new hotel has transformed the building's iconic and scenic rooftop into a lush and view-filled urban oasis with the arrival of Harriet's Toronto. The upscale Japanese spot features an open concept sushi bar, expertly made cocktails, and tailored poolside bottle service rituals in the bustling summer months. With low key live music and nightly DJs, this intimate gathering place has already become a quick go-to for the afterwork set and local tastemakers.
Downstairs, casual day-to-night indoor and outdoor restaurant 1 Kitchen Toronto serves up cold-pressed juices, plant-based dishes, and sustainably harvested fish and proteins. Here, all food ingredients are sourced from within a 50-kilometre radius. Meanwhile, at the hotel's lobby bar Flora, well-heeled guests sip cocktails and mingle in a lush garden environment with a cozy fireplace, communal tables, and lounge spaces.
W Hotel Toronto
Come spring, Toronto will also see the addition of its first W Hotel when the highly anticipated 416 location finally opens for business. The 254-room (including 32 suites), nine-storey hotel takes over the shuttered Bloor Yorkville Marriott Hotel (90 Bloor Street East), a long-time often overlooked Yorkville option compared to the neighbourhood's shinier and more luxurious hotels. The 1974-built building's $40-million makeover — which began July 2019 — includes things like a top-of-the-line 3,300-square-foot fitness facility (which will be open 24/7), 4,800-square-feet of stylish meeting and event space, and an immersive glass atrium.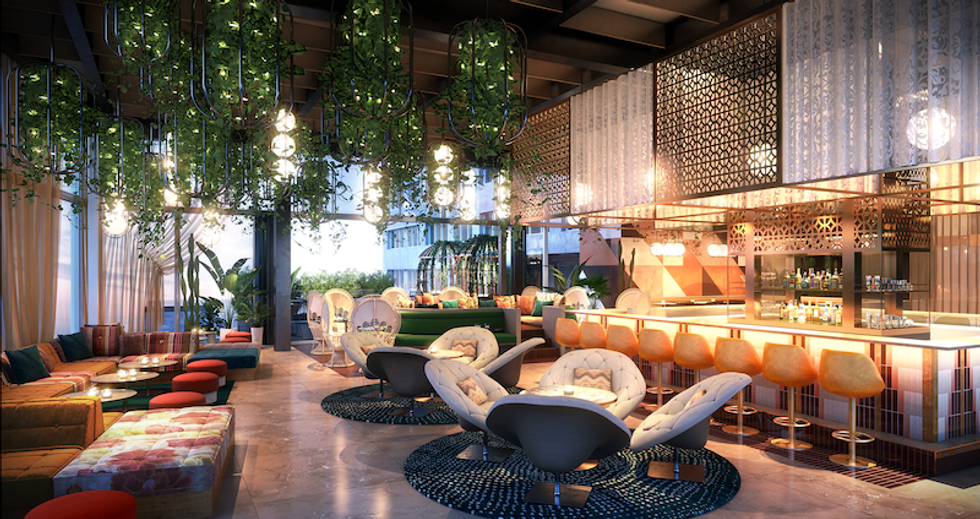 But the star of the show for many at the W Toronto will undoubtedly be the breezy Rooftop Bar & Restaurant that overlooks Bloor Street and the city beyond. Here, guests can expect a Mediterranean and Middle Eastern-inspired late-night bistro and Vermouth and Amaro-centric cocktails — and no shortage of people watching, naturally.
Toronto's recent hotel renaissance comes in the wake of other pre-pandemic hotel news, like the 2018 arrival of the sophisticated Hotel X (and its stunning pool over looking Lake Ontario) and a complete overhaul of the iconic Royal York Hotel that saw its history-rich lobby completely reimagined in 2019.
As we move into the warmer months and pandemic restrictions loosen further, it's safe to assume that these Toronto hotels — old and new — will have no shortage of local and tourist guests to fill their fresh new spaces.