Still some urban areas that won't break the bank, report says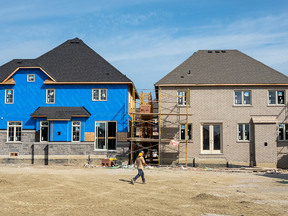 Article content
The price of a home in a large Canadian city can be prohibitive for many first-time homebuyers, but a recent report by real estate listing website Point2 found that there are still some urban areas across the country that won't necessarily break the bank.
Article content
The report released on Feb. 22, found three Quebec cities had the lowest first-year costs associated with buying a home, led by Saguenay at $74,342 and followed closely by Trois-Rivières at $79,517 and Quebec City at $84,370. The most expensive, by contrast, was Richmond Hill, Ont., at $400,733.
Article content
Point2 compiled the lists by assessing the costs of homeownership in Canada's 50 most-populous cities using on a combination of factors, such as upfront costs — including a 20 per cent down payment based on the city's benchmark home price and closing costs — plus annual recurring costs such as homeowners' insurance, mortgage payments and property tax, in order to determine which cities had the lowest and highest first-year costs.
Article content
According to the report, down payments in Canada average $142,740, and closing fees are on average $10,431. However, first-time buyers are often surprised to discover that there are several additional expenses associated with homeownership.
"As homeownership rates declined to a 20-year low back in 2021, potential buyers might still be inclined to postpone ownership plans due to ongoing inflation and out-of-reach home prices," the report said. "The first year of homeownership, in particular, can be daunting given the down payment, closing costs, first mortgage payments, homeowners' insurance, and property taxes — all new to first-time homebuyers."
What did not come as a surprise was that no cities in British Columbia made the list of most affordable. Quebec, on the other hand, topped all other provinces with nine cities in the Top 15.
Article content
Only one Ontario city made the cut while two were located in Saskatchewan and one each in Newfoundland, Alberta and Manitoba.
In Richmond Hill, just north of Toronto, a 20 per cent down payment means having $281,700 on hand, while closing costs amount to an average of $22,947.
Eleven Ontario cities made the list of the most expensive, with the other four — Vancouver, Richmond, Coquitlam and Burnaby — all in British Colombia.
According to the report, figures like these leave buyers with tough financial decisions.
"Feeling perpetually priced out of today's market, buyers have to decide whether to wait it out or bite the bullet — and the cost of the first year of homeownership is essential to making that choice in good conscience," Point2 said in the report.
Article content
Meanwhile, new home prices in Canada dropped by 0.2 per cent month over month in January, according to Statistics Canada data released on Feb. 15.
In its latest New Housing Index report, StatCan said higher mortgage rates continue to exert downward pressure on new house prices.
"Borrowing costs rose again in January, as the Bank of Canada increased the policy interest rate an additional 25 basis points, bringing it to 4.5 per cent," StatCan said.
Article content
As a result of the difficulties associated with becoming a homeowner in Canada, measures have been taken to facilitate the purchase of a home including, the tax-free First Home Savings Account plan and the recently introduced foreign buyers tax, formally called the Prohibition on the Purchase of Residential Property by Non-Canadians Act.
Those measures have yet to alleviate the affordability challenge.
"Despite financial aid programs and dwindling competition for already scarce inventory, the costs of homeownership weigh on any potential buyer," Point 2 said.
These are the 15 least-expensive cities based on first-year costs:
Saguenay, QC ($74,342)

Trois-Rivières, QC ($79,517)

Québec City, QC ($84,370)

Regina, SK ($88,704)

St. John's, NL ($88,956)

Lévis, QC ($89,246)

Winnipeg, MB ($95,125)

Edmonton, AB ($100,078)

Sherbrooke, QC( $100,214)

Saskatoon, SK ($102,992)

Terrebonne, QC ($118,309)

Gatineau, QC ($118,603)

Greater Sudbury, ON ($119,472)

Longueuil, QC ($128,625)

Laval, QC ($132,786)
These are the 15 most expensive cities based on first-year costs:
Richmond Hill, ON ($400,733)

Markham, ON ($383,469)

Oakville, ON ($378,122)

Vaughan, ON ($369,051)

Vancouver, BC ($331,638)

Toronto, ON ($315,031)

Richmond, BC ($314,917)

Coquitlam, BC ($296,694)

Whitby, ON ($295,730)

Milton, ON ($295,504)

Burnaby, BC ($292,435)

Mississauga, ON ($290,038)

Brampton, ON ($287,700)

Ajax, ON ($280,939)

Burlington, ON ($274,917)
• Email: shcampbell@postmedia.com