Sellers are capitalizing on surging rents by holding onto their properties and becoming landlords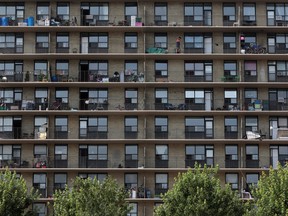 Article content
Surging rents are draining inventory from Canada's resale condominium markets as would-be sellers opt to lease out their units long-term instead, a new report suggests.
Article content
Condominium sales were down in the first eight months of 2022 in four key markets — Greater Vancouver/Fraser Valley, Greater Toronto Area, Ottawa and Nova Scotia — according RE/MAX Canada's 2022 Canadian Condominium Report, which was released Oct. 12. Calgary and Edmonton bucked the trend, reporting double-digit sales gains.
Article content
Meanwhile, monthly rents have been surging. Average rent in the Greater Toronto Area, for example, rose 21 per cent on a year-over-year basis in August, a recent rent report by Rentals.ca and Bullpen Research & Consulting found.
"The affordability factor is the key issue in today's housing market," said Christopher Alexander, president of RE/MAX Canada. "Rising interest rates have slowly eroded purchasing power and, despite lower housing values and cooling market conditions, buying a house is more challenging now than ever before."
Article content
That means the cost of renting is now comparable to carrying a mortgage — and sellers are capitalizing on the trend by holding onto their properties and becoming landlords.
"They are getting great returns on their investment if they decide to rent their unit instead of selling. Rents have gone up 25 per cent, pretty much, across the board," Alexander said. "So if you can cover all your expenses through rental income, and you can refinance to buy something else, you're in really good shape."
Jamie Johnson, a broker who owns RE/MAX Condos Plus, said he has encountered numerous would-be sellers who have pulled their listings and asked to advertise their condos as rentals instead.
Article content
"For every condo listing for sale, we're seeing about six listings for rent or lease," he said.
Despite the rental effect, urban market condos increased their share of total sales as buyers opted for cheaper options and market activity slowed overall. In Toronto, for example, the bulk of condominium apartment sales now hover in the $500,000–$700,000 range, down from $600,000–$800,000 earlier in the year.
Compared to year-to-date levels one year ago, condominiums now represent more than 54 per cent of total residential sales in Greater Vancouver, 36.3 per cent in the Greater Toronto Area, 32 per cent in the Fraser Valley, just over 25 per cent in Edmonton and Ottawa, and almost 20 per cent in Calgary. Nova Scotia was the only market to register a decline in condominium market share.
Article content
"Buyers should be cautioned that the current slowdown in sales activity is likely not indicative of a crash," says Elton Ash, executive vice- president, RE/MAX Canada. "Prices for condominium product have remained stable or risen in most major urban centres year-to-date. Conditions are balanced overall and, as such, buyers and sellers with realistic expectations should be able to achieve reasonable objectives."
Average prices rose by up to 26 per cent year over year, the report found. In the GTA, prices jumped 15.7 per cent to $796,457 in 2022 from $688,137 in 2021.
• Email: shcampbell@postmedia.com