Suburban office markets are continuing to show lower vacancy rates than downtown areas, Colliers says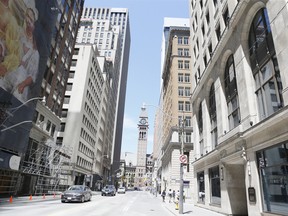 Article content
Suburban office markets are continuing to show lower vacancy rates than downtown areas, where a substantial increase in new office supply has been pushing vacancies higher.
Article content
According to Colliers Canada's latest National Market Snapshot, 93 per cent of new office supply this year through the end of the second quarter has been concentrated in downtown ares. Suburban office vacancy rates stood at 11.7 per cent compared to its downtown counterpart at 15 per cent.
Article content
Despite the influx of new office supply and mounting optimism in downtown markets, the return-to-office process has been comparatively slower in downtowns. Various factors contributed to the hesitancy, including lingering concerns about public transportation, lengthy commute times, safety and the need to maintain flexible work arrangements to attract and retain talent.
Adam Jacobs, the senior national director of research at Colliers Canada, said that while downtowns have long had appeal, the suburbs have certain things going for them.
Article content
"Downtowns were where it was at for a long time," Jacobs said in an interview. "The employees were happier, you could hire more easily, you were closer to clients. But the suburbs have some advantages right now. There's a lot of people saying 'My commute is too long, it's too expensive, there's nowhere to park, I don't feel safe downtown.' Well, your boring suburban office park has great free parking and you can come and go as you please."
Downtowns were where it was at for a long time

Adam Jacobs
Colliers' report notes that the construction cycle has been slowing down, leading to a decline in office inventory under development since 2020.
Concurrently, vacancy rates in significant markets like Vancouver at 7.4 per cent and Toronto at 10.5 per cent are experiencing slight increases. However, the report assures that Colliers analysts do not foresee any "short-term" spiking in vacancy rates.
Article content
Jacobs believes the nation's downtowns have likely overcome the worst of their vacancy problem, suggesting an improvement in the market. One contributing factor to this positive trend is the scarcity of new office spaces in suburban areas, which has played a role in reducing the vacancy rate in comparison to downtown.
"I would say the worst of this is over. A lot of new construction has been completed in the last year or two," Jacobs said. "Between record high interest rates and work from home, I don't think they're going to build 40 storey towers downtown for a while. It was just a bit disruptive to the market because construction comes in cycles. A ton of construction was happening just as work from home was also happening, so there was a kind of double whammy for landlords downtown."
Article content
During the second quarter, rental rate growth slowed; however, the annual growth rate remains strong at over 26 per cent. Notably, Montreal stands out as an exception, with rental rates currently only 7 per cent lower than Toronto's $26.14 per square foot. This marks a significant improvement compared to the pre-pandemic period when the difference between the two cities was as high as 30 per cent.
British Columbia is maintaining its reputation for having the highest rental rates in the country, with Victoria's rental rates standing at 35 per cent higher than the national average of $20.79 per square foot. Vancouver is even more expensive, with rental rates 57 per cent higher than the national average.
• Email: shcampbell@postmedia.com