Meanwhile, the rush to unload properties showed no signs of slowing down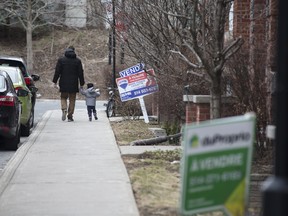 Article content
Montreal is the latest Canadian city to report that its real estate markets slowed in August, with monthly data released by the Quebec Professional Association of Real Estate Brokers (QPAREB) revealing "several signs of weakness." 
Article content
The median price of a single-family home in the city in August was $525,000, down from $550,000 in July but up five per cent over August 2021, the QPAREB data showed. Prices peaked in April at $580,000 and have tumbled a cumulative nine per cent since then. 
Article content
Condominiums dropped to a median price of $385,000, down from $391,500 in July. 
Meanwhile, the rush to unload properties showed no signs of slowing down. Active listings rose year over year in the Montreal CMA, with single-family home listings up 58 per cent and overall listings increasing by 37 per cent over August 2021. There are now 13,715 listings available for sale.  
"The magnitude of the increase in mortgage interest rates is beginning to be reflected in a more incisive way," said Charles Brant, director of the QPAREB's market analysis department. 
Article content
According to QPAREB, August is usually characterized by a lower volume of properties coming to the market than most other months in the year. In contrast to the past 20 years, this August has seen the most listings year-to-date. 
The dramatic effect that interest rate hikes are having on housing markets prompted the Toronto Regional Real Estate Board to call on OSFI to revisit its mortgage stress test rules. 
QPAREB data also shows that market activity declined at different rates in different regions within Montreal. The North Shore experienced the smallest slowdown, with a three per cent decrease, followed by the South Shore, with a 10 per cent decrease. Other major areas, meanwhile, registered larger slowdowns, with decreases of 23 per cent in Vaudreuil-Soulanges, 28 per cent in Laval, 31 per cent on the Island of Montreal and 34 per cent in Saint-Jean-sur-Richelieu. 
• Email: shcampbell@postmedia.com