Many real estate submarkets in Metro Vancouver may be favouring sellers at the moment, but perhaps none more so than Richmond, according a report published by Zoocasa on Tuesday.
With the arrival of the spring market, when activity typically gains steam, Zoocasa used March data from the Real Estate Board of Greater Vancouver to pinpoint whether certain submarkets are currently leaning towards buyers or sellers.
A common quantitative indicator of this is the sales-to-new-listings ratio in a given month, where a ratio under 40% suggests a lean towards buyers, a ratio over 60% suggests a lean towards sellers, and anything in between a sign of market balance.
In a buyers' market, new listings outweigh sales, meaning buyers have more options, whereas in a sellers' market, demand is stronger than supply, giving sellers a potential advantage.
Zoocasa found that Richmond, Port Moody, Vancouver East, Squamish, Coquitlam, North Vancouver, and New Westminster all showed a lean towards sellers with sales-to-new-listings ratios over 60%. Richmond and Port Moody notably had ratios over 70%.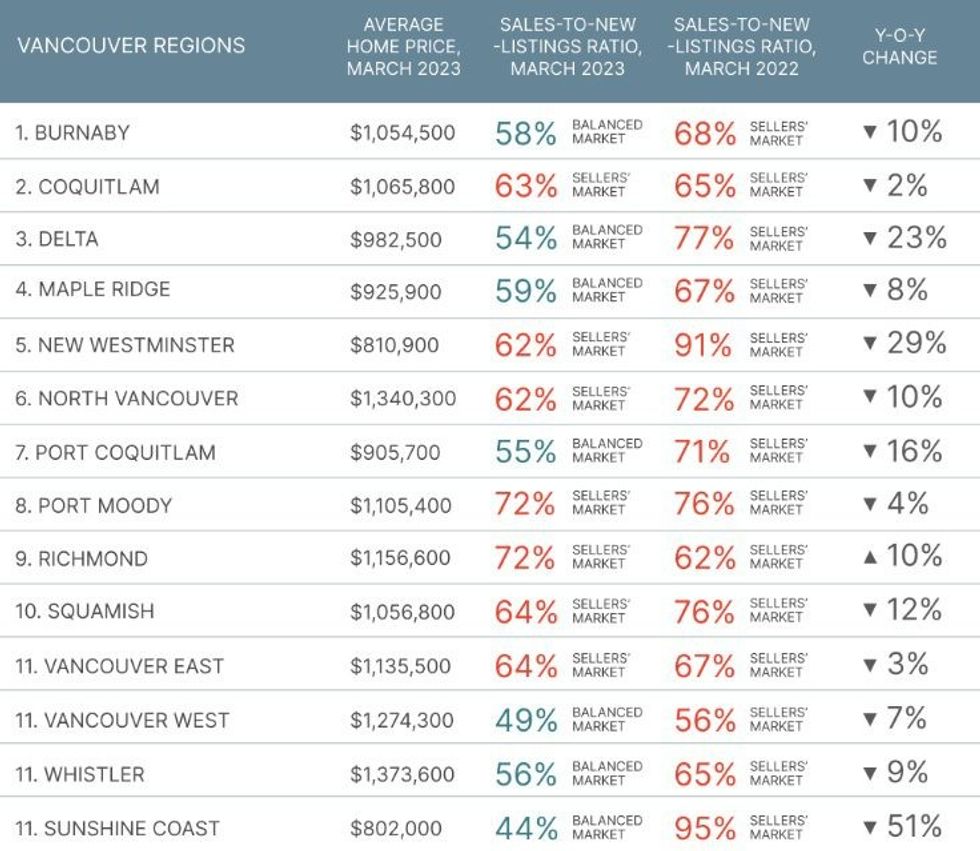 For comparison, Zoocasa also gathered data from this time last year, when all the submarkets were favouring sellers as the Bank of Canada's policy interest rate sat at just 0.50% (Remember those days?) and demand was strong.
Even with that context, Richmond still stands out from the crowd, as it is the only market in Metro Vancouver that is currently favouring sellers even more so than it was back in March 2022, with the sales-to-new-listings ratio increasing by 10% in that span. Meanwhile, every other market saw their ratio drop.
Even more impressive is the fact that the average home price in Richmond ($1,156,600) is one of the higher ones in Metro Vancouver, with only Whistler ($1,373,600), North Vancouver ($1,340,300), and Vancouver West ($1,274,300) boasting higher average real estate prices.
READ: "Cyclical Bottom" Forming In Canada's Housing Markets
Outside of Richmond, also notable is that absolutely no submarkets are favouring buyers at the moment, which is a sign of, if anything, supply being very low. That may continue to be the case, at least for the spring market.
"Buyers likely aren't having much luck in these markets because of the lack of available inventory in Vancouver and the growing demand as the spring market gets into full swing," Zoocasa says. "Additionally, prices will likely continue to climb, as fewer homes mean fewer choices and competition for the available properties increases."
Howard is a Staff Writer at STOREYS. He is based in Vancouver, British Columbia, and has also written about media for One Zero and international politics for WhoWhatWhy. Before STOREYS, he was also the Deputy Editor of 604 Now.