Vancouver remains Canada's most expensive rental market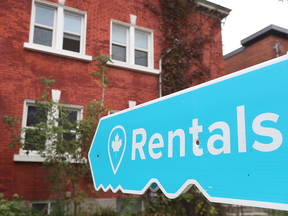 Article content
Average rent in Canada is on the rise again, with March figures showing the first monthly increase since November as strong demand for rental housing continues to outpace supply, according to the latest national rent report from Rentals.ca and Urbanation Inc.
Article content
The annual asking rent for all property types in Canada was up 10.8 per cent or $196 in March to $2,004, the report released April 13 said. On a month-over-month basis, average rents were up one per cent.
Article content
"With supply unable to keep up with current levels of demand, expect further upward pressure on rents in the coming months," Shaun Hildebrand, president of Toronto-based real estate research firm Urbanation, said in a press release.
This spring's highly competitive rental market was driven by the past year's record population growth of over one million people and a lack of affordability in the homeownership market due to spiking interest rates, he said.
In a previous report released in January, Hildebrand said the quickly growing population is finding it increasingly more difficult to afford homeownership or find suitable rental housing. He pointed to higher borrowing costs keeping rental demand strong in the face of falling supply.
Article content
The outcome mirrors gains in home sale prices reported by real estate firm Royal LePage on April 13, which it attributed to an early return of sidelined buyer demand and a continued shortage of inventory.
"We've reached the end of the market correction — the downturn in real estate — and the market is growing again, as of about the middle of March," Royal LePage chief executive Phil Soper said.
Vancouver remained the most expensive of Canada's largest rental markets. The city had the highest average monthly rent in March, with rent for a one-bedroom home reaching $2,743 and two-bedroom rent at $3,653 — 17.3 per cent and 21.5 per cent year-over-year increases, respectively.
In Toronto, the average monthly rent for a one-bedroom rose to $2,506, up 22.2 per cent annually, while rent for a two-bedroom was $3,286, up 19.7 per cent.
Article content
Condominium rentals and apartments prices rose the fastest in Calgary for the second straight month in March, as rents increased 24.9 per cent year-over-year to $1,890. Toronto recorded the second-fastest rate of growth with rents for condos and apartments up 22.4 per cent annually to an average of $2,818.
As rents soared over the past year, some Canadians looked to private room and shared-accommodation rentals, which have been gaining popularity.
Single rooms had an average asking rent of $834 nationally, with the highest rents averaging $1,053 in British Columbia and $934 in Ontario.
• Email: dpaglinawan@postmedia.com | Twitter: denisepglnwn