Borrowers with variable-rate mortgages soon coming up for renewal are particularly at risk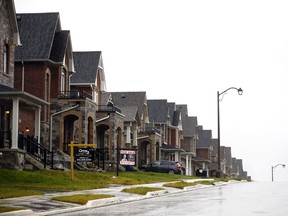 Article content
Canada's banking regulator is raising red flags around growing risks in the mortgage market as interest rates rise and home prices cool. While the Office of the Superintendent of Financial Institutions did not announce new measures when it updated its residential mortgage underwriting infosheet this week, it emphasized the need for readiness to confront these emerging risks.
Article content
"(Federally regulated financial institutions) need to ensure that they are prepared to handle the potential implications of lower housing prices and higher interest rates," the report read. "In particular, the level of loss experienced by lenders not only depends on the likelihood of a default, but also how much of the loan the banks would lose in case of a default."
Article content
OSFI pointed to high levels of Canadian household debt, which stood at 182 per cent of disposable income during the second quarter this year, as another potential risk. The regulator noted that a combination of these record debt levels, persistently high inflation, which clocked in at 6.9 per cent in September, and further Bank of Canada rate hikes would strain the ability of Canadians to make mortgage payments.
Article content
Dedicating a larger portion of their income toward mortgage payments could reduce savings or lead Canadians to pulling back on spending in other areas of the economy, OSFI noted. For would-be homeowners, the combination means searching for more affordable housing options, boosting down payments, or delaying their purchase.
Borrowers with variable-rate mortgages soon coming up for renewal are particularly at risk as they will feel the impacts of rate hikes sooner, according to OSFI.
The regulator also defended the mortgage stress test, arguing that ensuring buyers could still afford the higher of contract rate plus 2 per cent and 5.25 per cent provided a margin of safety in preventing some borrowers from over-stretching themselves financially.
Article content
National Bank analyst Jaeme Gloyn and associate Julia Gul said the new commentary reinforced the bank's cautious stance on the residential mortgage sector.
"Mortgage borrowers are increasingly leveraged and rising interest rates only increase the debt service burden on these borrowers," Gloyn and Gul wrote in an Oct. 18 note. "Combined with eroding homeowners' equity as house prices correct, this environment could lead to higher-than-expected losses at OSFI-regulated lenders."
National Bank added it did not expect the regulator to loosen its underwriting guidelines in the near term. Analysts also pointed to mounting policy uncertainty, an aggressive path of rate hikes and housing market risk as challenges on the horizon for the sector.
Article content
"We could see the impact of 'payment shocks' on renewing borrowers' flow-through credit performance, assuming borrowers face difficulty servicing a higher mortgage payment," the note read. "For borrowers that received their mortgage in Q3 2021, we estimate a $1,000 increase in monthly mortgage payments. These higher mortgage payments, alongside other inflationary pressures (e.g., food, fuel), could stress borrowers' ability to pay."
Gloyn and Gul estimate Home Capital Group Inc. borrowers could be facing up to a $1,190 boost in their monthly payments over the next year as 66 per cent of these mortgage holders will need to renew. While Equitable Group Inc. does not provide the disclosures necessary to conduct a similar analysis, the bank said it was safe to assume similar outcomes for EQ Bank.
Article content
National Bank gave EQ Bank an outperform rating with a $73 price target and a sector perform on Home Capital with a $31 price target. Shares of EQ Bank stood at $45.83 and Home Capital's stock was listed at $27.57 on Wednesday afternoon trading.
Earlier this week, OSFI's superintendent of financial institutions, Peter Routledge, said the regulator was constantly looking at the risk horizon and determining whether it had the necessary buffers in place to weather potential financial storms.
Article content
"We've never had buffers this thick to protect our financial system from adverse events," Routledge said during an Oct. 17 Toronto Centre panel discussion in Toronto. "Is that enough? It's necessary, but it is not fully sufficient. What makes it fully sufficient is a regulator that has a willingness to act."
Routledge said the regulatory will to act once it identifies potential difficulties on the horizon has been necessary since OSFI's founding in the wake of the 1987 global financial crisis.
"That's my obsession now … as we go into more difficult times with higher debt service costs which flow from higher inflation," Routledge said.
"If we are willing to take that risk (of acting early), we will add what is necessary and sufficient to the resilience in the system and I think we'll come through whatever comes at us quite well, as we have in the past."
• Email: shughes@postmedia.com | Twitter: StephHughes95