What will soon be Ontario's first-ever zero-carbon, mass timber academic building has been rapidly progressing at Centennial College's Progress Campus in Scarborough. 
Construction of the A-Block expansion project began in November, and significant progress has since been made at the site. Once completed, the $105-million expansion to the A-Block campus building will form a new gateway at Centennial's flagship campus when it opens in 2023. 
The project, which is a collaboration between Centennial, EllisDon, DIALOG, and Smoke Architecture, also honours the Indigenous land that the new building is being built on by embodying the college's commitment to Truth and Reconciliation, Indigenous education, and sustainable design.
The six-storey addition will provide 150,000 square feet of academic programming space for Centennial's School of Engineering Technology and Applied Science programs, in addition to flexible classrooms that support Indigenous ways of "teaching and being," as well as an engaging student touchdown area, along with collaborative spaces, administrative offices, and food services.
READ: Canada's First Zero-Carbon, Mass Timber Higher-Education Building Opening in Toronto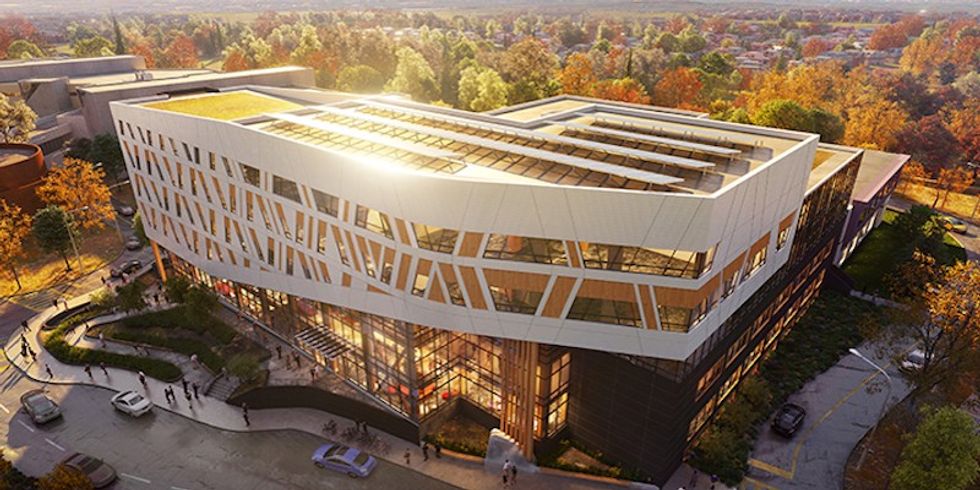 While there are other universities and colleges that have mass timber structures in various stages of planning, design, and construction, Centennial's A-Block Expansion project is the first to begin erecting a mass timber structure on site.
"We're so incredibly excited to see our unique academic building rising quickly," said Dr. Craig Stephenson, President and CEO of Centennial College in a statement. 'Indeed, rapid construction is said to be one of the many benefits of working with wood."
Mass timber, which is composed of a mix of wood strips laminated together to form strong structural components, can substantially reduce greenhouse gas emissions in the building sector, cut wastage, pollution, and costs associated with construction, and create a more aesthetically pleasing and healthy built environment.
The components are predominantly Glulam columns and beams made of wood strips laminated lengthwise, and floor slabs of cross-laminated timber (CLT).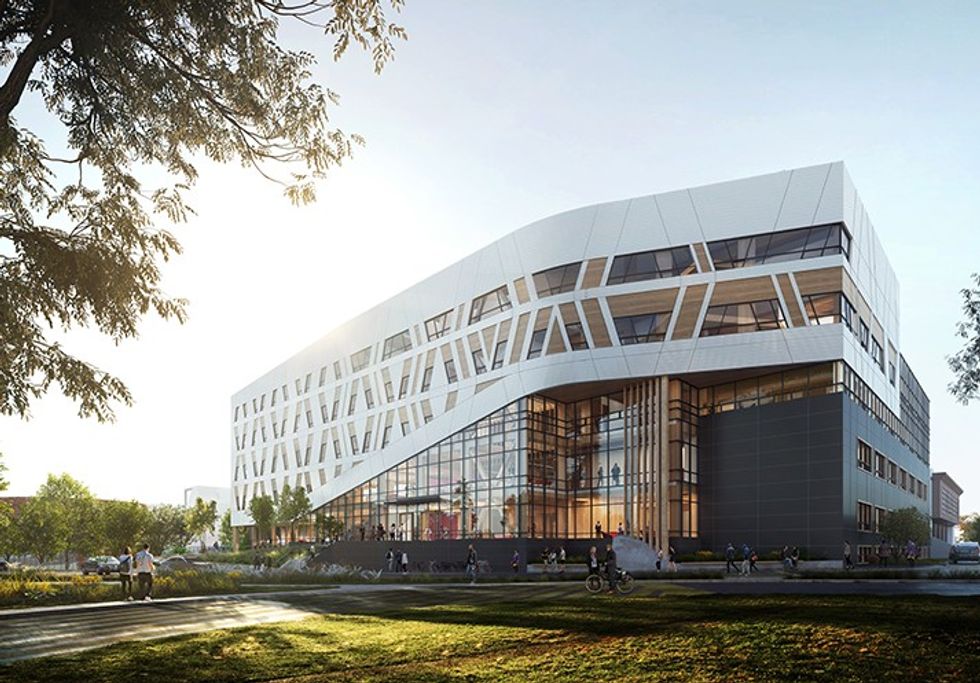 The new building features a design based on the Indigenous concept of "Two-eyed Seeing," meaning the new build will reflect both Indigenous and Western cultures.
"The indigenous concept of 'Two-eyed Seeing' empowered our team to explore the ideas of zero-carbon and mass timber through an Indigenous lens, as well as a Western lens," says Craig Applegath, Principal-in-Charge at DIALOG.
"The two perspectives amplified each other; for example, the aluminum cladding was detailed with contemporary parametric software to replicate the way a fish's scales move over its body, shifting independently yet forming a single skin. It's incredibly functional yet also quite magical," said Applegath.  
With environmental sustainability serving as a key attribute of Centennial's new building, its zero-carbon emissions design, along with its ability to store thousands of tonnes of carbon in its sustainably harvested mass timber wood structure, sets an important precedent.
What's more, the college is also pursuing an effective sustainability strategy to reduce energy consumption, aiming to achieve a minimum LEED Gold Standard, WELL certification, and a Net Zero, or possibly Net Positive, building designation.
You can watch how the new building progresses in the live stream of the site below.
When Ainsley's not writing about real estate, local developments, and beautiful homes she wished she lived in, you can usually find her exploring Toronto, cooking, doing at-home workouts, or hanging with her cat, Jerry Seinfeld.