Early influx of purpose-built units led to noticeable increase in average rents in parts of Canada, report says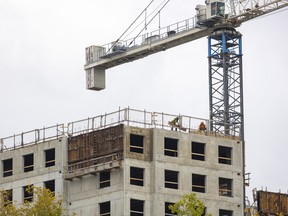 Article content
The good news for renters is that more purpose-built rental units are coming, spurred on by federal and provincial tax breaks for builders. The bad news is, those units are not likely to be cheap.
The latter realization was brought home by the latest monthly rent report from Rentals.ca and Urbanation Inc., which found that in parts of the country, including Alberta, Nova Scotia and Quebec, an early influx of purpose-built units led to a noticeable increase in average rents in October.
Article content
"These provinces have experienced a combination of strong population growth and large infusions of new rental supply priced at above-average market rents," the report said.
In October, Alberta's average apartment rent rose by 16.4 per cent to $1,686. Similarly, Nova Scotia's average rent rose to $2,097, a 13.6 per cent year-over-year hike, while Quebec followed closely with a 13.3 per cent increase to $1,977.
The national average rental rate, according to the report, was $1,889 per month.
According to the Canada Mortgage and Housing Corporation, a total of 36,292 new rental apartments were completed in Alberta, Quebec and Nova Scotia during the 12-month period ending October 2023, representing a combined 55 per cent share of total rental apartment completions in Canada during that period.
"Brand new buildings are increasingly becoming highly amenitized with better finishes, strong locations, better design and better layouts. You know, most of the existing rental stock in Canada was built in the 1960s and 1970s. So it's not not hard to see why newer rental buildings command a higher rent than the overall market average," Urbanation president Shaun Hildebrand said.
Article content
This may be a sobering thought for governments that have been scrambling to facilitate the construction of purpose-built rental as housing affordability concerns mount.
In September, Prime Minister Justin Trudeau announced that his government will no longer charge the Goods and Services Tax (GST) on new rental apartment construction projects, which would effectively lower the cost of labour and materials for builders.
In November, the Ontario government followed suit, unveiling plans to eliminate the entire eight per cent provincial portion of the Harmonized Sales Tax (HST) on qualifying new purpose-built rental properties –– part of its plan to build at least 1.5 million homes by 2031.
Currently, Ontario offers a rebate equal to 75 per cent of the provincial HST paid, capped at a maximum of $24,000. Under the proposed changes, this rebate would be upgraded to cover 100 per cent of the provincial HST, with no maximum limit.
The high cost of new units, however, might dash the notion that PBRs can resolve the country's affordability crisis.
In Ontario, where those concerns are highest, rent increases were more modest in October, up 4.6 per cent from last year to an average of $2,492. The year-over-year increase increase in September, by comparison, was 6.6 per cent.
Article content
While purpose built rental plays a significant role in the GTA market, there has been a dearth of new units coming onto the market in recent years.
According to the Building Industry and Land Development Association (BILD), PBRs constitute 41 per cent of the GTA's rental housing stock, but only 14,853 such units have been added over the past decade. That figure represents just nine per cent of the total increase in rental housing.
Those that are being built are being priced well above market levels, Hildebrand said.
"When we track new purpose-built rental in the GTA, these units on average rent for more than $3,100 a month," Hildebrand said.
In the fourth quarter of 2022, average rents in new purpose-built rentals were $2,929, requiring a $117,000 income for affordability, significantly higher than the average renter household income of $80,000 in 2021, BILD said in a report released earlier this year.
The agency questioned whether demand for new rental housing would increase as expected, given the rising costs.
"There is an argument that the aggregate growth in rental demand would be lower than projected for newly built rental units, given that rent levels in new buildings are considered unaffordable for the average renter," it said in the report. "In other words, the GTA would not necessarily need 312,000 new rental units priced at the market average for new builds during the next decade."
Article content
The report did note that the fastest-growing renter segment over the past decade has been those earning over $100,000, a cohort that has doubled between 2011 and 2021 and now accounts for 89 per cent of renter household formation.
The trend is expected to continue as higher-income groups increasingly turn to renting, influenced by immigration policies targeting skilled labour, challenges in the home ownership market, and a trend of downsizing to rentals.
BILD said this shift may ease demand for more affordable rentals and improve overall housing affordability through a "filtering effect."
• Email: shcampbell@postmedia.com

Bookmark our website and support our journalism: Don't miss the business news you need to know — add financialpost.com to your bookmarks and sign up for our newsletters here.