FCAC research shows growing number of Canadians struggling to keep up with their financial commitments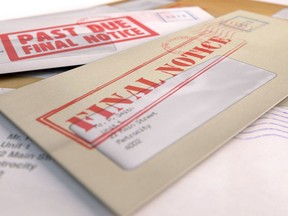 Article content
Canada's financial consumer watchdog has released new guidelines aimed at protecting consumers considered at risk of defaulting on a mortgage on their principal residence as rising borrowing costs and high inflation put more pressure on Canadians.
Article content
The Financial Consumer Agency of Canada (FCAC) said federally regulated financial institutions, such as banks, are expected to contribute to the protection of consumers by providing tailored support to those at risk.
Article content
"Today's economic environment is characterized by high household debt, increased cost of living and higher interest rates. As a result, some mortgage holders are at risk of not keeping up with their regular payments," the FCAC said.
The regulator said all available mortgage relief measures should be considered for consumers who experience severe financial stress, including waiving prepayment penalties and internal fees and costs; not charging interest on interest; and extending amortizations for the shortest period of time possible.
Article content
Financial institutions are also expected to monitor consumers for early signs of severe financial stress and maintain accurate records of all those contacted for this purpose.
Such policies should also cover an assessment to ensure appropriate relief measures are made available and the disclosure of information to the consumer to ensure express consent.
During a media briefing, FCAC said those expectations, such as not charging interest on interest, were already put in place and communicated to the industry during the COVID-19 pandemic. They are reflected again in the new guidelines to provide tailored relief measures.
FCAC research shows a growing number of Canadians are struggling to keep up with their financial commitments. One key finding was that an increasing number of homeowners with a mortgage are at risk of experiencing financial hardships, such as having to borrow for daily expenses or draw on savings.
Article content
It said regulated lenders are to provide support to people with variable-rate mortgage payments that fluctuate with interest rates and have increased materially, as well as those with fixed-rate mortgages reaching near-term maturity who may be facing a large increase in payments.
They are also expected to provide support to those with fixed payments on variable-rate mortgages who have seen a larger portion or all of their payments go to increased interest costs or who may be facing negative amortization.
"FCAC's guideline will help protect Canadians with mortgages who are experiencing severe financial stress, and make sure they are treated fairly and consistently in their dealings with their financial institutions," commissioner Judith Robertson said in a press release.
• Email: dpaglinawan@postmedia.com | Twitter: denisepglnwn