This is what the Bank of Canada sees happening on the ground
Get the latest from Stephanie Hughes straight to your inbox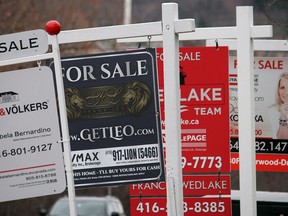 Article content
Canadians are about to feel the full effect of the interest-rate shock the Bank of Canada put in motion a year ago.
Article content
Anyone seeking a home loan is seeing the highest interest rates in recent memory. You could get a variable mortgage with a rate of about 1.5 per cent a year ago — and if you did, you've had an uncomfortable year, as variable rates are now closer to six per cent, according to Bank of Canada data.
Article content
The Bank of Canada's interest rate increases between March 2022 and January 2023 haven't shown up yet at the macro level. The unemployment rate still is hovering near a record low and the central bank's latest forecast predicts stronger growth this year than it had been anticipating.
Article content
But the positive surprises are probably nearing an end. Bank of Canada governor Tiff Macklem hinted this week that interest rates will need to stay "higher for longer" to get inflation back to the two per cent target. That's going to leach demand for goods and services because highly indebted households will have less disposable income on hand. Behaviour will change.
Article content
For the first time this week, the Bank of Canada sketched in solid lines what it thinks is happening on the ground. Here's what it looks like:
Putting brakes on demand
The higher rates climb, the more the appetite to borrow falls. That's because the cost to cover debt leaves households with less to purchase non-essential goods. This gradually saps demand for goods and services. A family is less likely to eat out when mortgage payments and car loans balloon.
Of course, this is what the central bank has been aiming for over the past year. Policymakers determined the economy had "excess demand," an impulse to buy goods and services that exceeded the ability of companies to keep up. Prices naturally rose. The Bank of Canada is now trying to constrain demand and give supply a chance to catch up, ultimately easing price pressures and cooling off inflation.
Article content
Since Canada is a housing-obsessed country, the effects are nearly immediate. The Bank of Canada's new quarterly Monetary Policy Report noted that in 2022, mortgages took up more than half of households' total debt-service payments. Variable-rate mortgage holders take the first hit, then fixed-rate mortgage holders get whacked in the second wave when they are forced to renew at higher rates.
The Bank of Canada created a scenario to gauge the potential impact rising rates would have on households' debt-service costs. Staff assumed the benchmark rate follows the path reflected in a market pricing in early April. That path would result in the effective interest rate on variable-rate mortgages peaking in the first half of this year, while the effective interest rate on fixed-rate mortgages rises through 2024 as home loans with low rates expire and are replaced or renewed at higher rates.
Article content
Bottom line: there's nowhere to hide.
Pinched like it's 1999
The Bank of Canada researchers went on to compare mortgage interest payments to disposable income. In their scenario, they found mortgage payments plateau at 5.5 per cent of disposable income in the third quarter of 2023, which would be the highest since the late 1990s and two percentage points higher than when the Bank of Canada started raising interest rates in March 2022.
"Borrowers may be able to mitigate some of these increased costs," the report said. "However, their budgets will continue to feel the strain of these costs over the coming quarters."
The Bank of Canada predicts economic growth will slow to 1.4 per cent this year (from 3.4 per cent in 2022) and 1.3 per cent in 2024.
Article content
On the surface, the Canadian economy was unaffected by weaker household spending power in the late '90s. Back then, gross domestic product grew 4.3 per cent in 1997, 3.9 per cent in 1998 and 5.2 per cent in 1999.
That probably had something to do with globalization, which was taking off at that time. Companies were warming up to the North American Free Trade Agreement, production in the oilsands was ramping up, and China's supercharged rise from poverty was stoking demand for commodities. Canadian export volumes increased 8.9 per cent in 1997, 8.7 per cent in 1998 and 11.6 per cent in 1999, according to the International Monetary Fund (IMF).
Globalization is now in reverse. The fund's prediction for Canadian export volumes in 2023 and 2024 is 2.6 per cent and 1.4 per cent, respectively. There will be fewer offsets to weaker consumption this time. Rising interest rates will pinch harder.
Article content
Behaviour change
The central bank's analysis of higher interest rates on household budgets also looked at how consumer behaviour is changing. Researchers found an overwhelming preference for variable-rate mortgages has flipped: borrowers now want to lock in for a couple of years.
Back in 2019, roughly half of all new mortgages were fixed for five years. Demand for such home loans has plunged, dropping to about 15 per cent at the end of 2022, according to the Bank of Canada's analysis of data collected by the Office of the Superintendent of Financial Institutions.
New issuance of variable-rate loans has dropped almost as much — after representing more than 50 per cent of all new mortgages through much of 2020 and 2021. The most popular loans now are ones that come with fixed rates for one or two years and three or four years, according to the Bank of Canada. The former set now represents about 30 per cent of all new mortgages, the most since at least 2017.
Article content
There's information in these shifts. The bet these mortgage-seekers are making is that the rates they're seeing now won't stick around over the longer term. They may have a point: many economists expect that a rate cut could come as early as next year. Royce Mendes, head of macro strategy at Desjardins Group, even sees the central bank cutting rates as early as this year.
"Many borrowers are assuming that mortgage rates will be lower in a few years," Bank of Canada staff concluded in their assessment.
• Email: shughes@postmedia.com | Twitter: StephHughes95