If you've ever walked along Blue Jays Way and Wellington in downtown Toronto, chances are you didn't pay much attention to some of the buildings towering above ground level, or better yet, who might be living in them.
But standing 15 storeys above the ground is the ultra-luxurious and newly renovated SoHo Hotel, which has once been home to some very prominent guests.
The hidden gem of the SoHo Hotel is its one-of-a-kind, three-storey penthouse suite, which sits atop the hotel and is composed of two separate one-bedroom suites, offering a total of over 4,000 sq. ft of celebrity-approved luxury.
The three-floor penthouse suite offers guests one of the best views of Toronto and some of the finest décor and in-room amenities available in the city.
Read: Inside a $35M Downtown Vancouver Penthouse in BC's Tallest Building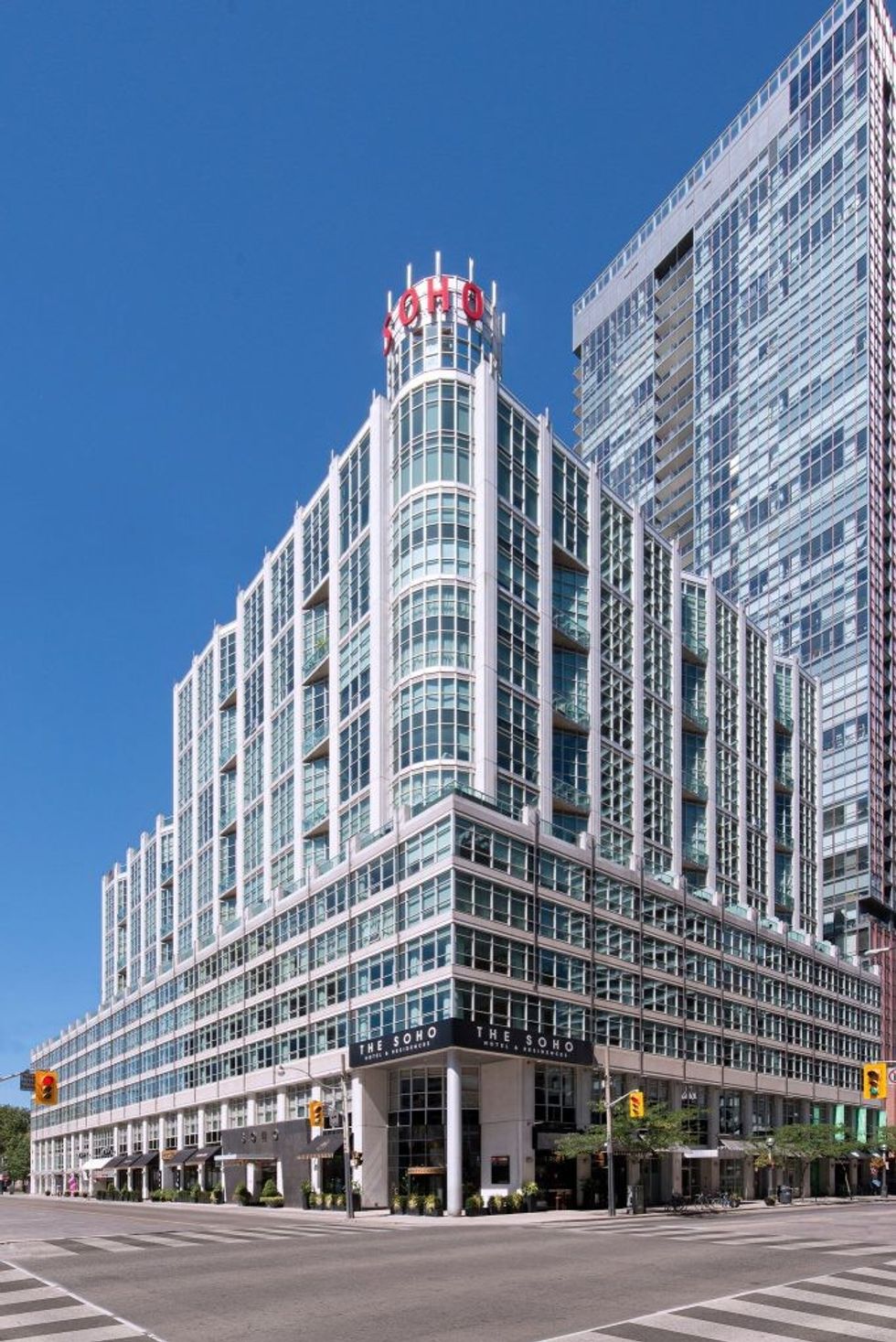 With the start of the 46th annual Toronto International Film Festival (TIFF) on the horizon, STOREYS had the opportunity to tour the suite and get a taste of how some of the world's most prominent celebrities live.
From an in-suite glass elevator and a private rooftop terrace offering a 270-degree view of Toronto to the eight-person hot tub and a built-in BBQ, it's no wonder the suite is a favourite among celebrities.
Speaking of celebs, the suite has been a favourite of Acadamy Award-winning actor Will Smith, who stayed in the penthouse when he was filming Suicide Squad. Smith was often seen in the hotel gym and lobby restaurant and rarely shied away from taking photos with guests.
As for the other celebrities who've stayed in the suite, they're rarely seen thanks to the private back elevator going directly from the parking garage to the suite itself. And trust us, the list of names is impressive, to say the least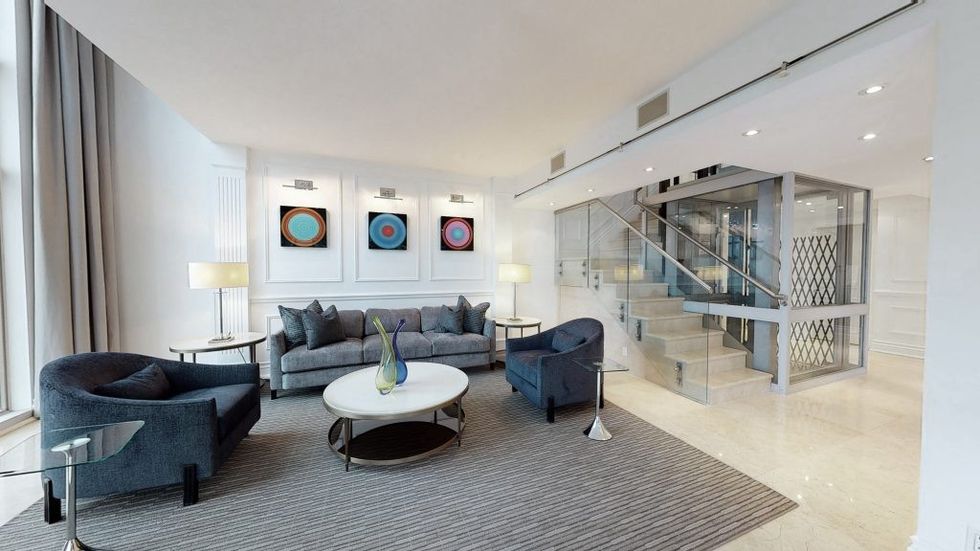 From the moment you step inside, you'll instantly be impressed by the suite's high-end finishes, which include floor-to-ceiling windows, marble slab flooring, Onyx clad walls, Lutron lighting, motorized drapes, and two fireplaces.
In addition to the luxurious bedroom, the suite also features a professional kitchen with Wolfe and Sub-zero appliances, a dining room, an indoor catering kitchen/bar with a Sub-zero fridge and ice maker, and an 859-sq.-ft media room with 14-ft ceilings.
A highlight of the suite is the full marble bathroom boasting heated floors, a Kohler overflowing tub with chromotherapy, and a walk-in dressing area.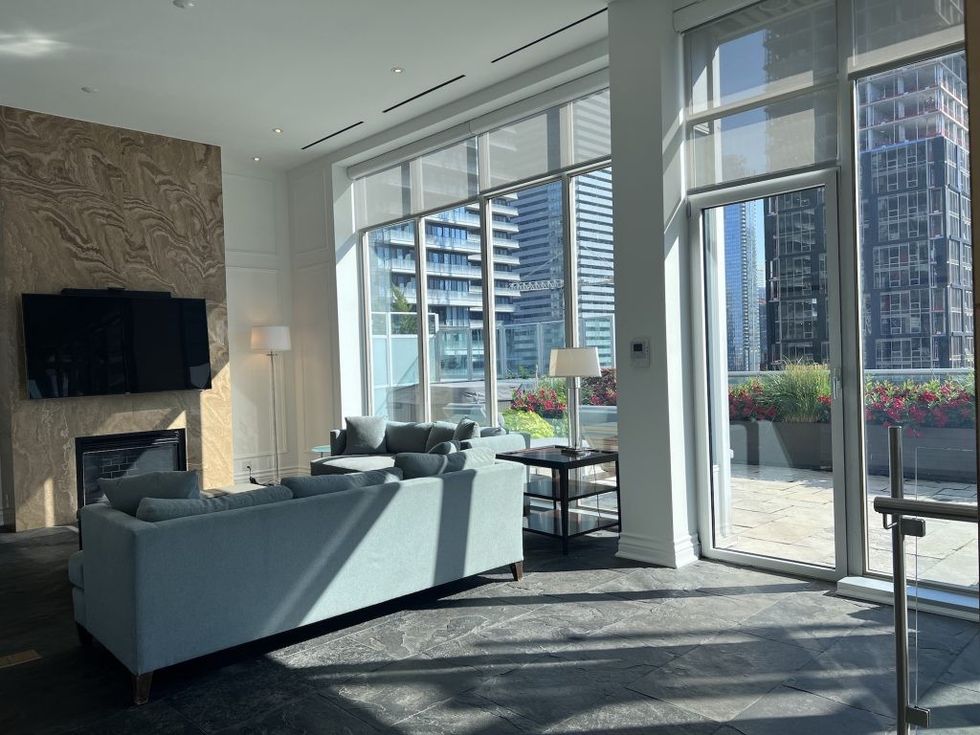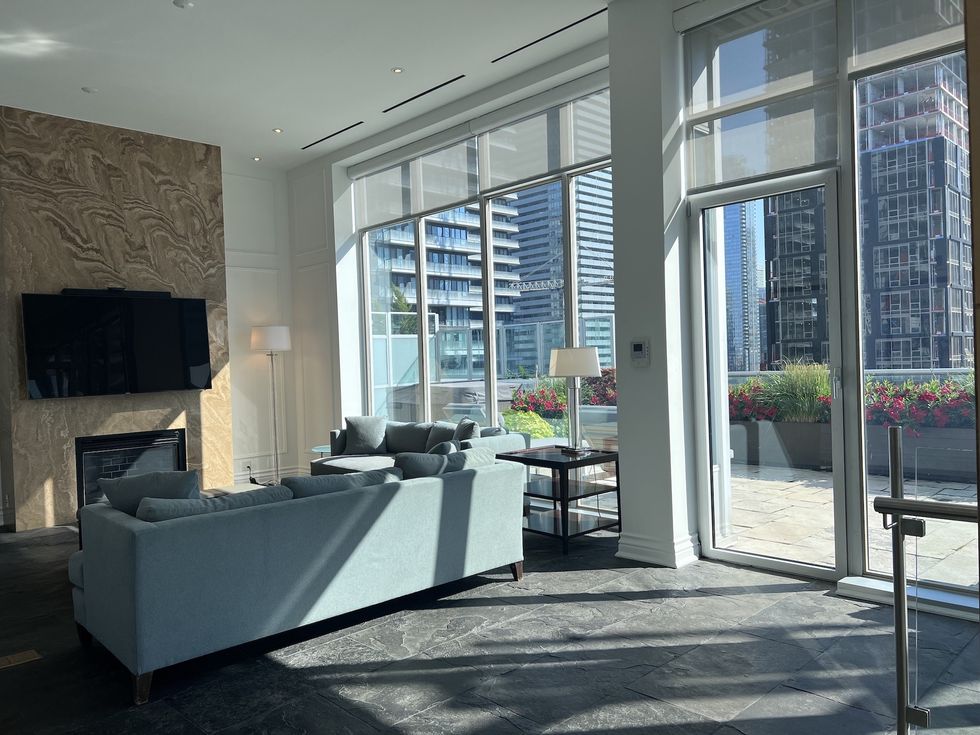 But easily the star of the show is the 1,215-sq.-ft private rooftop terrace overlooking Rogers Centre and downtown Toronto equipped with a jacuzzi hot tub, outdoor kitchen, a built-in BBQ area, and space to lounge and soak in the views.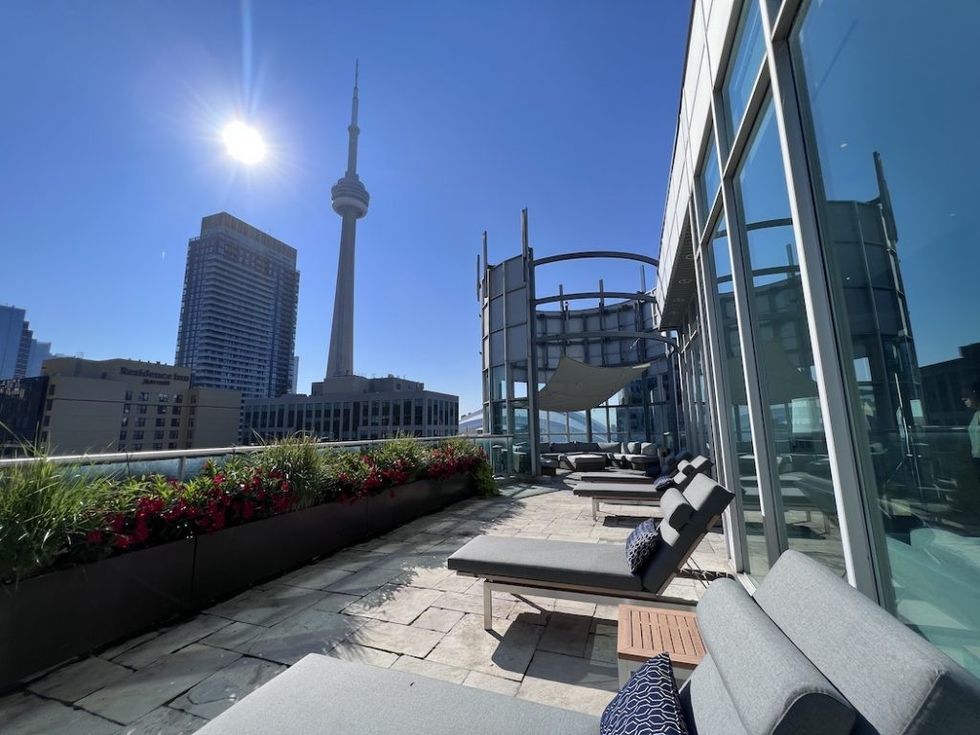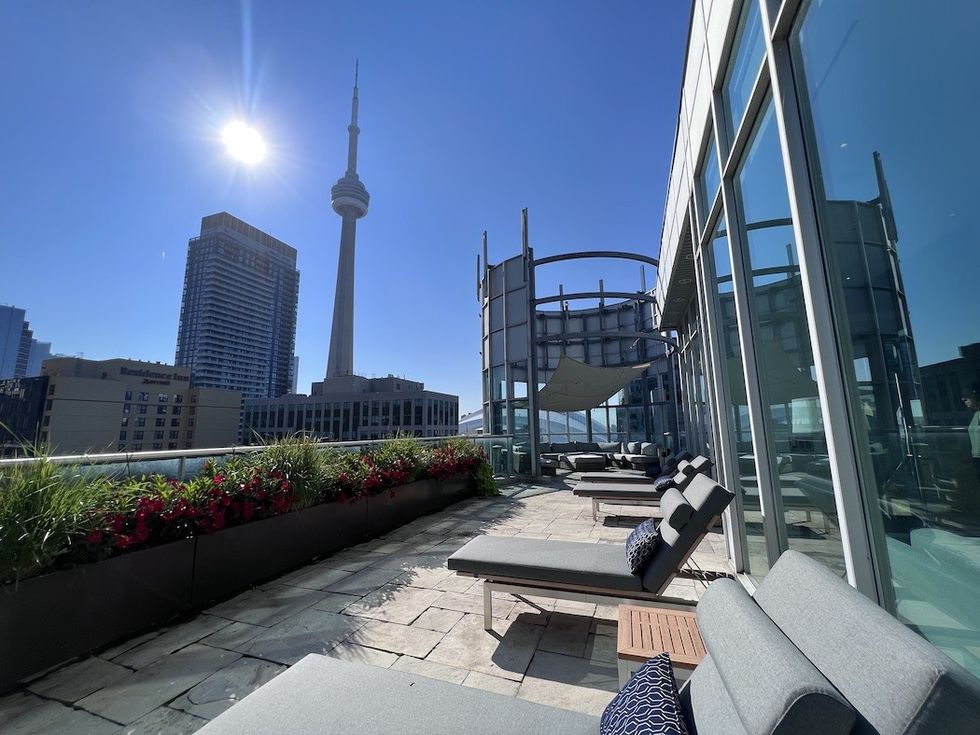 Guests will also be able to enjoy many other world-class amenities and services including a luxurious saltwater pool, a steam room, and a state-of-the-art gym designed and managed by trainer and two-time heavyweight champion, Dalton Brown. For when hunger strikes, guests can swing by the hotel's lobby café and Italian restaurant Moretti, or dial up room service.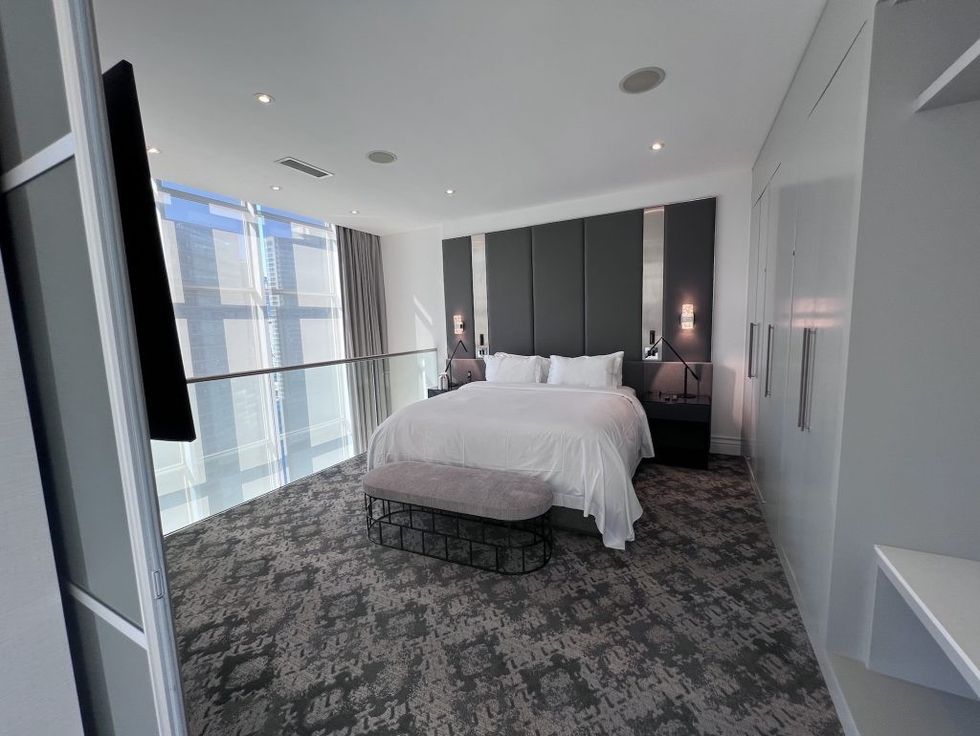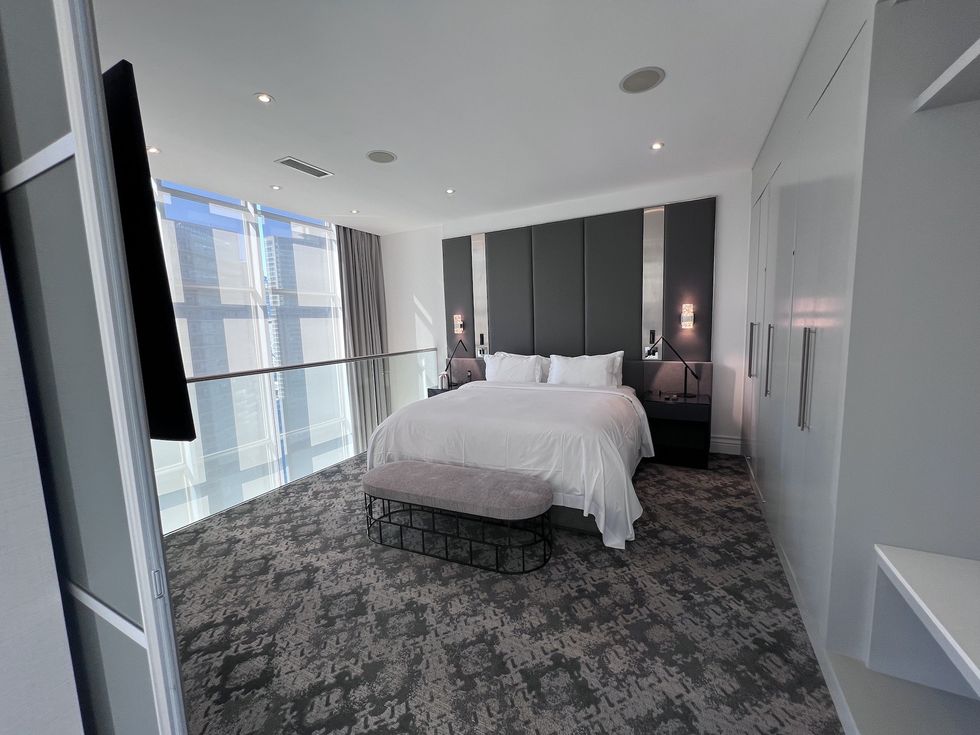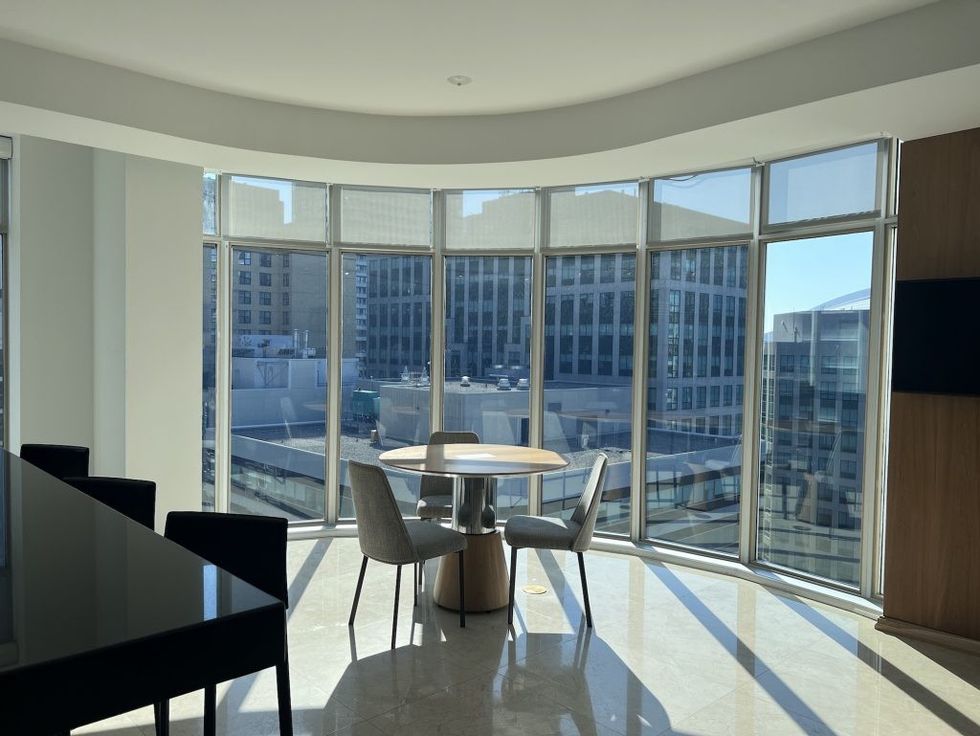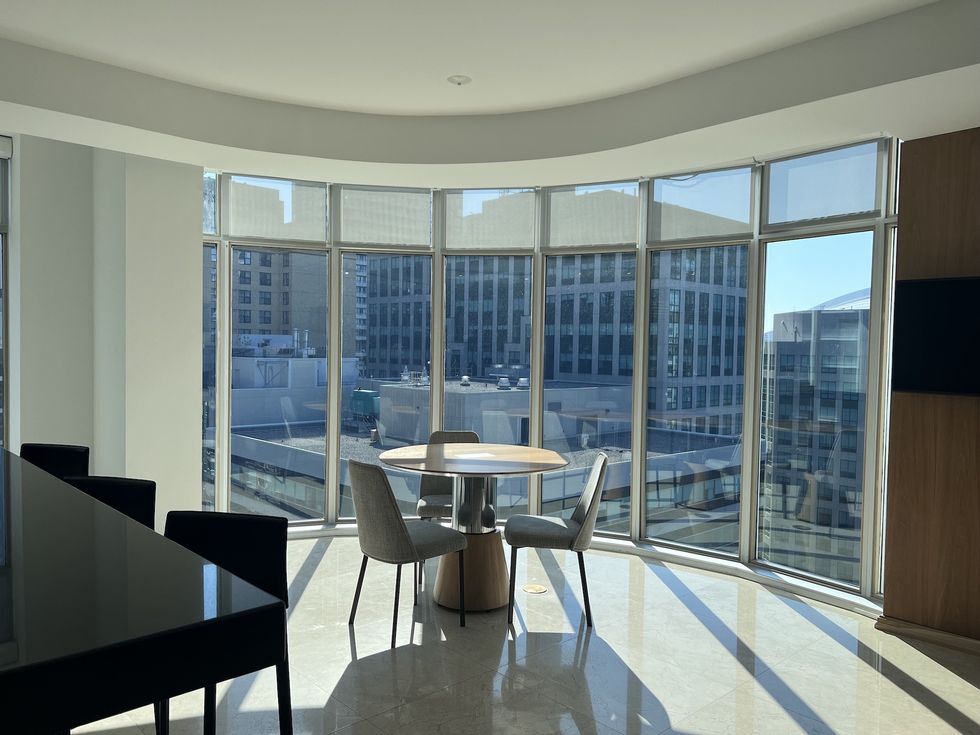 In addition to short and long-term stays, the suite is regularly booked out for gatherings and entertainment, intimate business events, and product launches, or really, for anyone seeking a luxurious and private escape.
For those interested in staying in the penthouse suite, it costs $10,000 CAD a night, though this rate will vary depending on use, availability, and length of stay. All bookings can be made directly through Bridget Villemaire, director of sales and marketing: 416-979-4502, [email protected]
When Ainsley's not writing about real estate, local developments, and beautiful homes she wished she lived in, you can usually find her exploring Toronto, cooking, doing at-home workouts, or hanging with her cat, Jerry Seinfeld.