Written By
Erin Nicole Davis
"I always joke that it's a baby-making loft, not a baby-raising loft," says Roxy Earle of her recently listed Toronto property. 
The breakout star of The Real Housewives of Toronto, entrepreneur, and business executive and her husband, Dr. Arnold Mahesan, just listed the stunning, custom-finished downtown east loft for a cool $3.25M. The couple moved from the sprawling one-bedroom space in the Brewery Lofts into their house in the city's Summerhill neighbourhood shortly after their baby was born in January 2022. 
Now, if she has it her way, Earle hopes the home's next resident is a fabulously single bachelorette. "Everyone keeps telling me it's going to be some young entrepreneur tech guy who buys this place," says Earle. "For my sake, I'm hoping it's a single bachelorette who's looking to get her groove back. It's just such an insanely beautiful space — it's very sexy. It's probably the sexiest space I've been in."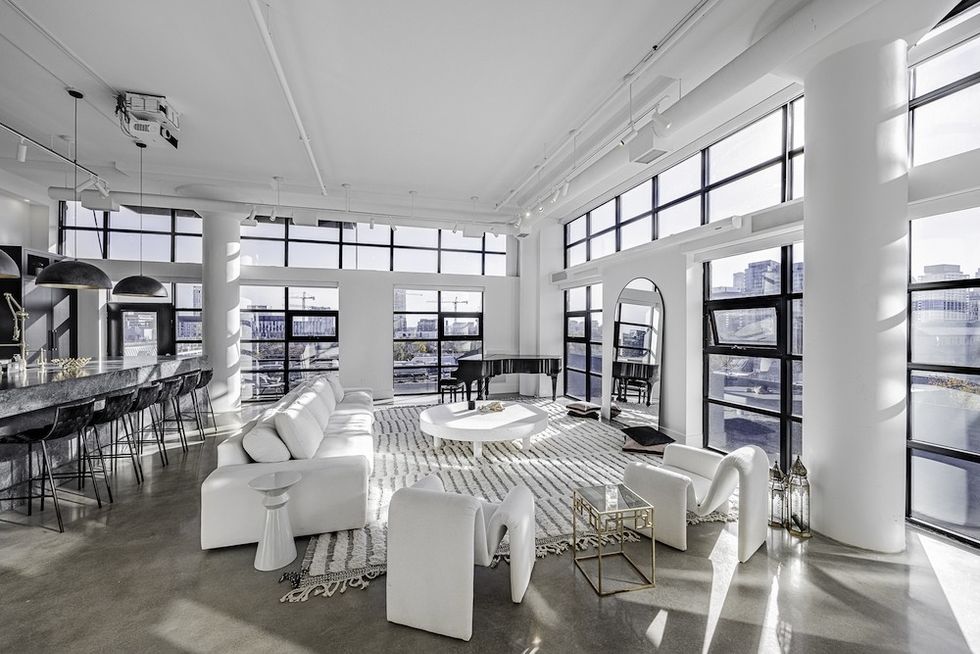 Generally speaking, Earle says the space is for somebody who wants to be inspired in the place they are at in their life. After all, it was the quest for an inspiring home that led the couple to the loft in the first place, she says.
"We were looking for inspiring, beautiful spaces," says Earle of the home hunting process. "It's really rare to find a true loft in Toronto. So, it was difficult to find something with that ceiling height, all that character, and those views. And you feel like you have a piece of the city; it was the original CBC Studios, so it's cool how it's come full circle." 
In a stunning transformation, the pair completely gutted the property. "We took it down to a cement box, and rebuilt everything back up again from there; I'm talking the floors, the kitchen, the bathroom — everything is custom," says Earl of the $750,000 renovation. "I wanted it to feel like we were in a cloud. It has these incredible views of the city, and the city was the inspiration. I just wanted a really cool backdrop to the city."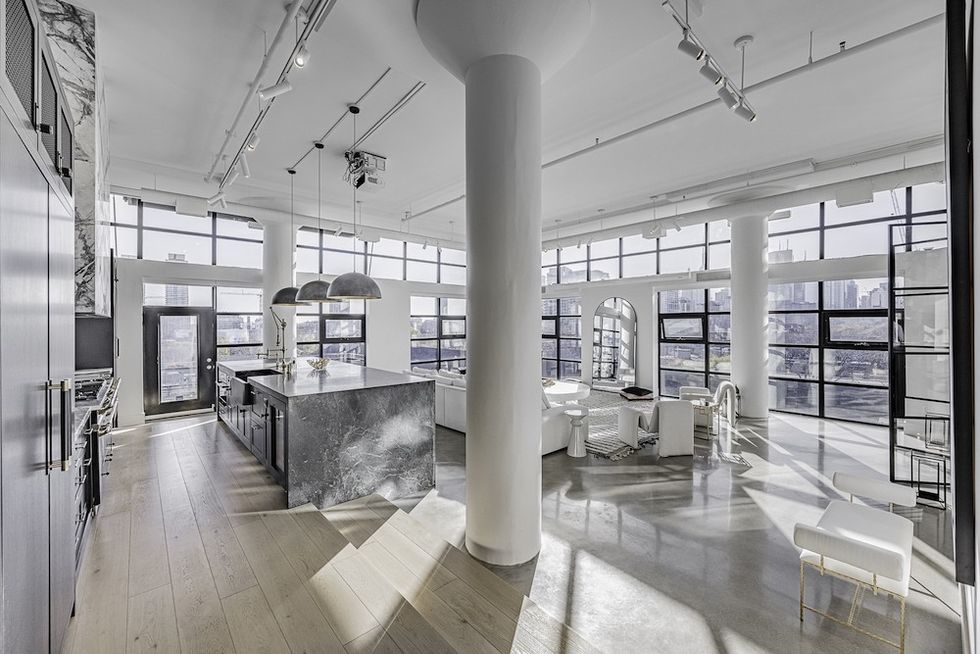 The 2,250-sq.-ft loft features 14.5-ft ceilings with walls of windows that offer unobstructed sunset and skyline views of southwest Toronto. The completely restored space features best-in-class finishings, with glamorous details like matte marble walls, a soapstone kitchen island (which came with a $25K price tag), and French white hardwood floors throughout.
It's easy to see why the kitchen is Earle's favourite feature of the home. It features custom finishings like a LaCanche Sullly 87-inch French stove, Large Gaggenau side-by-side refrigerator and freezer, and Waterstone Gantry faucets and pot filler.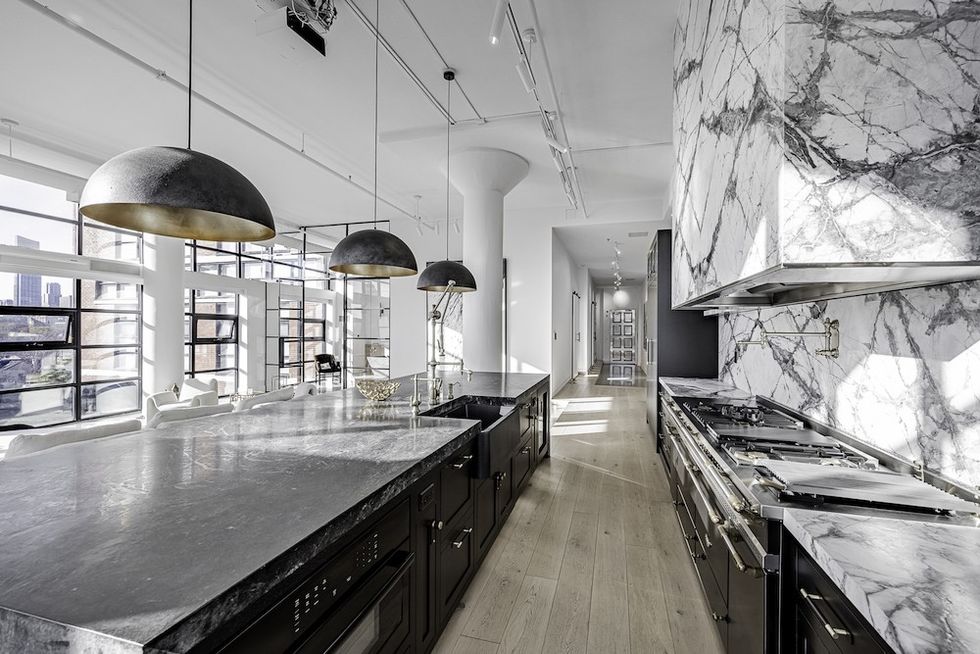 "That kitchen is just out of this world," says Earle. "I think we're the only people in the country to have LaCanche Sullly 2200 in a condo. It's just so rare to have a kitchen of that calibre in a condo space; you just don't see that kind of thing. When you're cooking, you can look out and it's raised and you can see the whole city — that's pretty magical."
Another notable talking point of the space is a powder room designed by Toronto interior design powerhouse Ali Budd. A work of art in itself, it features a custom butterfly installation from local sculptor Anthony Valin, Matthew Williamson wallpaper, and Cristallo Rosa quartzite with behind-stone lighting accents.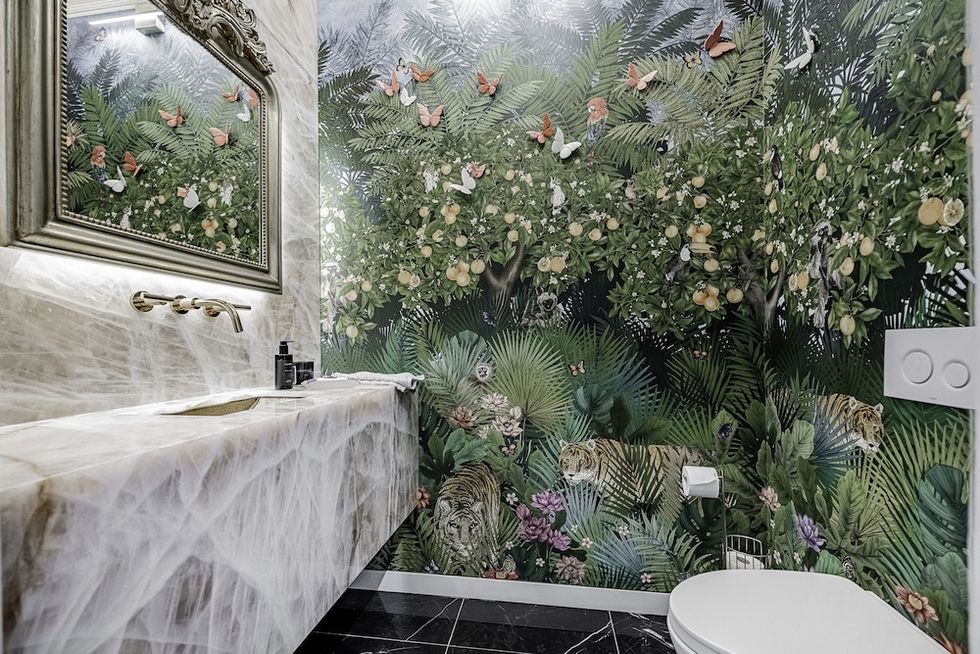 On the tech front, smart home automation systems offer central control of all lights, shades, motion sensors, door entry, and electronic door locks.
The property also features a bath that sits in the bedroom and features an onyx slab hung as art . "There's something about having a bath while looking at the whole city," says Earle. "The bath is a Native Trails stone bathtub. You can see the whole city from it. Right before the sun goes down, you have this beautiful and magical view and the whole city twinkles."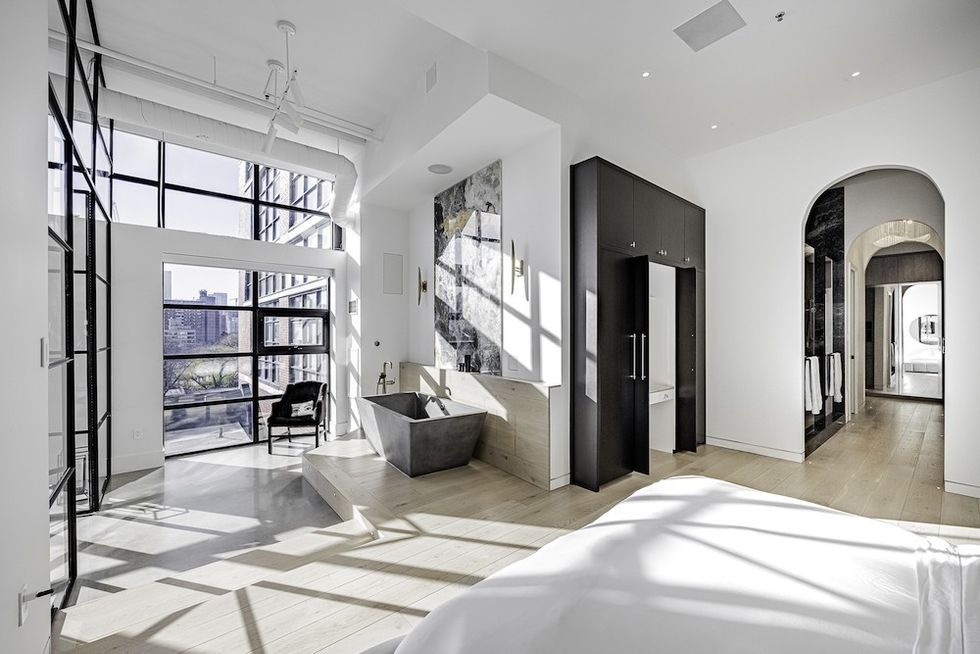 As a public figure and subsequent ambassador for Toronto, Earle says these views inspired her in that role. "Every day, I would look out at the city and think, 'What am I going to do for my city?' I wanted to contribute to the city and be inspired by the skyline," she says.
It's safe to say that "inspiring" is the common theme of the luxurious space. 
"It was made for music, for visuals, and to create beautiful things in that space," says Earle. "And that's what I did. My husband and I launched an app that we built in that home during COVID. It's really cool — the beautiful things that have come from the space." 
Written By
Erin Nicole Davis
Erin Nicole Davis is a born and raised Toronto writer with a passion for the city and its urban affairs and culture.