Building to come under more pressure in months ahead, says economist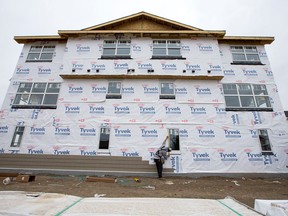 Article content
Homebuilding in Canada cooled in July as higher interest rates weighed on construction companies.
July's 254,966 starts were down 10 per cent from June, the year's strongest month so far, but the pace of construction remained 7.4 per cent above the five-year seasonally adjusted average.
Article content
Nova Scotia, Saskatchewan, British Columbia and Ontario all posted double-digit declines in construction activity, while Prince Edward Island, Alberta and Manitoba had the strongest gains.
The Bank of Canada has been hiking interest rates to curb inflation, a move that has increased borrowing costs for homebuyers and developers alike.
"Building will come under more pressure ahead, with demand being thwarted by high interest rates," Katherine Judge, an economist at CIBC Capital Markets, said in a note on the data.
Despite the month-over-month decline, CMHC's chief economist Bob Dugan said there was a "healthy number" of housing starts in July from a historical perspective.
"Market intelligence suggests multi-unit projects started in June and July were likely financed a few months prior, so, the effect of the most recent interest rate hikes on housing starts remains to be seen," he said in a news release.
Toronto-Dominion Bank economist Rishi Sondhi said housing starts held at a firm level last month despite the decline from June's lofty pace.
Article content
"Smoothing through the typical volatility associated with the data by looking at the six-month average shows that starts remain well above pre-pandemic levels, and have picked up some steam in recent months," he said in a note to clients. "That said, they are well off their peaks from late last year, driven by lower construction of single-detached units."
Sondhi also predicted that housing starts will follow a downward trend because last year's multi-year lows for home sales will result in weaker homebuilding efforts.
"This outlook aligns with the current state of building permits, which indicate a substantially slower pace for starts," he said.
• Email: shcampbell@postmedia.com