Canadian home prices have plunged more than 17% since the first interest rate hike last March, but according to new data from online comparison platform Ratehub, October was the first month to see "widespread improvement" in housing affordability.
Penelope Graham, Director of Content for Ratehub, writes that "home prices have indeed decreased by a large enough margin to ease [mortgage] qualification for many buyers in October, with affordability improving in eight of the 10 markets studied."
---
Graham adds that this near-across-the-board improvement is in spite of the fact that mortgage rates edged up slightly between September and October, while the mortgage stress test climbed to a new average high of 8.47%.
Taking into account the latest figures from the Canadian Real Estate Association, as well as changes to five-year fixed mortgage and stress test rates, Ratehub estimates housing affordability has improved the most dramatically in Toronto and Hamilton.
"Hamilton saw the most improvement, with $4,990 less income needed to purchase a home. Toronto was close behind with $4,650 less income required. Both these cities saw big home price declines with a $25,100 drop for Hamilton and $23,400 for Toronto," explains Ratehub Co-CEO, James Laird.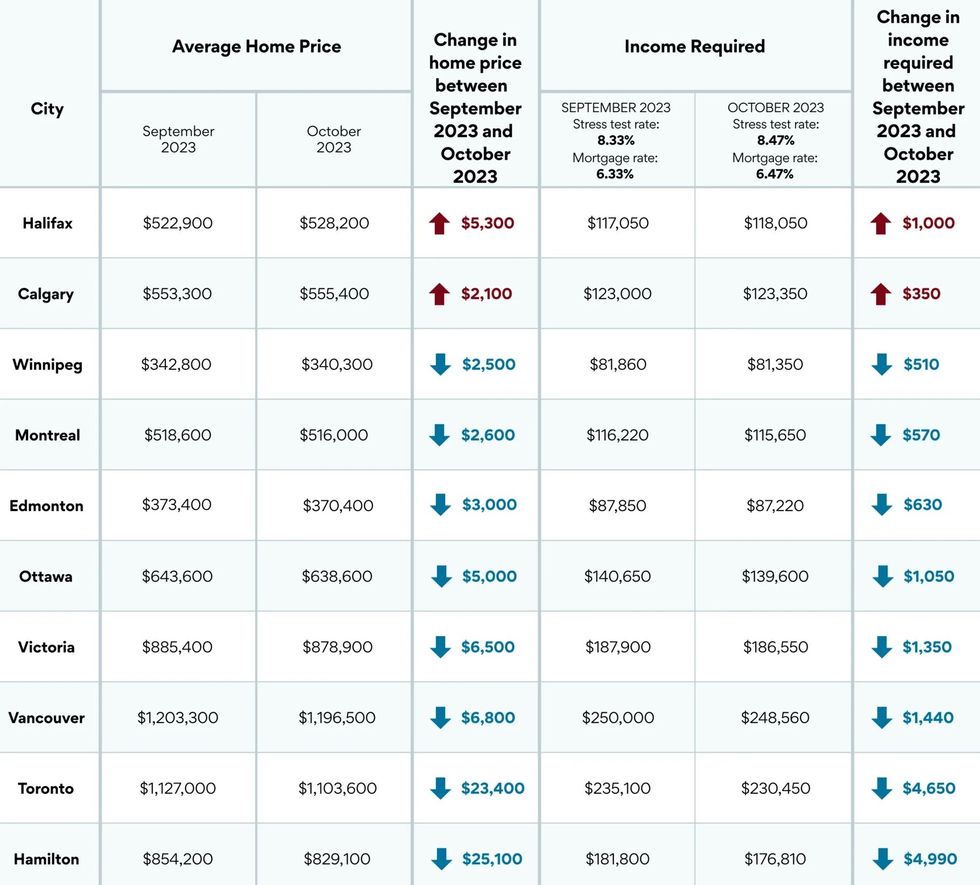 Ratehub.ca (Data based on a mortgage with 20% down payment, 25-year amortization, $4,000 annual property taxes, and $150 monthly heating.)
Housing affordability also improved — albeit to a lesser degree — in six out of the eight remaining major markets. In Vancouver, where the average selling price dove $6,800 between September and October, the income required to purchase a home fell by $1,440.
There were only two cities to "buck the trend of improved affordability," according to Ratehub's data.
"Halifax and Calgary were the two outliers, with $1,000 more income required to purchase the average home in Halifax and $350 in Calgary," says Laird. "These cities saw home prices increase."
Graham additionally notes housing affordability in the coming months will hinge on the Bank of Canada's next moves. Many economists are expecting the bank to hold its policy rate steady at 5% at the next rate decision, slated for December 6. Meanwhile, rate cuts are anticipated towards the middle of 2024.
"However, lower interest rates are likely to spur sidelined homebuyers back into the market, which could drive home prices higher once again," says Graham.