Owning a home got ever so slightly more affordable in the first quarter of 2023.
A combination of falling home prices and the temporary pause in interest rate hikes lowered ownership costs in Q1 2023, according to a new report from Robert Hogue, Assistant Chief Economist at RBC.
In January, RBC's aggregate housing affordability measure declined for the first time since July 2020, dipping 1.6% from the end of last year to 59.5%. Published quarterly, the national figure measures ownership costs as a percentage of median household income; a decline represents an increase in affordability.
While the relief was registered in all markets, several cities, including Toronto and Vancouver, remain in a "full-blown affordability crisis," the reversal of which will be long process.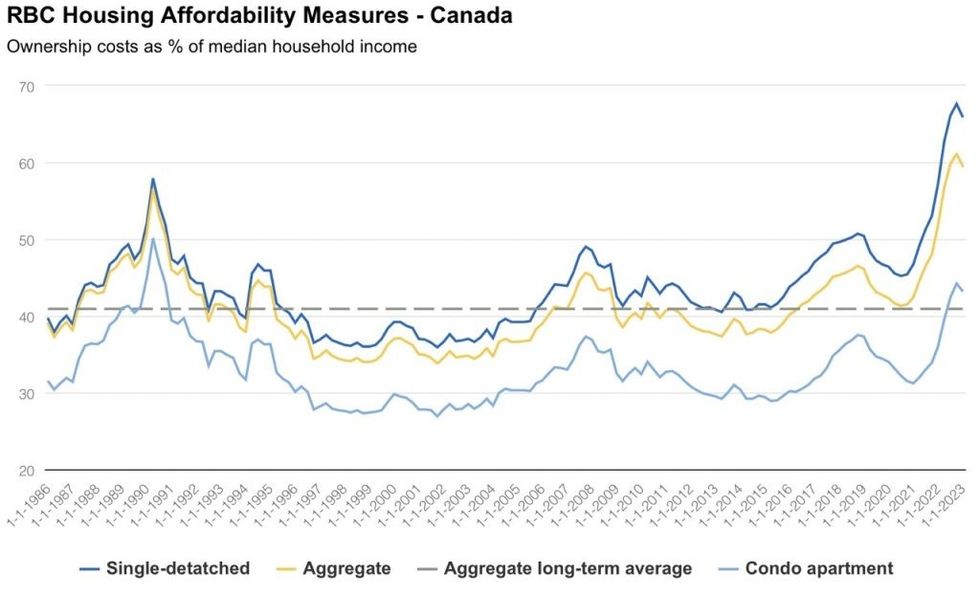 The Bank of Canada's (BoC) campaign of interest rate hikes that began in March 2022 delivered a "massive blow" to housing affordability across the country. The pressure remained even as prices began to fall.
The rapid rise in mortgage rates "overwhelmed" any benefit afforded by the price correction — while the latter led to a 2.1% decline in RBC's national aggregate measure, the former increased it by 4.3%.
However, once the BoC pressed pause this spring, homebuyers were afforded some relief. Mortgage rates began to stabilize and, alongside the decline in prices, the ownership costs associated with a home purchase declined.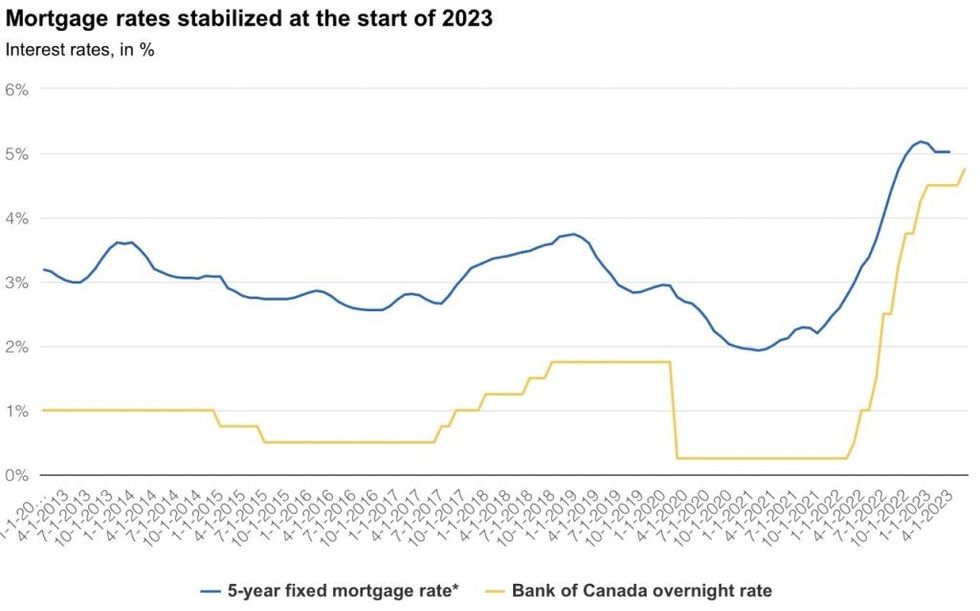 But, following the "enormous" loss of affordability seen since mid-2020, those improvements barely made a dent.
"Big picture, owning a home is still a huge (if not impossible) stretch for middle-income households in Vancouver, Victoria, and Toronto, and Montreal, Ottawa, and Halifax to a lesser degree," Hogue said "Buyers in all markets we track face a significantly worse situation than they did a year ago. And RBC's local measures universally indicate tougher than usual conditions from coast to coast."
The surprise market rebound that followed the BoC's pause may complicate things further, Hogue warned. Heightened demand and record-low inventory levels have begun to push prices back up, which may stall, or even reverse, improvements in affordability.
The return of rate hikes may also have adverse effects. Hogue predicts the BoC will raise rates once more, bringing the overnight rate to 5.0%. Such a scenario won't "exacerbate the situation," and may in fact dampen demand, moderate price increases, and keep affordability on an improving track. But, a more aggressive hike is likely to "put affordability on a more challenging course."
Zoe Demarco is a Staff Writer at STOREYS and was formerly the Urbanized Editor at Daily Hive. Born and raised in Toronto, she has a passion for the city's ever-changing urban landscape.