Sales fell 0.7% in July from June, but rose the most in two years on an annual basis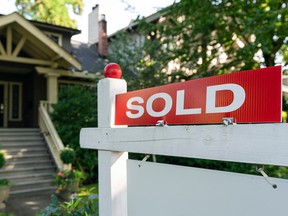 Article content
Home sales declined slightly in July from June, but climbed the most in over two years from the same time last year, the Canadian Real Estate Association reported on Aug. 15.
Sales fell 0.7 per cent from June, reflecting a stabilizing trend in the housing market since May, CREA said. Though sales rose in more than half of all local markets, they declined in key areas such as the Greater Toronto Area (GTA) and Vancouver's Fraser Valley, weighing on the national average.
Article content
Still, non-seasonal adjusted transactions soared 8.7 per cent compared to July 2022, marking the largest year-over-year national sales increase in more than two years. Similarly, the national average home price for the same period also made gains, reaching $668,754, or an increase of 6.3 per cent.
The Aggregate Composite MLS Home Price Index (HPI) climbed 1.1 per cent month over month in July, a more moderate rise compared to previous months.
New listings were up 5.6 per cent on a month-over-month basis, building on gains seen in previous months, and moving off a 20-year low in March to a level closer to average.
"Following a brief surge of activity in April, housing markets have settled down in recent months, with price growth now also moderating with its usual slight lag," Shaun Cathcart, senior economist at CREA, said in the release.
But sales and price growth are showing further signs of tapering in response to the Bank of Canada's mid-July interest rate hike and inflation concerns, he said.
CREA expects buyers will stay on the sidelines until the path of interest rates becomes more certain.
Article content
Elton Ash, vice president of Re/Max Canada, anticipates the housing market will continue to moderate, with September set to become a turning point.
"We certainly have noticed demand temper a bit now," Ash said. "So I think as we move forward into September, we're going to see a levelling off of pricing across the country."
Cailey Heaps, a Toronto realtor, said she was surprised data showed lower sales in the GTA, which appeared at odds with the robust activity she's observed locally. She said certain segments of the market offer opportunities for some buyers.
"In the luxury segment, I feel like there (are) good opportunities just because the transaction volume has been impacted," Heaps said. "I find that the first-time homebuyer market is still very active, so I wouldn't say there's immense opportunity there."
But some potential homebuyers may want to consider waiting on the sidelines as the housing market finds its footing amid an evolving economic landscape, said Clay Jarvis of NerdWallet Canada.
"Because high rates mean an even more restrictive stress test, Canadians who get pre-approved for a mortgage in August may discover that their budgets have taken a major hit," Jarvis said in an email. "If that's the case, it's not a bad time to take a pause and try to find ways to boost your down payment, improve your credit score or lower your debt service ratios while you wait for rates to tick down."
• Email: shcampbell@postmedia.com