Article content
Average home prices rose slightly in August, up 0.4 per cent, while sales slowed and new listings returned to more normal levels, a sign that demand and supply are continuing to come into better balance, according to monthly data released by the Canadian Real Estate Association.
National home sales in August were down 4.1 per cent compared to July, pulled lower by declines in Greater Vancouver and the Fraser Valley in British Columbia, Montreal, Ottawa, Hamilton and Burlington, Ont., as well as in London and St. Thomas, Ont., it said.
Article content
CREA's senior economist, Shaun Cathcart, said the dip in activity in August was expected as it was the first full month of data following the Bank of Canada's July interest rate hike.
"Sales are running a little below average at the moment, which is better than earlier this year," he said. "And that's not bad, considering what interest rates have done since last spring."
The non-seasonally adjusted national average home price was $650,140, up 2.1 per cent from August 2022.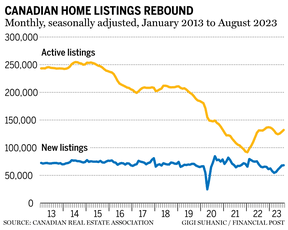 CREA said that while prices are stabilizing at the national level, regional differences are re-emerging, with price growth remaining solid in Quebec and the East Coast, and Ontario now a mixed bag with some bigger increases but also some bigger declines on a regional basis.
CREA said year-over-year comparisons will likely continue to rise in the months ahead, despite prices levelling out near current levels, because of how prices declined through the second half of 2022.
Actual transactions, not seasonally adjusted, came in 5.3 per cent above last year.
"The demand is obviously still there, and it will be back, but as the housing affordability crisis re-emerges as a top policy issue, for now, the slowdown on the buyer side should help keep a lid on prices," Cathcart said.
Article content
The number of newly listed homes in August was up 0.8 per cent from the prior month. This is a small increase compared to the cumulative gain of more than 24 per cent in the last five months.
"New listings started off 2023 at a 20-year low but are now closer to average levels," CREA said.
The sales-to-new listings ratio eased to 56.2 per cent, which it said brings the measure back in line with its long-term average of 55.2 per cent. This is compared to 59 per cent in July and a peak of 67.4 per cent in April.
Cathcart said the "big drama" regarding the housing crisis has been playing out more in the rental market. With high prices and high interest rates, households are not able to make a transition from renting into ownership, adding to rental demand, he added.
Though they've levelled off now, selling prices have recouped about 40 per cent of last year's losses at this point, Cathcart said.
"Obviously, regaining all those losses doesn't really help with the affordability side of things, but it is good news for people who bought at the peak of the market," he said.
• Email: dpaglinawan@postmedia.com
---
Bookmark our website and support our journalism: Don't miss the business news you need to know — add financialpost.com to your bookmarks and sign up for our newsletters here.