Provisions for credit losses came in at $10.4 million, doubling the street's expectations of $5 million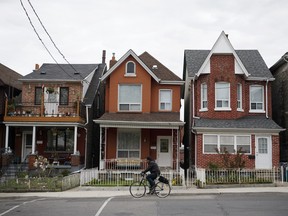 Article content
Alternative lender Home Capital Group Inc. set aside more money for bad loans in the fourth quarter than it has at any time since the Financial Crisis in another sign that stresses are forming in the economy.
Article content
Provisions for credit losses came in at $10.4 million, doubling the street's expectations of $5 million. These higher-than-expected provisions weighed on earnings, which clocked in at $0.95 per share in the three months ending Dec. 31 compared to analyst estimates of $1.04, falling 11 per cent from a year ago.
Article content
National Bank of Canada analyst Jaeme Gloyn warned that these levels were similar to those seen during financial crises.
"We note that the 20 (basis points) of (provisions for credit losses) as a percentage of gross loans is the highest on record since Q3 2009 and is higher than the 17 (basis points) reported at the height of the 2018 oil crisis," said Gloyn in a note to clients following the results.
Gloyn added that Home Capital's management team was bracing for worsening conditions in the economy caused by a rising unemployment rate and housing market downturn.
Article content
Credit-loss provisions are often seen as a barometer for the macroeconomic picture and shoring up these reserves typically indicates the company's view that it expects to hit choppier waters. In December, Canada's banks built up credit-loss provisions under the expectation that the cumulative effect of interest rate hikes over the past year would start to bite sometime in 2023.
While GDP growth has slowed, the labour market has shown surprising resilience. However, there are cracks forming in the economy, in particular in real estate, where prices have fallen by double-digits over last year and sales have declined dramatically. The drop in mortgage demand is showing up in Home Capital's results as the company reported $1.81 billion in mortgage originations in the fourth quarter, down from $2.72 billion a year earlier.
Article content
The chief executives of the Big Six banks will be wary of how falling mortgage demand will play out in their bottom lines heading into first quarter earnings later this month, but many remained optimistic that any recession this year would be a shallow one. Toronto-Dominion Bank chief executive Bharat Masrani and others downplayed the potential for a severe recession during the RBC Capital Markets 2023 Canadian Bank CEO Conference on Jan. 9.
John Aiken, senior analyst and head of research at Barclays Bank PLC, said in a Feb. 13 note that his firm expects total credit losses will ebb from fourth quarter levels and that provisions for credit losses will ease to $2.07 billion in the first quarter compared to $2.31 billion in the fourth quarter.
• Email: shughes@postmedia.com | Twitter: StephHughes95