Fixed one and three year are the most popular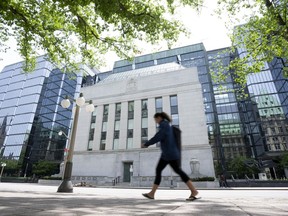 Article content
OTTAWA — With mortgage rates at their highest level in more than a decade, homeowners and prospective buyers tend to focus on getting the best rate. While shopping around, however, experts say borrowers shouldn't forget about term length.
Article content
Samantha Brookes, founder and chief executive officer of Mortgages of Canada, says that before the Bank of Canada started raising interest rates last year, a five-year term was the norm for most homebuyers, but that's changed. People are now going shorter in hopes that interest rates will come back down in the coming years.
Article content
"It makes sense because if the Bank of Canada starts decreasing rates, let's say next year, and you're in a three-year (term), you only have two years left," she says.
"You break your mortgage, you have a two-year penalty, but your interest rates are much lower and your payments are more affordable. So that's why people are going for the shorter term mortgage right now."
The "term" of a fixed-rate mortgage is the length of the contract with a set interest rate on your loan. When the term is up, if you haven't fully repaid your loan, you will have to renew your mortgage for a new term at the prevailing rates. It is different from the amortization period, which is the total time taken to repay the loan.
Article content
Mortgage rates have climbed steadily higher as the Bank of Canada has raised its trendsetting interest rate target. The central bank's policy interest rate, which was 0.25 per cent at the start of last year, is now 4.75 per cent.
According to data compiled by rate-tracking website Ratehub.ca, discounted five-year mortgage rates in Canada are at their highest level since early 2009. That means homebuyers who took out mortgages with a five-year term five years ago are now renewing at higher rates than when they bought their home.
In its spring 2023 residential mortgage report, the Canada Mortgage and Housing Corp. said fixed-rate mortgages with a term of five years or more made up just 13 per cent of new and renewed mortgages in January this year, while those between one and three years made up 36 per cent.
Article content
In January 2020, before the pandemic, fixed-rate mortgages of five years or more made up 46 per cent of new and renewed mortgages.
Meanwhile, variable rate mortgages made up just 16.7 per cent of new and renewed mortgages in January 2023, down from 56.9 per cent in January 2022.
Going with a shorter term isn't without downside.
According to Rateub.ca, the best rates for three-year mortgages are higher than the best offerings available for five-year mortgages. And if rates don't fall or go higher, any hope of taking advantage of lower rates at renewal is lost.
Still, RBC mobile mortgage specialist Jimmy Aramouni says the clients he's seeing are tending toward shorter terms as they wait to see where interest rates headed.
Article content
But Aramouni says that it is important for homebuyers and homeowners renewing their mortgages to also understand their plans for their home in the coming years when deciding on term.
"Are they staying in that property, are they upsizing, selling or buying," he said.
"The other key point is the mortgage payment per month, how much they can afford to pay per month, because each term has its own rate."
Aramouni says it is important to consider the term because if you find yourself in a situation of needing to break your mortgage before the term is up, you will end up paying a penalty.
"We recommend for clients to sit with their mortgage specialist, talk to them. … and then get their advice."