Rush away from variable-rate mortgages deepens for 13th consecutive month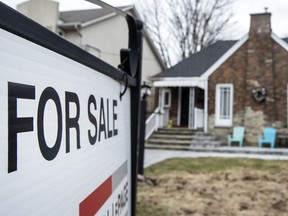 Article content
As interest rates continue their upward trajectory, an increasing number of Canadian homeowners are abandoning variable-rate mortgages in favour of fixed-rate alternatives.
Article content
According to data from Statistics Canada, the share of variable mortgages issued by chartered banks fell for the thirteenth straight month in April to a shade under eight per cent. That's down from 16.7 per cent in January 2023 and well off the recent high of more than 56 per cent in January 2022. In dollar terms, the data shows the total advanced for variable-rate mortgages was less than $2 billion, a stark decline from the $23 billion recorded just one year earlier.
Article content
According to James Laird, co-CEO of Ratehub.ca and president of CanWise mortgage lender, the dwindling popularity of variable mortgages is indicative of a shifting landscape in borrowing preferences.
"During the pandemic, mortgage rates reached historic lows, dropping as low as 0.85 per cent for a five-year variable rate and 1.39 per cent for a five-year fixed rate," Laird said in an email. "Variable rates became more popular than usual, accounting for over 20 per cent of Ratehub.ca mortgage rate inquiries."
Article content
"With the Bank of Canada rate hikes and overall rise in mortgage rates, consumers have switched back to fixed rates, with 95 per cent of rate inquiries to Ratehub.ca in 2023 being for fixed rates," Laird said.
Meanwhile, fewer people are taking out mortgages as a whole. Total mortgage funds advanced by chartered banks in April checked in at $24.3 billion, down from a peak of $58.4 billion in June 2021 when interest rates were 0.25 per cent, the StatCan data showed.
According to The Canadian Mortgage and Housing Corp. (CMHC), chartered banks extended 67.5 per cent of loans in the market in the third quarter of 2022, down from 72 per cent in the same quarter in 2020.
Canada's policy interest rate has risen sharply over the past year and now stands at 4.75 per cent. Mortgage rates have followed suit and have reached their highest levels since early 2009, making it challenging for first-time homebuyers to qualify. Additionally, those renewing their mortgages after a five-year term now face higher rates than they did when they initially purchased their homes.
Article content
Fixed-rate mortgages with terms shorter than five years have become increasingly popular.
"Consumers are currently more interested than usual in short-term fixed rates because many experts are predicting that rates will drop in the coming years," Laird said. "Getting a short-term fixed rate allows borrowers to take advantage of future lower rates sooner."
Mortgage strategist Robert McLister believes the trend won't last.
"By next year, I suspect (the popular choice) will be quite the opposite," McLister said in an email. "Once the Bank of Canada hints that its next move is likely a cut, variable-rate uptake will climb. What we need to watch for is a spike in the probability of a cut at the next meeting. If you see the overnight index swaps market pricing with a 65 per cent+ chance of a cut at the next BoC meeting, you'll see variable sales pick up."
McLister added that he doesn't expect this to happen for several months — unless an economic crisis that forces the Bank of Canada's hand sooner.
• Email: shcampbell@postmedia.com