It will at best have an incremental effect on the country's housing affordability crisis, experts say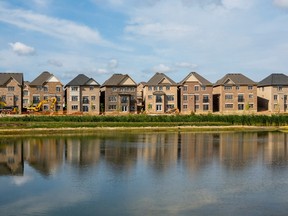 Article content
A proposed rent-to-own program run through Ottawa's Affordable Housing Innovation Fund would be open to a range of partners from private sector operators to municipalities, a government spokesperson said Wednesday, but industry watchers predict it will at best have an incremental effect on the country's housing affordability crisis.
Article content
On Aug. 30, Prime Minister Justin Trudeau and Minister of Housing and Diversity and Inclusion Ahmed Hussen announced the federal government was moving ahead with the rent-to own program, which had been part of the Liberal Party election platform, alongside other housing initiatives.
Article content
The affordable housing fund has dedicated $200 million to support rent-to-own proposals: $100 million in contributions available now for up to 1,300 units, and $100 million in loans for up to 1,500 units available later in 2022. This funding is available for the next five years, or until all funds are assigned, whichever comes first.
"Eligible applicants could include municipalities, private sector developers and builders, non-profit housing providers and community housing organizations, Indigenous governments and organizations, or any other proponent interested in developing and testing innovative approaches to affordable housing homeownership," Arevig Afarian, press secretary of the minister for housing and diversity and inclusion said Wednesday.
Article content
Government-run rent-to-own programs in Canada go back to at least 1991, but the details have varied from one political party to the next. They can allow a potential homebuyer to begin building equity in a home without having to take out a mortgage or come up with a large down payment.
There needs to be multiple programs in tackling this problem

Isaac Olowolafe Jr.
Isaac Olowolafe Jr., founder of Dream Maker Ventures and head of the housing committee at the BlackNorth Initiative, said he is supportive of efforts to get more Canadians into affordable housing, but stands firm on the idea that ownership — not rental options — will be the key to greater success.
"There are a lot of families who are able to bring capital every month but aren't able to bring the lump-sum amount required to own a home," Olowolafe said. "I think if there is a structure where they're able to make payments that go towards the use of the property but also a percentage goes towards the down payment with a number that is fair as an end value, I think it becomes a win-win for both parties involved."
Article content
Olowolafe's own non-profit organization, the Dream Legacy Foundation, has created a $65-million fund to provide bridge financing to bring up to 200 working, lower-income Black and racialized families into the homeownership game. The federal government has committed $10 million towards the program and Peel Region has also committed money to the foundation.
"There needs to be multiple programs in tackling this problem," Olowolafe said. "It will involve collaborations with non-profit arms that specialize in affordable housing and also the involvement of for-profit entities and developers coming up with multiple solutions. Rent-to-own-is one solution."
Article content
Numerous private companies are also pursuing rent-to-own models, though it is unclear whether they will qualify for government funding.
Key Living, a Toronto-based startup that has since expanded to Kitchener, Ont., and Alberta, touts a co-ownership model pairing property owners and investors with Canadians who want to move in and build equity from day one, sidestepping the two biggest barriers to homeownership — the sizeable down payment and taking on a mortgage.
"We believe that it is crucial for the government to partner with the private sector," said Alison Simpson, Key Living's chief marketing officer, noting the latter's ability to bring capital and innovation to the table.
Mortgage industry expert Robert McLister lauded the government for trying to help less-privileged renters realize homeownership, but was skeptical the program would have more than an "incremental" impact on supply.
"Canada's underlying housing problem is simple: not enough homes where our fast-growing population wants to live," McLister said. "If government-sponsored rent-to-own programs encourage developers to build more housing units, that helps."

• Email: shcampbell@postmedia.com