The sun is shining, spring is in the air, and 'tis the season for waterfront property sales.
Whether you're a seller or a buyer, there are several unique factors that need to be considered when navigating waterfront listings — ones that aren't typically taken into account for non-waterfront land.
When you're lakeside, details like access to the water, lay of the land, and in-home water quality are of the utmost importance. Also to be considered are zoning bylaws, septic systems, and home inspections — and those are just the beginning.
So far in this series, we've outlined factors related to a listing's land. Now, we'll explore those related to the cottage or home itself: 
Water Quality
Most waterfront properties are not serviced by municipal water, so cottagers opt to have drilled wells installed, or draw and treat water from the lake via reverse osmosis, sediment filters and/or a UV light system. It's also important to understand the depth at shore versus dock, and of course, the swimability of the water!
Septic Systems
Similarly, most waterfront cottages are not connected to municipal sewers, so standalone septic systems are often installed. The seller should provide copies of septic final and regular inspections, dates of pump-outs, and the like to communicate that the system is operating properly. Further, the sizing of septic tanks and beds must meet the septic bylaws for water appliances and bedrooms for the property. If your system is rated for 4 bedrooms, and you plan to add another bedroom, you must confirm the current septic system has the increased processing capacity.
READ: Top Tips: What to Consider When Buying or Selling a Waterfront Property
Home Inspections
As a buyer or a seller, engaging a home inspector prior to a property's final sale is an essential part of due diligence for a cottage. Sellers who offer a recent home inspection report help to put potential buyers' minds at ease. In the absence of a home inspection, or in addition to the seller's home inspection report, including a buyer's home inspection condition on the sale of a property is considered best practice when submitting a conditional offer. 
Mortgage Financing
Given the recent increases in interest rates, we are seeing vendor take-back (VTB) mortgages becoming increasingly popular in 2023 — and possibly beyond — as banks lower their risk profiles and appraisers revert back to pre-pandemic comparables amid falling property prices. If a waterfront property seller has high equity in a property, and has it designated as a second or recreational property, offering to help a buyer finance their property may allow the seller to prorate taxes due on the sale's capital gains over a few years while also earning interest income over that period. A VTB is also a potential win-win scenario for buyers, as it allows them to secure first or second mortgage financing on a recreational property at competitive rates.  
Staging
While staging has been a normal part of urban and suburban real estate for years, interior (and even exterior) staging has become best practice in cottage country over the past five years. Interior staging is similar to the standard elsewhere, in that the seller or their realtor will engage a stager to add new furniture, paintings and fixtures to convey an updated vision for the property — and command a premium sale price.
READ: Rising Rates Spurring the Return of Vendor Take-Back Mortgages
Exterior staging of a waterfront listing often involves landscaping to include stone or wood pathways, new docking, outdoor furniture, and gardens. Special emphasis is placed on enhancing the shoreline. Exterior staging allows buyers to imagine the experience of spending time at the property. 
Chattels
Historically, cottage sales would include furniture and most chattels with the purchase. This practice has changed in recent years, as sellers in affluent pockets of cottage country — such as Muskoka and other prestigious lake districts — are building multi-million-dollar lake houses, and spending hundreds of thousands of dollars to decorate them. As a result, sellers of these properties are often reluctant to include their furnishings; this becomes an essential part of the negotiation process, especially for the buyer looking to buy a turn-key lakefront property. To help manage expectations on both sides, it is important that buyer offers include a detailed inclusions/exclusions schedule. When listing a property for sale, the seller's realtor may advise the list price include additional financial consideration for selling the property fully furnished.
Cottage Design, Features and Amenities
When selecting a cottage, buyers must take stock of their regular family needs. For example, the minimum number of bedrooms and bathrooms, and open-concept layout versus smaller gathering areas, required kitchen appliances, and the number of family dining areas. A main-floor primary bed with an ensuite, main floor laundry, decking, guest bedroom locations, and similar details should also be considered.
Garages, Boathouses and Outbuildings 
When you're looking at a waterfront property, you can't forget about toy storage — or additional sleeping space. Is there a garage, attached or detached, to store automobiles? Does the garage have an upper level for storage or additional accommodations? Does the property have a boathouse, and if so, does it have an upper level with accommodations or storage? Finally, is there a guest cabin on site for overflow guests?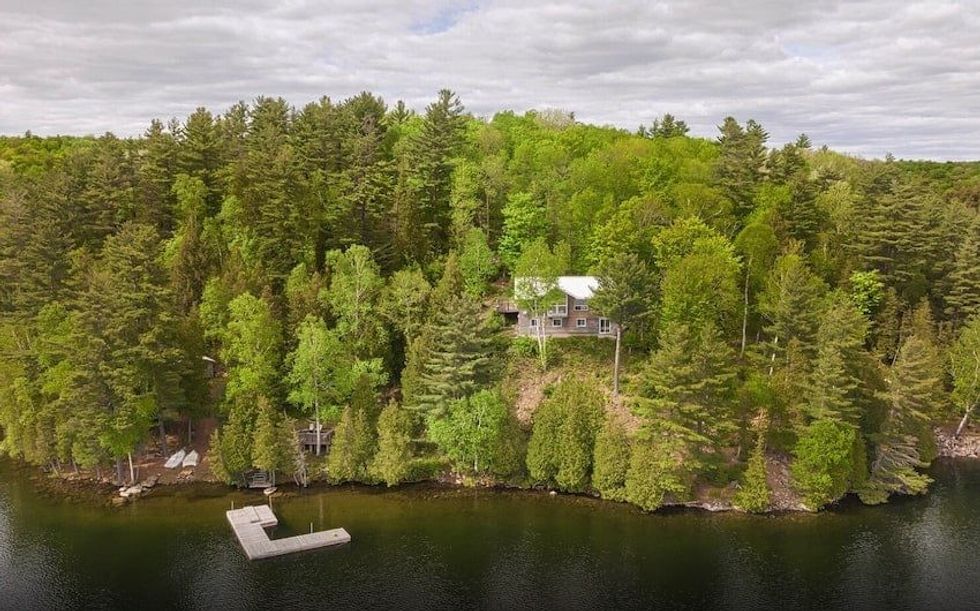 Final Thoughts
One great thing about these factors is: you don't need to remember them all on your own. Having an expert in your corner when buying a cottage is key, as they can help you consider all the most important elements of — and help guide your — cottage-search or cottage-sale journey.
This article is Part 2 in a series on what to consider when buying or selling a waterfront property. To read Part 1, click here. For support from our team, visit our website.
Cover image: 45 Ivy Lane, Orillia, Halloran & Associates
---
This article was produced in partnership with STOREYS Custom Studio.
Ross Halloran brings 30+ years of experience to his Broker – Senior Vice President, Sales position at Sotheby's International Realty Canada. As a licensed agent trading within the Toronto, Muskoka, Kawartha Lakes, and Parry Sound Real Estate boards, Ross is committed to serving his clients — wherever and whenever they choose.