Downtown Vancouver's latest high-rise office tower, B6, is set to complete construction by the end of this month, Jeff Lim, a VP at BentallGreenOak, tells STOREYS.
B6 is located at 1090 W Pender Street at the intersection with Thurlow Street, about one block away from the Expo Line SkyTrain's Burrard Station and two blocks away from the Vancouver Convention Centre.
---
BentallGreenOak, formerly known as Bentall Kennedy before merging with Green Oak Real Estate in 2019, first made its proposal for the site all the way back in November 2013, according to City of Vancouver archives, meaning B6 will be completing exactly 10 years after it was first proposed.
The site was formerly occupied by an 11-storey office building that was originally constructed in 1971.
In its place, B6 will rise 32 storeys and include 534,000 sq. ft of AAA office space atop ground-level retail space, for a total floor space ratio of 18. A grand total of 486 vehicle parking spaces and 89 bicycle parking spaces will be provided in a seven-level underground parkade.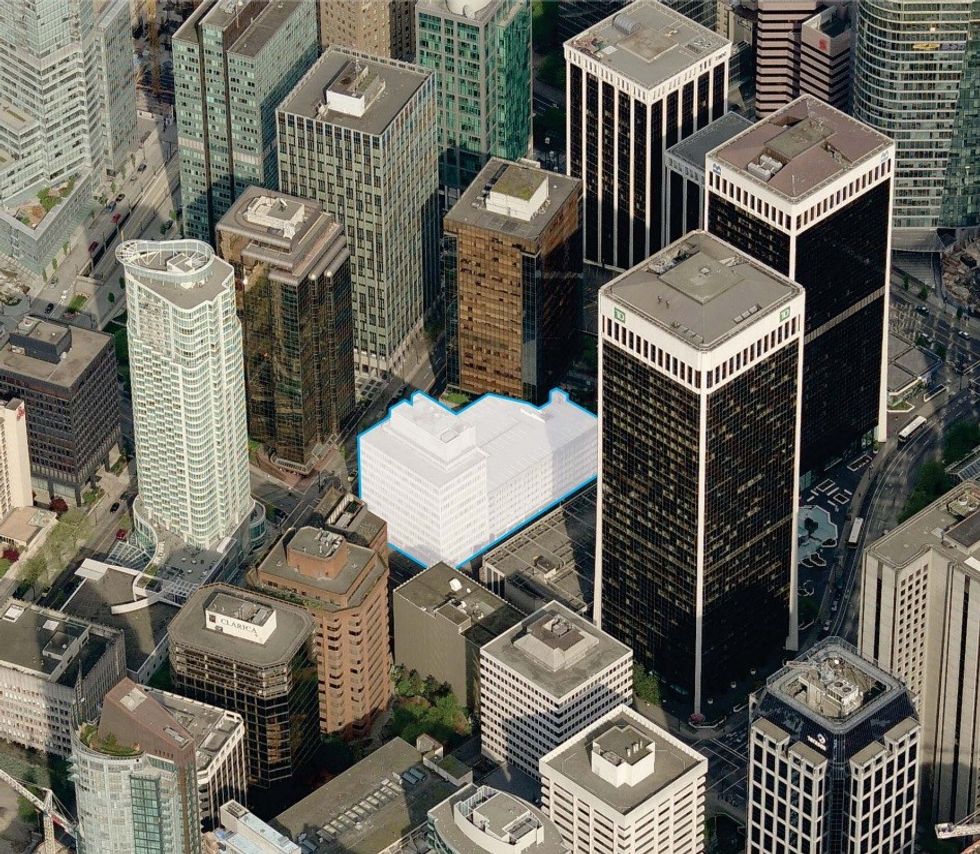 The 11-storey office building that previously occupied the site.(MCMP Architects / BentallGreenOak)
The two biggest tenants of B6 were set to be Microsoft and WeWork, but the latter has since exited their lease after filing for Chapter 11 Bankruptcy in the United States and creditor protection in Canada earlier this month.
The BentallGreenOak leasing team tells STOREYS that WeWork's lease was for floors 10 through 15, which are now currently available. They also confirmed that Global University Systems, which operates educational institutions around the world — including University Canada West in Canada — has leased approximately 90,000 sq. ft, but as a subtenant of an existing head tenant they declined to identify.
STOREYS reached out to Microsoft in October to confirm the details about their lease, but Microsoft declined to comment.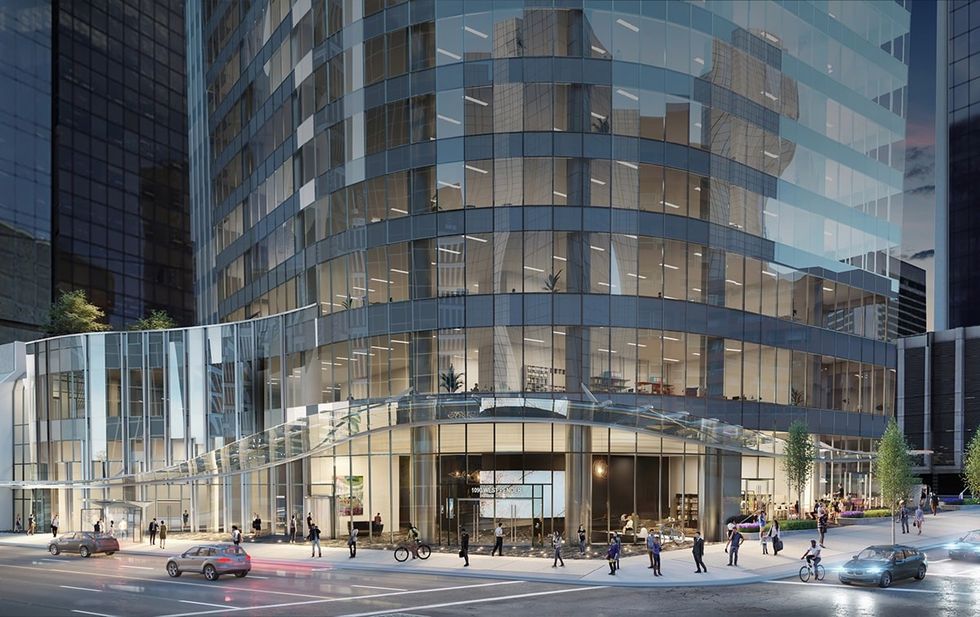 View from Thurlow and W Pender intersection.(MCMP Architects / BentallGreenOak)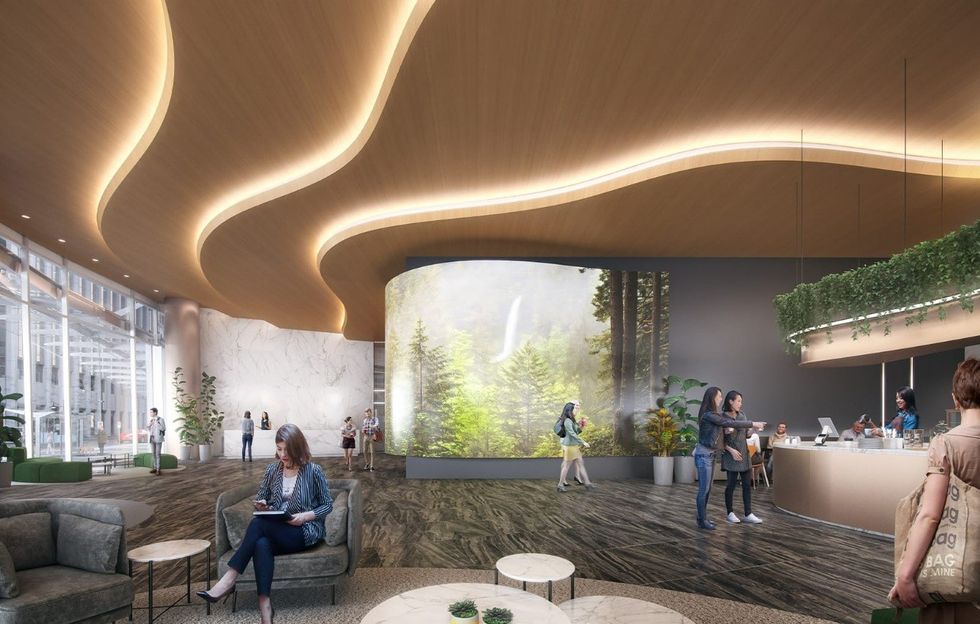 The lobby.(MCMP Architects / BentallGreenOak)
B6 is designed by Vancouver-based MCMP Architects, who have designed the building in the shape of a cone, where the sizes of each floor increases slightly as you go up the building (beginning from above the building podium). Much of the office space will also be column-free, and BGO says tenants who occupy space on more than one floor will have the option of adding an inter-floor staircase.
The lobby will feature "design elements that blend undulating forms inspired by both the building's structure and the nearby Burrard Inlet," most notably featuring a curved video wall that will showcase digital art by local and international artists.
Tenants of the building will have access to amenities such as the 2,500-sq. ft fitness centre, a bike hub equipped with a repair station and vented lockers, and rooftop gardens at the top of the podium and building, which can also be reserved for private events.
B6 is also designed to meet modern sustainability standards and will make use of a rainwater harvesting system, triple-pane glazing, high-efficiency elevators, a heat-recovery ventilation system, and green roofs. The underground parkade will also include charging support for electric vehicles.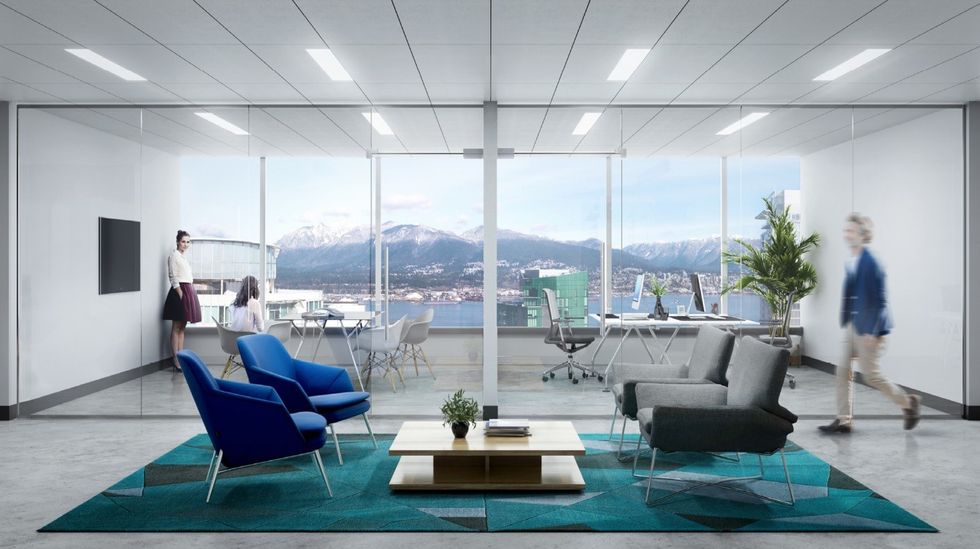 The office space within B6.(MCMP Architects / BentallGreenOak)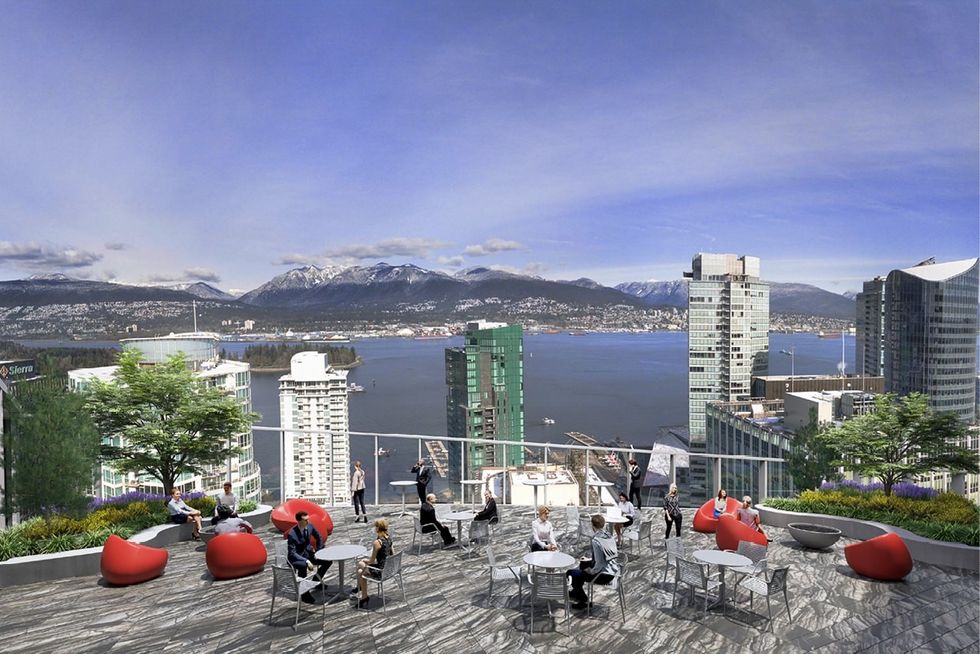 View from the rooftop garden.(MCMP Architects / BentallGreenOak)
B6 is the last of a series of high-profile, high-end high-rise office office towers that were all proposed prior to the COVID-19 pandemic and have reached completion in the last year. That list includes Deloitte Summit by Westbank, the Vancouver Centre II by GWL Realty Advisors, 320 Granville by Bosa Development, The Stack by Oxford Properties, and The Post by QuadReal Property Group, whose South Tower completed in September and North Tower remains in the works.
This group of office towers are coming at a time when vacancy rates are rising and there is still a fair amount of uncertainty around the office market. Many in the industry, as previously reported by STOREYS, believe that developers will likely be putting their previously-planned office projects on pause as a result of this uncertainty and economic conditions.
As it currently stands, there are no new office towers in Downtown Vancouver set to be completed until 2026, and it remains to be seen whether those that are expected to be completed then will be delivered on schedule. In other words, this wave of office towers coming to a close with B6 could be the last new office towers we see in some time.
From Your Site Articles
Related Articles Around the Web