Average rent rose 4.3% from August to $2,043 per month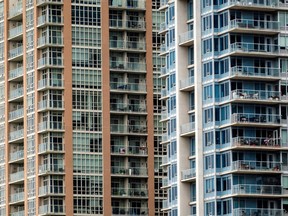 Article content
The average monthly rent in Canada broke through the $2,000 level in September, rising 4.3 per cent from August and surging 15.4 per cent from a year ago to $2,043 per month, according to the latest report by Rentals.ca and Bullpen Research & Consulting.
Article content
Rent for all property types is up 21.9 per cent from the recent market low of $1,676 per month reached in April 2021. The average rent in Canada is now almost $100 above the pre-pandemic peak reached in the fall of 2019, when rents averaged $1,954 per month.
Article content
The report attributes September's increase to the recent completion of new purpose-built rental apartments with larger and more expensive units, as well as significant increases in rental demand.
"Rental demand has increased significantly with the continued interest rate hikes, falling ownership house prices and changing post-pandemic preferences," Ben Myers, president of Bullpen Research & Consulting, said in a release.
Still, there are signs that the rental market pressure could start softening. "Pageviews per listing in September declined to about the average level from Q2-2020 to Q1-2022, before the interest rate hikes," the report said.
Article content
Due to the nature of the rental market, demand is also expected to slow between November through February.
In the meantime, every province and territory except for Yukon and Nunavut, which were not included in the analysis, saw average rent rise in September. The highest increases were seen in Nova Scotia, where the average rent rose to $2,453 across all property types. Ontario's average rent rose 18.4 per to $2,451.
Toronto was second on the list of 35 cities for average monthly rent in September, with one-bedroom units averaging $2,474 and two-bedrooms going for $3,361.
Article content
For condominium and apartment rentals, average rent increased 31.2 per cent year over year to $2,855 in Toronto. Condo rentals in Toronto are up 46 per cent from their pandemic lows reached in February 2021.
British Columbia had the highest average rental rate based on all property types at $2,682 per month in September 2022, an annual increase of 31 per cent, after experiencing a yearly decrease of one per cent in September 2021.
In contrast, the cheapest rentals were in Saskatchewan, where the average rent was $1,069 in September. Manitoba and Quebec saw the smallest year-over-year increases in average rent. In both of these provinces, average rent only increased 4.7 per cent.
• Email: shcampbell@postmedia.com