Written By
Erin Nicole Davis
Those in the market for a home in Canada's capitol city are in luck (well, sort of): for the first time in nearly 30 years, home prices are set to decline in Ottawa. 
According to the latest housing outlook from Canada Mortgage and Housing Corporation (CMHC), the average price of a home will decrease thanks to high mortgage rates that are slowing demand for new homes. Ottawa's home prices will cool as we move into 2023 and sales will also drop. 
According to the report, the average price for a new home in Ottawa will be $640,000 in 2023, a decline from $691,727 in 2022 and $646,139 in 2021.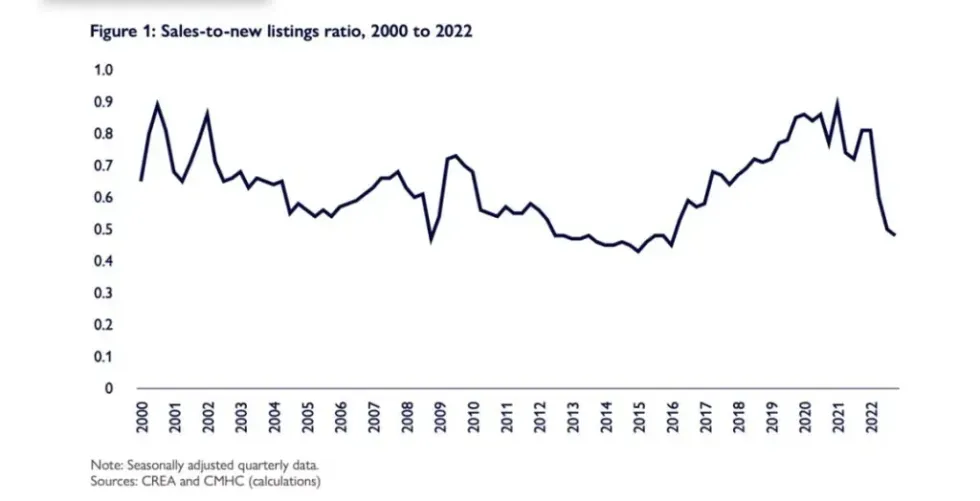 "High mortgage rates will continue to be the main reason for slowing demand," the CMHC report says. "In addition, rising consumer spending has made it harder for households to save up to finance a home purchase." Households across the country continue to feel the pinch of inflation, which has driven up the cost of living significantly.
"With fewer sales and more listings, the Ottawa market eased gradually in 2022, moving away from overheating," it reads. "Unlike in 2022, the market will ease enough to apply downward pressure on prices." Despite price drops, CMHC says affordability remains a concern, as prices are still high. 
RELATED: CMHC Sees No Return to Pre-Pandemic Price Levels in Annual Housing Forecast
The CMHC also says that the price correction will be moderate. "Indeed, since the start of the pandemic, the Ottawa area has seen slower price growth than other major Ontario centres, with the exception of Toronto," it reads. 
The report highlights how the impact of rising interest rates will reduce the profitability of residential development projects. "As a result, we expect the number of starts to decrease in 2023 for both single-detached and multi-unit housing," it reads. 
Ottawa saw 11,032 housing starts in 2022, and CMHC predicts 8,500 housing starts in 2023 and 7,800 starts in 2024. A drop in starts for single-detached homes and row houses will be the result of reduced demands for these types of units thanks to high mortgage rates. The agency highlights how their construction has already been slowing for several months. 
"These conditions will prompt builders to further reduce the pace of construction in 2023," reads the report. CMHC highlights how a looming recession this year and limited resources in the construction sector could contribute to the anticipated slowdown in the creation of new homes. Despite a strong demand for rental units, the apartment sector is also expected to experience a notable decrease in starts.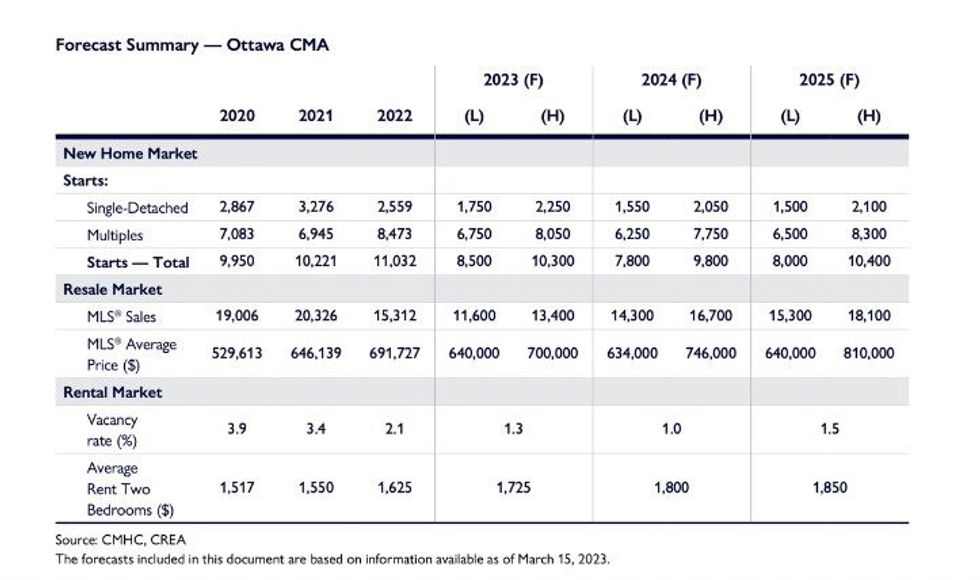 Inevitably, Ottawa's price declines are predicted to correct once mortgage rates start to drop. According to the report, sales will resume their growth in 2024 and 2025. 
While the average home price in Ottawa will fall, the CMHC says that rents will likely rise at a higher rate than in 2022 as a result of a shortage of available rental units and a heightened demand. The CMHC predicts that Ottawa's rental vacancy rate will drop from 2.3% in fall 2022 to 1.3% by the end of 2023, something the agency attributes to a shortage of available starter homes, lack of inventory, and immigration. 
The outlook for Ottawa is consistent with the general theme of the report: don't expect the return of pre-pandemic housing prices any time soon in Canada. In the report, the CMHC cautioned of a long road of affordability challenges and the chance of a "modest recession" later this year. 
Written By
Erin Nicole Davis
Erin Nicole Davis is a born and raised Toronto writer with a passion for the city and its urban affairs and culture.