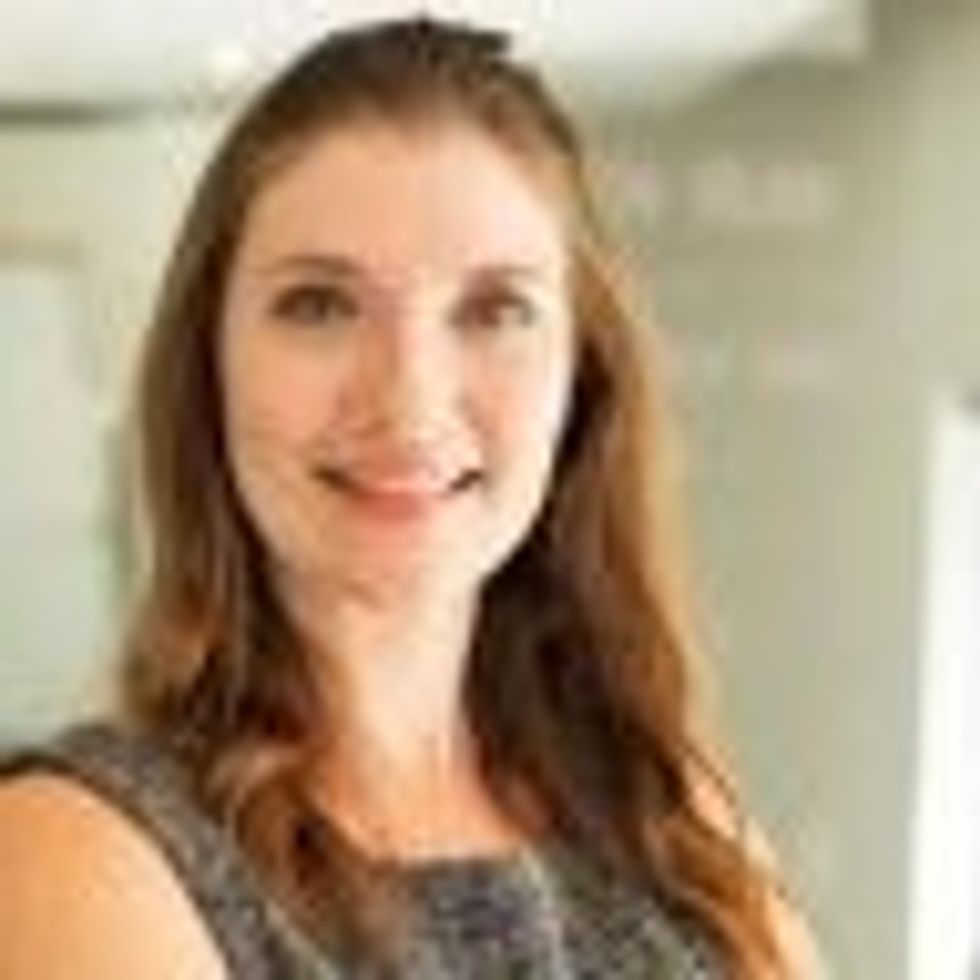 Written By
Penelope Graham
Tougher borrowing costs continue to chill what is typically the hot late-spring housing market, as the latest numbers reveal both sales and prices have plunged in the Greater Toronto Area in the short term.
A total of 6,474 homes traded hands last month, reports the Toronto Regional Real Estate Board (TRREB), down a considerable 41% from last year's record-breaking activity, and 11% below May sales levels (which TRREB notes can be attributed to the seasonal nature of the market).
Prices, however, continue to buck their previous stratospheric growth trend, sliding 5.48% between May in June — a price difference of $66,552 — to an average of $1,146,254. Compared to the price peak observed in February, the average GTA abode now costs $188,290 less, declining by 14%. Prices are still up 5.3% from a year-over-year perspective, but that annual gap is dwindling by the month. 
Deep year-over-year sales declines were seen in both the 416 and surrounding 905-area markets; a total of 2,422 sales occurred in Toronto, down 36.8% compared to the same time frame in 2021, while the average price rose 6.81% to $1,152,175. As has been the trend, slower sales and price growth were more pronounced outside the city; 905 transactions fell 43.8% year over year with 4,052 deals, while the average price rose just 4.4% to $1,142,715. 

That phenomenon can also be observed in the the MLS Home Price Index — a benchmark of the most typical homes sold in the region — which rose 17.9% year-over-year, down from the 23.9% growth recorded last month.
TRREB also noted that price growth was driven by the most affordable home types, such as townhomes and condos, as the buyers who are still participating in the market seek out lower-priced options as their mortgage buying power shrinks.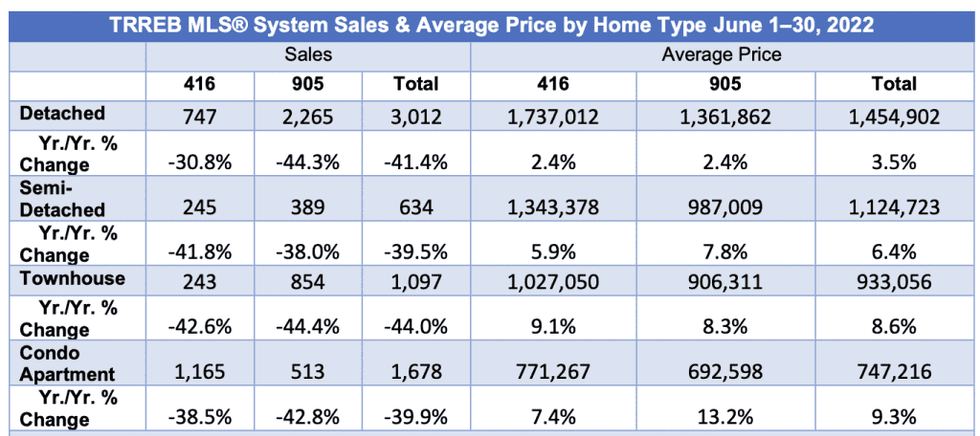 "Home sales have been impacted by both the affordability challenge presented by mortgage rate hikes and the psychological effect wherein home buyers who can afford higher borrowing costs have put their decision on hold to see where home prices end up. Expect current market conditions to remain in place during the slower summer months. Once home prices stabilize, some buyers will re-enter the market despite higher borrowing costs," said TRREB President Kevin Crigger. 
READ: Recession Likely as Bank of Canada Continues Rapid Rate Hikes
Those currently in the market are enjoying some of the most balanced buying conditions seen in years; as the number of home sales fell, new listing supply remained little changed, easing the inventory crunch that has long plagued the market.
A total of 16,347 new listings came to market — an annual increase of 1%, while the month ended with 16,293 active listings, a 42.5% boost. As a result, the sales-to-new-listings ratio clocked in at 62.1% — still considered at the lower end of a sellers' market, but a dip from May's ratio of 65.1%.
 "Listings will be an important indicator to watch over the next few months. With the unemployment rate low, the majority of households aren't in a position where they need to sell their home. If would-be sellers decide to take a wait-and-see attitude over the next few months, it's possible that active listings could trend lower as well. This could cause market conditions to tighten somewhat, providing some support for home prices," said TRREB Chief Market Analyst Jason Mercer. 
Added TRREB CEO John DiMichele, "Our region continues to grow because we attract people and businesses from all around the world. All of these people will require a place to live, whether they choose to buy or rent. Despite the shorter-term impact of higher borrowing costs, housing demand will remain strong over the long-term, as long as we can produce homes within which people can live. Policymakers at all levels need to make this their key goal."
Written By
Penelope Graham
Penelope Graham is the Managing Editor of STOREYS. She has over a decade of experience covering real estate, mortgage, and personal finance topics. Her commentary on the housing market is frequently featured on both national and local media outlets including BNN Bloomberg, CBC, The Toronto Star, National Post, and The Globe and Mail.