Looking for great value right along high-order transit in the Greater Toronto Area (GTA)? Meet Stationside.
Set for occupancy in 2027, this is one of Milton's most anticipated new developments – and it's now selling.
---
The 613-suite upcoming development by Neatt Communities is part of Milton's shiny new Mobility Hub, which is in its early stages of development.
For those in the dark, downtown Milton is about to get a high-density makeover. Giving the town something to talk about, in February 2022, Milton Council passed policies to manage growth and development around the upcoming Milton GO station. These will guide the development of buildings, homes, businesses, roads, and public spaces set to transform the area into a vibrant — and highly walkable — community, all within a 10-minute walk from the GO station.
The two-tower Stationside development (135 Nipissing Road) will sit just steps from the future Milton GO station expansion, which will open up the formerly rural town like never before. In fact, its residents won't even need a car – something that was once unheard of in a smaller GTA town.
In a culture of hybrid work schedules and sky-high rent costs in downtown Toronto, the sleek new development will be an attractive one for today's renter. It's also quickly caught the attention of savvy GTA real estate investors who know a smart venture when they see one.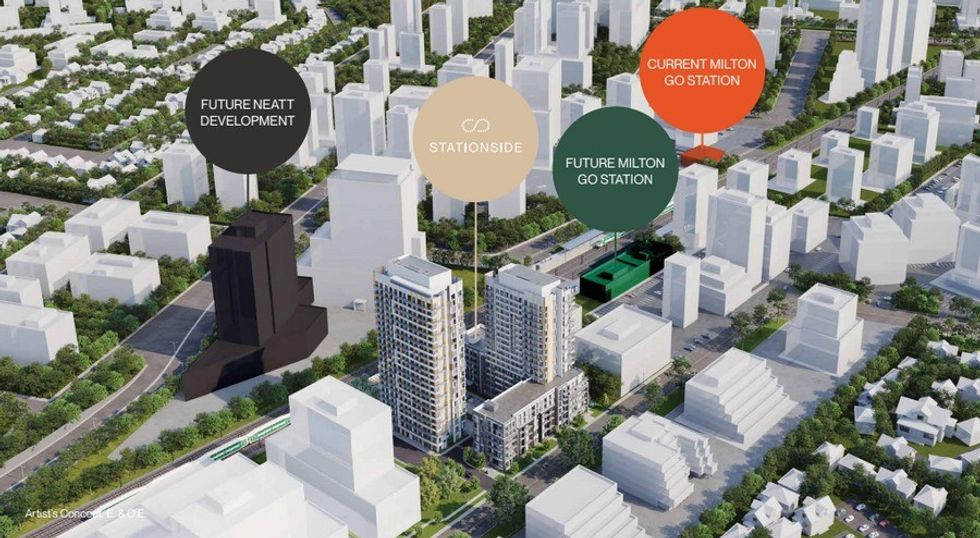 Stationside location
In a crowded marketplace where big incentives in the pre-construction market are capturing headlines, Neatt is attracting these real estate investors by meeting the market where it's at – plain and simple. Despite its prime location and style-forward design, Stationside is one of the most affordable projects in the GTA, with one-bedroom units starting at just $484,490 (yes, you read that correctly). Adding to the value factor, most units include free parking, free bicycle storage, and a locker.
Purchasers can also enjoy five free appliances, free assignment, capped development charges, and a right to lease during occupancy.
With its focus on affordability over flashy incentives offered by some developers – like free phones, purses, and even cars – Neatt addresses one of the greatest hurdles in today's market: persistently high interest rates. The company's extended 5%-a-year deposit structure comes from a similar strategy.
"We took the time to understand the [needs] of the purchaser in today's marketplace, and to launch Stationside at the right price with the right offers," says Mike Vernooy, co-founder of Neatt Communities. "The response has been overwhelmingly positive."
READ: Milton's Moment: New Transit Hub Community Set To Entice Real Estate Investors
The value at Stationside goes beyond a low price per square foot (just $1,046). It also speaks to the opportunity to buy into the buzzed-about Milton Mobility Hub at the early stages of development.
In a dramatic real estate market, pre-construction remains a sound investment – especially for condos at upcoming transit hubs. The financial benefits of investing in transit are proven with each new transit-centric development that materializes in the GTA. Direct access to transportation can lead to pre-construction units appreciating up to 34% more than similar products on the market. In Milton, condo investors can benefit from a secondary market with a low vacancy risk, strong capital appreciation, and stable returns.
At just $484,490, Stationside is sort of a no-brainer for those looking to purchase a GTA investment property. Furthermore, Milton boasts one of the lowest residential property taxes in the GTA.
Purchasers can also sleep soundly knowing Neatt Communities' reliable track record. Vernooy has over 20 years of experience in homebuilding in North America, having overseen the development of more than 25,000 units across the GTA as the former VP of Land Development in Halton Region for Mattamy Homes. This expertise has been translated into building a multi-decade land pipeline, with more than 7000 units currently under development.
Thoughtfully designed to integrate the surrounding community, Stationside will become a catalyst for the development in Milton's downtown core, further putting Neatt Communities on the map.
"Positioned at the heart of Milton's mobility hub, Stationside is set to redefine the town's future as the GTA's next major transit hub," says Vernooy. "This marks only the beginning of Neatt Communities' long-term commitment to Milton, where we envision creating a vibrant urban centre that brings modernity and tradition together, shaping a bright future for this community."
Aside from location, future Stationside residents will enjoy a suite of amenities, like a 30,000-sq.-ft outdoor terrace with barbecues, a gym, a party room, a yoga room, a bocce ball court, a co-working space, and a coffee bar (Stationside Social). The building will also feature 613 bike spaces and 669 parking spaces — 544 residential, and 123 visitor. Suites will range in size from one-bedroom to two-bedroom plus den, catering to everyone from single young professionals and young families through to empty nesters.
Not surprisingly, Stationside has seen a flurry of activity among purchasers since the units hit the market earlier this month. Act now to secure your spot in this highly anticipated – and shockingly affordable – development.
For more on Stationside, register here.
________________________________________________________________________________________________________________________________
This article was produced in partnership with STOREYS Custom Studio.