The downtown Toronto skyline could soon be in store for some awe-inspiring asymmetry. A new development proposal, which went to the City earlier this month, is seeking to swap a nine-storey apartment building for a 69-storey residential skyscraper at 135 Isabella Street.
Prepared by Bousfields on behalf of a numbered company known as 1000355933 Ontario Inc., the proposal calls for a building height of 234.97 m (inclusive of the mechanical penthouse) and a gross floor area (GFA) of 52,546.8 sq. m. The entire GFA is to be dedicated to residential.
The new development is expected to add 770 dwelling units to the downtown core, including 200 studios, 212 one-bedrooms, 275 two-bedrooms, and 83 three-bedrooms.
It's worth noting that the nine-storey apartment building the proposed is poised to replace contains 80 rental units. As such, of the 770 new residential units proposed, 80 are planned to be rental replacement units. The remainder of the units — coming in at 690 — will be condo in tenure.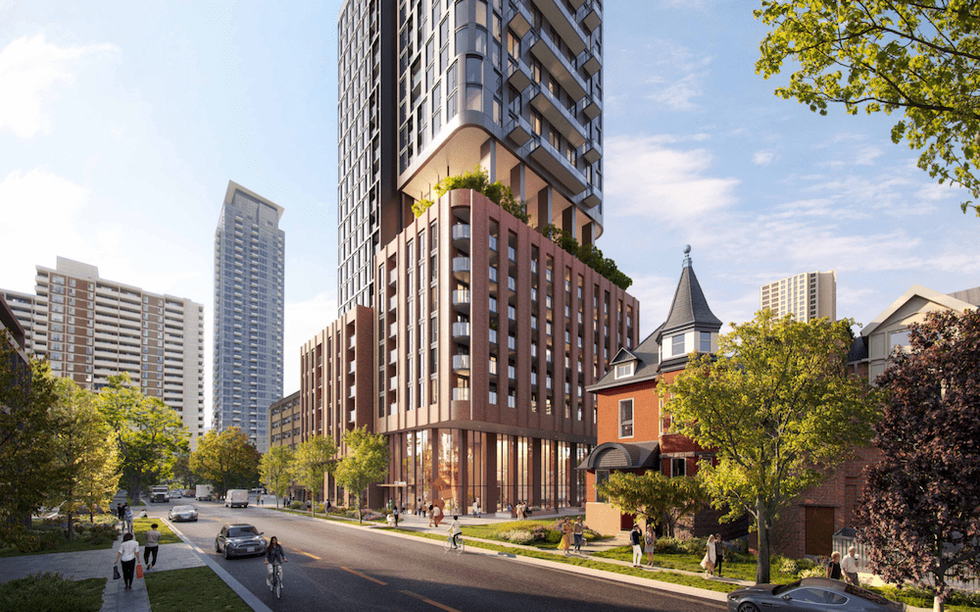 The proposal also specifies 1,540 sq. m of indoor amenity space (to be located on the ground floor, the second level, and throughout the tower), 1,155 sq. m of outdoor amenity space (inclusive of four shared outdoor amenity terraces throughout the building that will offer views of the downtown core in all directions), 32 vehicle parking spaces, and 857 bicycle parking spaces.
A notable component of the proposal involves the creation of a 358-sq.-m public park, the likes of which would account for 15% of the total site area and would run linearly along the west lot line. This is in addition to 277 sq. m of Privately Owned Public Space (POPS) — also slated along the west lot line — which would function as an extension of the park.
"Significant improvements" to the Isabella Street frontage are also discussed in the proposal.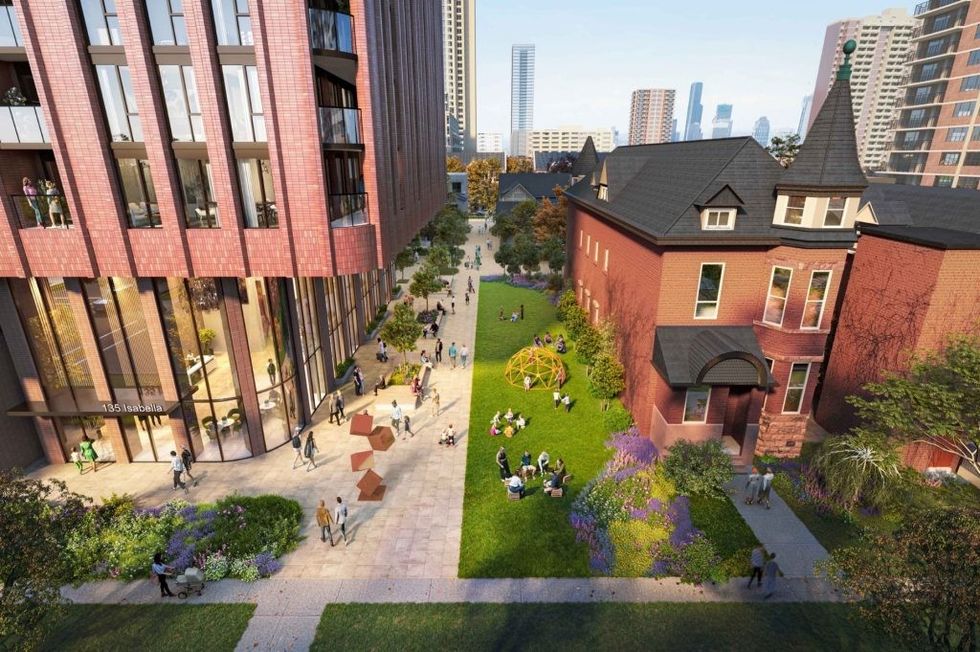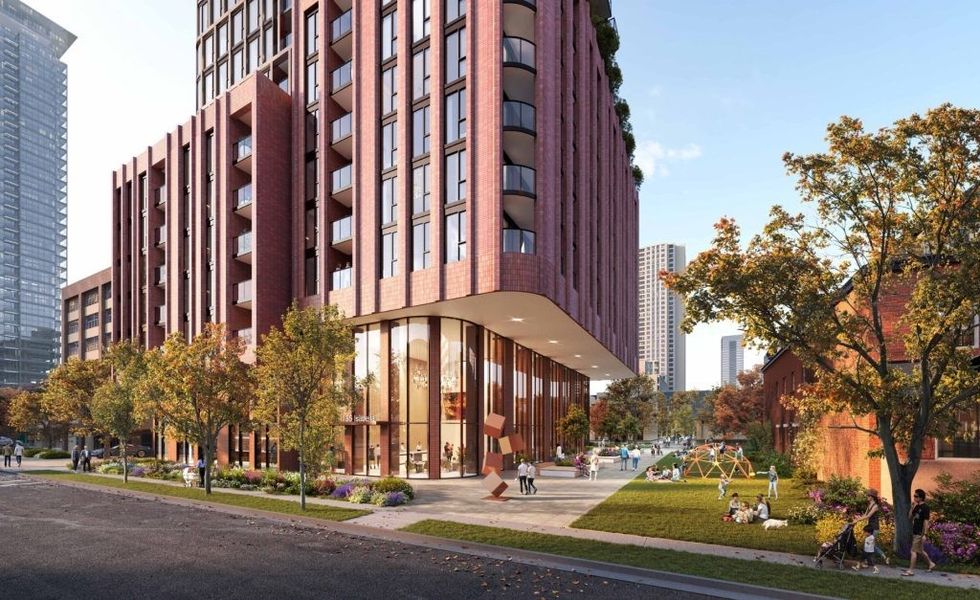 Renderings by BDP Quadrangle show a built form that is quite arresting, clad in brick and decorative metal panelling and just generally "designed in a manner that reflects and complements the character of the adjacent properties and surrounding area," according to the planning report.
More specifically, the renderings show a six- and eight-storey base building with a 61-storey "highly articulated" tower element atop.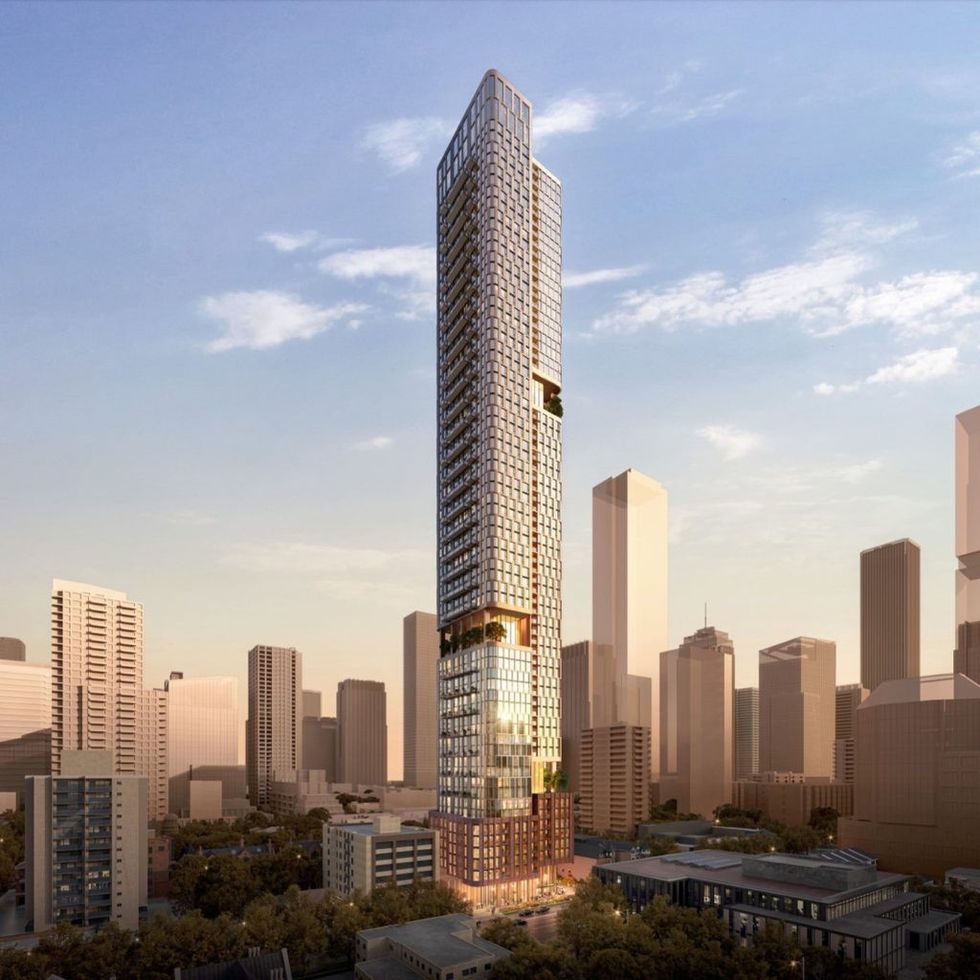 The mechanical penthouse is fully integrated into the top of the tower, while levels nine to 12, 25 to 28, and 45 to 48 include three horizontal reveals. Each reveal is expected to be approximately 12 m in height and will provide sweeping views of the downtown core.
Both the base and tower elements are lined with alternating instances of inset and projecting balconies. There is also an opportunity for green roofs to be integrated into the development, says the planning report, although details on such will be hashed out at a later design stage.
Zakiya is a staff writer with STOREYS. She has reported on real estate for Apartment Therapy, Curbed, and Post City Magazines, and writes a quarterly series for a Canadian design publication.